It was a tremendous moment in time, the bringing together of scores of community foundations, their nonprofits and supporters across the country. At its peak the event tallied 34 transactions/donations per second at 1:53 P.M. ET. Who would have thought online fundraising fueled by email and social media could be so powerful?
My company was brought into the event to provide social media counsel and support. It was a great honor, and all in all we thought the event was a massive success. We had more than 20,000 hashtagged mentions of the national event, not to mention the hundreds of thousands of general nonprofit updates and outreach.
It was a lot like running communications the week of an election. You strap in, and get ready for the ride. From the night prior through the actual giving day and into the early morning of the next day, it was a nonstop rush.
Moment after moment passed. Manning the Give Local America Twitter, Facebook and Instagram accounts let me see incredible stories of nonprofits and donors joining together to help people. Some of the pictures and stories were incredible (We collected a whole bunch of them on Pinterest here).
Watching the numbers tally through the afternoon and into the evening was surreal. Each milestone passed brought a new noel; $25 million, $30 million, $35 million, and finally, $50 million when I woke up on the seventh and the matching grants were added.
Ten years ago, I would have been proud of that in a macho kind of way. Here I am working with some support from my team to help my client achieve the greatest giving day ever, and I sacrificed everything I had to make this happen. I was there, present, for this important moment in time.
But the incredible tax I placed on myself proved to be significant, as you will see.
In hindsight, the one thing that was not a personal success was the impact on my body. In the past five years I have learned a lot about my mind and body, in part from some experiences at Thich Nhat Hanh's Plum Village and their mindfulness trainings . This practice is much in tune with Arianna Huffington's Third Metric and making sure we take care of ourselves.
I did not treat myself well, and paid a price. My eyes were bloodshot for five straight days. I found myself irritable with people, unable to remember people's names, and had difficulty participating in the networking events at the conference afterwards.
After wrapping things up I flew home, and went right into Daddy duty. I spelled my wife who had been with my five year old daughter alone for five days, and then made sure we had a great Mother's Day. On Monday I fell sick, and am now recovering. I probably lost a day of productivity.
What would I have done differently?
I think as the owner of a start-up marketing firm, I made the mistake of not staffing enough. We have this crazy view of startups in America that you have to suffered greatly before you make it. This chart depicts the start-up trough of sorrow, revealing the American mentality of suffering to succeed.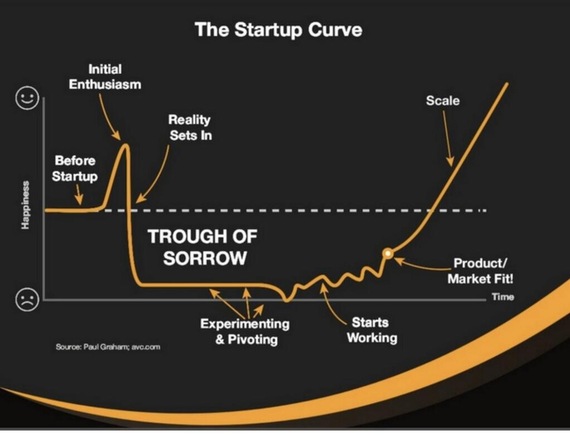 It doesn't have to be this way. When I ran giving days in the past, my colleague Ifdy Perez ran ice by side with me, and we able to do shifts. I got the early morning, and she covered the night. Ironically the savings I achieved in bootstrap mode were lost by my lack of productivity the week following.
The price I paid could have been worse. I could have permanently damaged a client or other relationship by making a poor decision or acting out on my irritability.
In the end, I would do it again if I had to. You don't have many opportunities to participate in such a wonderful event as Give Local America. It was magical. Doing so rested with another team member would have been more enjoyable, and in the end, more productive for all parties.
REAL LIFE. REAL NEWS. REAL VOICES.
Help us tell more of the stories that matter from voices that too often remain unheard.