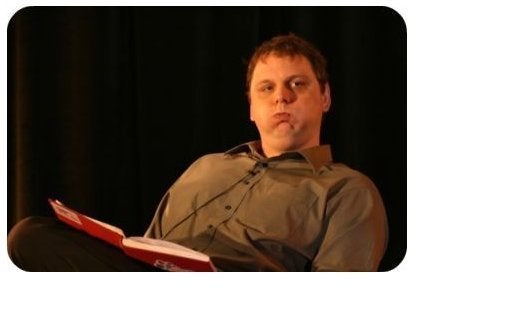 In
the somewhat congested realm of tech conferences, TechCrunch50 has quickly distinguished itself
as Silicon Valley's "American Idol"-esque competition
for entrepreneurial hopefuls. Fifty early-stage, hungry startups are
selected from
a pool of around 1,000 applicants to launch for the first time in
front of a panel of 20 of the tech industry's most influential,
deep-pocketed entrepreneurs, VC's and media.
One winner claims
some seed money ($50k)
to get their company off the ground.
Creating Something Out of Nothing
But
if you were to compare this conference to anything related to Hollywood - a
comparison folks in the tech industry love to hate - it's probably more like
the Sundance Film Festival, circa anytime before
this decade. Which is why it isn't surprising that conference co-host Jason
Calcanis, CEO of Q&A site and search engine Mahalo, claimed he'd like
TechCrunch50 to be just that: The Sundance Festival of the tech industry.
See,
the self-proclaimed "full-contact conference" for startups highlights a key
dynamic that was best described to me by Jay Bangash of indie film production
company Shooting Gallery Entertainment, back in 2000 when he released
the film that
won the Grand Jury Prize at Sundance, "You Can Count on Me." When I asked
Bangash for his definition of the quintessential independent film,
he sighed, "production must be difficult - and yield something unique out of
that difficulty." The difficulty implied here, of course, is shared with many
tech startups: An infringing budget.
The
companies that have emerged from TechCrunch50 typically emulate the same type
of niche that Sundance films used to embody. Odds are you'll probably never
hear of or use any of the products or services that get featured until they are
ripe for mass consumption. And that process can take years. Nope,
Twitter wasn't launched at a TechCrunch
conference; it's actually older than the
conference, as are most products and services we currently use online.
But you may be familiar with personal
finance application Mint, which won the
conference's top prize in 2007. Just
last night, news broke of Mint's acquisition by Intuit.
The
problem with Sundance, and the indie film industry as a whole, is that the more
attention it got, the more saturated it became, often with filmmakers
who already
had the competitive advantage of resources and connections. This shift
widened the
gap between truly unconnected, hungry artists and the power structure required
to distribute their films.
TechCrunch50 highlights the same dilemma for the tech industry. In just its second year,
Ashton Kutcher pitched a startup.
This year, magician tag team Penn and Teller will be headlining
with their own.
And the companies these celebrities
pitch may be good, but their very presence somehow seems to take away
from unveiling
the artistry required for a budding entrepreneur to create that something out
of nothing.
Mike
Arrington, co-host of TechCrunch50 and founder of leading tech blog
TechCrunch, is well aware of this
encroaching dynamic.
It's a byproduct of too much of a good thing: The conference aims to
not only reveal
the best of what's to come from Silicon Valley, but provide a platform to help
these budding businesses grow. So it isn't all that surprising that its
gathered so much interest already - from entrepreneurs all over the world hoping
to make the next Facebook or Twitter, to media giants looking to cover the next
big thing. In fact, this year, CNBC will be covering the conference
live,
which will probably open the floodgates.
HuffPost Live at TechCrunch50
Since
the conference is only in its third year, we have yet to see how this attention
will ultimately pan out. TechCrunch50 2009 starts today, and Huffington Post
will be covering it from downtown San Francisco. Stay tuned for more.
Related
Popular in the Community