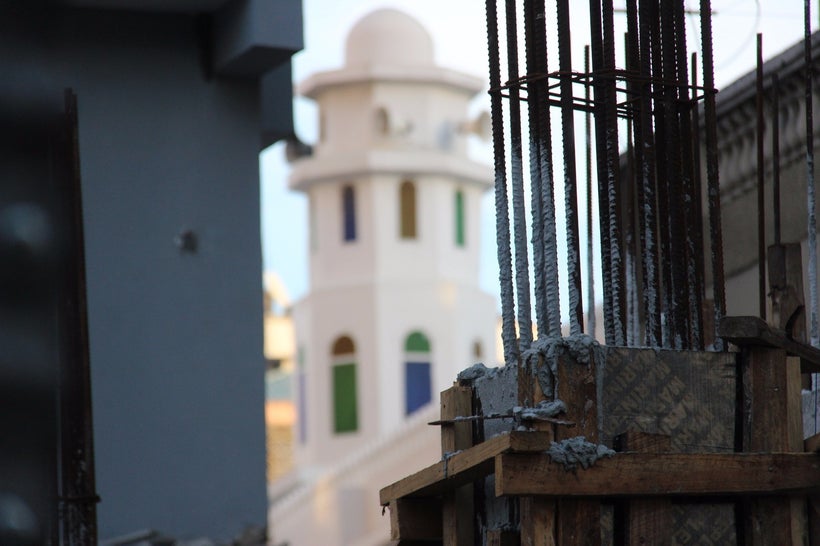 While the buzz of cluttered streets, cacophony of car horns and wafts of market sludge characterize Kariakoo on weekdays, Sundays are a truly special time when business bows out, revealing a deeper raison-d'etre for this thriving piece of urban paradise.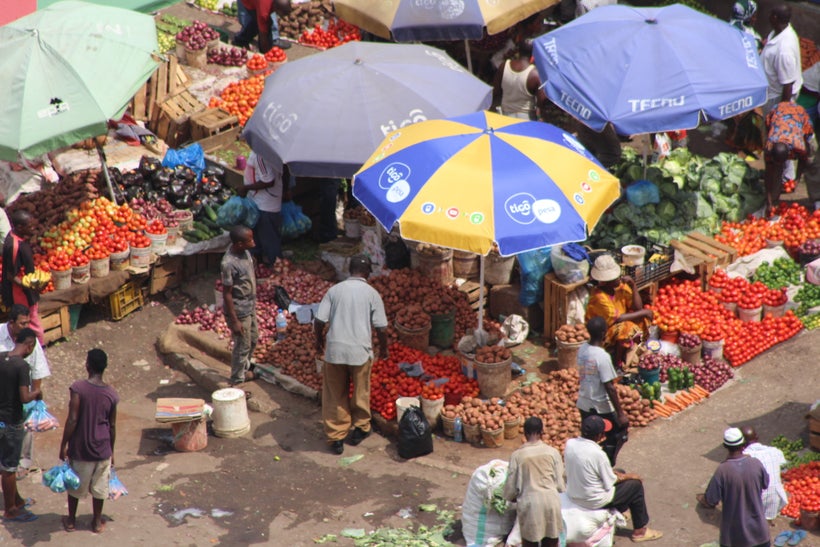 The fried octopus vendor on Mafia street has retired – he only serves the men on their way home from work from 4pm-8pm, as they charge up on the male performance-enhancing properties of the roadside special before returning to their wives. The Urojo lady down the lane from Mskiti Mtoro is also out of commission, presumably with family functions to tend to, or simply kicking her heels up over a much-loved Nigerian drama. Down the once tetris-packed Livingstone Street, past the rows of bolted hardware stores, you can hear the sound of a boda boda grow nearer then echo into the distance.
The street corners, however, are neatly flanked by the proud dwellers and self-proclaimed guardians of the area, along with a handful of die-hard businesses and their patrons.Old men play checkers with red and blue bottle caps as improvised pieces outside of the padlocked butcher shop at Livingstone and Kariakoo Street. On the intersection's north east corner, the ever-enterprising Mama Mariam has opened her Chai shop at 7am and is serving Chai ya maziwa (sweet milky tea), simple bean stew, boiled eggs and the usual array of fried sweet cakes. Men sit outside her shop on plastic chairs facing the street, enjoying their morning tea with the occasional mention of politics or the upcoming football game at the National Stadium nearby. The boda boda stand is sparsely populated today, and it's nice to see that even those with informal work give themselves a day off at the beach.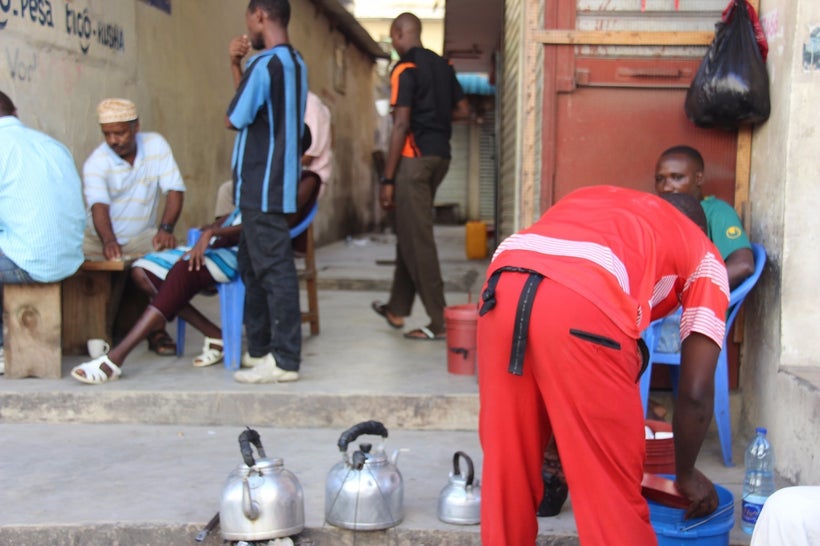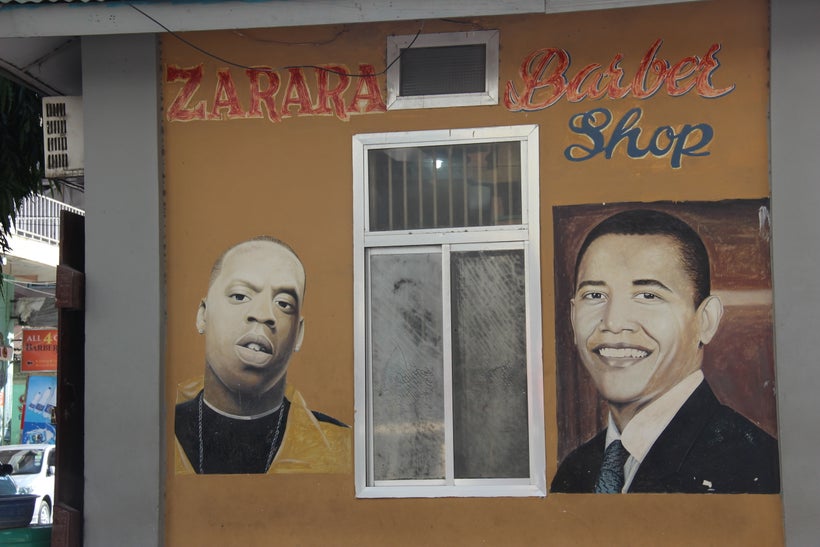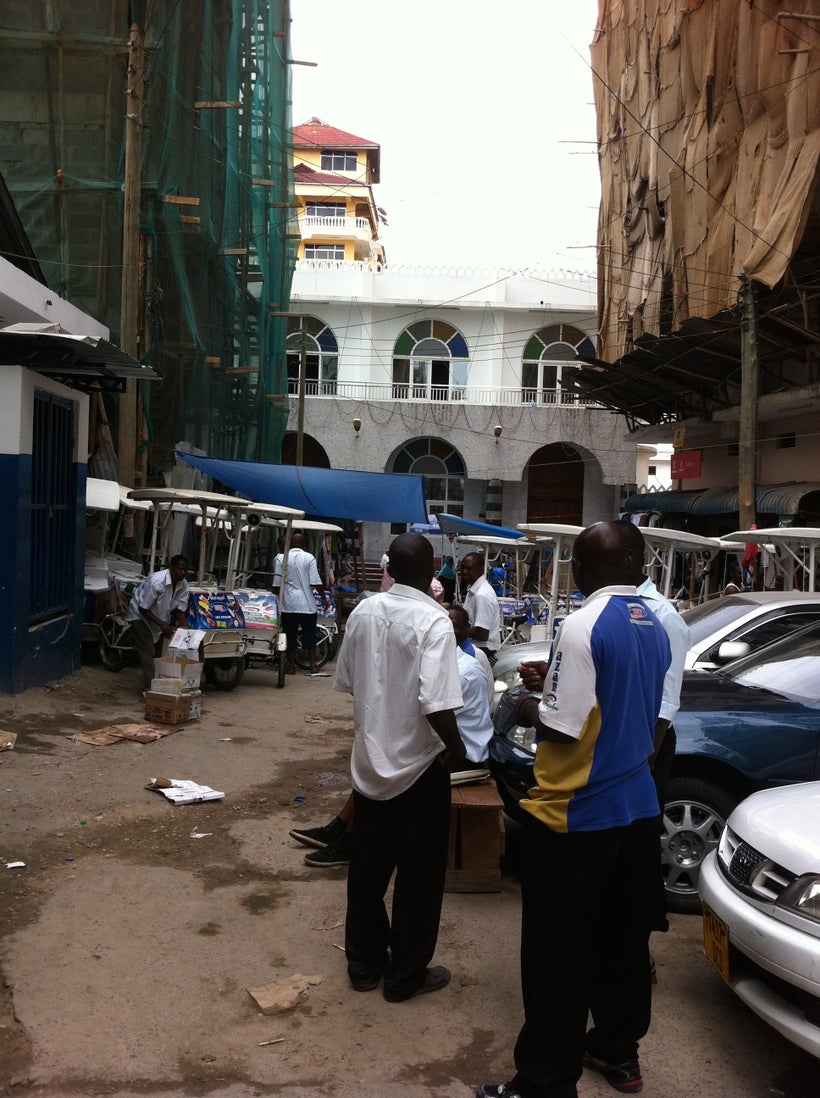 At Narung'ombe and Sikukuu, the same staples hold in place – regulars, games, and hot drinks – though the tone is distinctly different. Music from Palace, one of the few bars in an area dense with Mosques, trickles into the street. Its faux Christmas tree twinkles unabashedly, and the collision of pool balls makes it above the noise. The Sokoni Kubwa (large market) is just a block away and a few hawkers troll the pavement, selling the usual array of goods (cigarettes available in singles, hard candies, chewing gum for cutting the bitter taste of Khat, and peanuts). The rhythmic clinking of coins, and sometimes small tiles for better effect, comes in steady streams as buyers pick their pleasure. Jokes flow as a distinctly youthful male crowd stands heckling passers-by dressed in their rival football team's colours or gawking over a passing 'wowowo' (a well-formed female bottom). Mixah, the well-kept secret of Mr. Kibakuli, provides just the right amount of caffeine to maintain the jovial scene for hours.
Wandering deeper into the maze, Kariakoo's corners further surprise and delight – a witch doctor conducts a public healing demonstration with a live snake, an egg, and a brave (or perhaps paid) volunteer; families enjoy scoops of Azam ice cream outside one of the commercial behemoth's modest shops. Freshly shaven men chat to coy young women outside of a barbershop with hand-painted Obama and Jay-Z gracing the exterior wall. Coconut vendors pack up their bicycles with husks and shake on splitting the day's profits. The high-pitched wail of female Taraab singers is heard from a rooftop, adorned with a canopy of twinkling lights.
Dear city wanderer, enjoy this sacred day when its usual users have gone to rest and its guardians remain. Come by bike (don't worry, you can hire a trusted watchman should you need to dismount), or ride the new DART (http://dart.go.tz/en/) and continue on foot. Have a Chai, an ice cream scoop or two, and humbly plant yourself at corner that feels right for you, and do as the true Kariakoo locals do.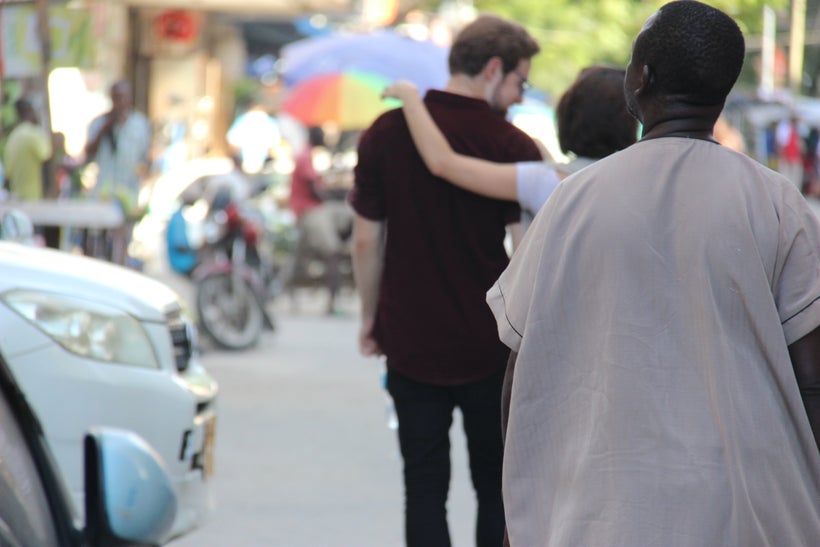 Calling all HuffPost superfans!
Sign up for membership to become a founding member and help shape HuffPost's next chapter
This post was published on the now-closed HuffPost Contributor platform. Contributors control their own work and posted freely to our site. If you need to flag this entry as abusive,
send us an email
.