Donovan doesn't understand why his mothers are laughing. And crying. And talking about getting married. Donovan's mothers already had a wedding. Donovan already had to get all dressed up in his best clothes and walk down the aisle with Grandma and Grandpa and Nana and Poppa. He already had to stand perfectly still next to his moms while one of their friends sang a song and another one read a poem. He already had to keep track of the box that held two gold wedding bands and hand one ring to each of his mothers at just the right time. And he had to hug both his moms and kiss each one on the cheek when the man in the long black robe said, "You may now kiss the brides." So why, Donovan wonders, do his moms want to go through that all over again?
Donovan is a fictitious character, the star of my children's picture book, Donovan's Big Day.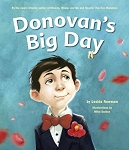 I imagine, just like the fictitious Donovan, many actual children have little or no understanding of the legal ramifications of the Supreme Court's historic decisions to strike down both the Defense of Marriage Act (DOMA) and California's Proposition 8. Children are not concerned with legalities. What are children concerned about? Children want to know who will love them and take care of them. Children want to know who will tuck them in and kiss them goodnight and who will wake them up and make them breakfast in the morning. Children want to know who they can turn to when they have a scary dream or a scraped knee. Children want and need to know who will keep them safe in the world. To a child it doesn't matter if their guardians are a mom and a dad, a mom and a mom, a dad and a dad, a single dad or a single mom (or grandparents, aunts, uncles, etc.) Children are not born with any preconceived notions about love and family. A child does not come into this world thinking that one family configuration is better than another. Children recognize love. It's as pure and simple as that.
As an adult -- a grown-up, married lesbian -- I know exactly what all the fuss is about. The first time my beloved and I tied the knot was on September 10th, 1989. Our marriage had no legal status and we didn't care. We never even dreamed of the possibility of two lesbians being legally wed. It was the furthest thing from our minds. What we were thinking about at the time was how much we loved each other, and how we wanted to declare that love in a public way, with our nearest and dearest gathered round us to witness our love and celebrate our joy. Since there was really no word to describe this event, I jokingly refer to our first wedding as our "commitzvah" since it was the day that Mary and I made our lifelong commitment to each other.
Fast-forward 15 years. In 2004, Massachusetts became the first state to legalize gay marriage. I marked this historic event by taking our wedding outfits to the cleaners. The first day that gay couples could get legally married was May 17th. Being the hopeful romantics that we are, Mary and I wanted to wait until our 15th wedding anniversary in September to re-tie the knot. But we made our way down to City Hall in Northampton on that May day anyway, eager to bear witness to the 113 couples who got married that afternoon (112 of them were same-sex couples; the one heterosexual couple got cheered just as loudly as the rest). The day was astonishing; everyone was crying, including the newscasters who milled about conducting interviews. People brought huge wedding cakes to share. Parents took their children out of school to bring them down to City Hall to witness the historic day. Supporters held signs that said, "Equally Ever After" and "Here Comes the Brides." And amazingly, there was not a protestor in sight.
On September 10, 2004, Mary and I stood in our own back yard with a Justice of the Peace. We wore the same wedding outfits we had worn fifteen years earlier.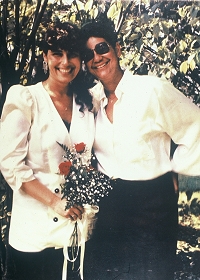 There were no guests present; we both felt that we had already had a big wedding and didn't want to diminish it by having another one. What we were doing on this day was making the commitment we had already made to one another legal. I remember thinking about what I had heard a minister say at another wedding of two women, "May this be the day that you love each other least." I thought about that. Fifteen years ago on the day we vowed to cherish each other forever, I couldn't imagine loving Mary more than I already did. And fifteen years later, it was absolutely true that our love had grown more than I could have imagined.

As the years went on, we watched more and more states legalize gay marriage. Connecticut, Iowa, Vermont, New Hampshire, New York, Maine, Maryland, Washington, Rhode Island, Delaware, Minnesota. And Washington, D.C. And of course we kept our eye on California. Yes, it's legal. No, it isn't. Yes, it is, but only for the couples who had gotten married during that small window of opportunity that existed between the time gay weddings were performed in California and the time they were brought into question. Our heads spun as we tried to keep track of it all.
Which brings us to June 26, 2013, the day the Supreme Court ruled in our favor. This year Mary and I will celebrate being a couple for 25 years. What a wonderful present our government has given us: the recognition that our union deserves all the federal rights and privileges bestowed upon any other couple. I think I'll get out our wedding outfits. What better time to renew our vows? Perhaps I'll write a sequel to Donovan's Big Day. Perhaps I'll call it, Donovan's Bigger Day. I look forward to the day that gay marriage is recognized not only by the federal government, a dozen states, and the District of Columbia, but by all fifty states. That will be the biggest day of all.
Popular in the Community