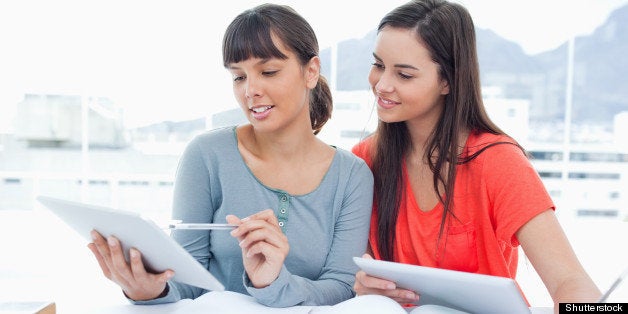 Have you ever wished that you had a big sister to help you navigate your daily ups and downs? Are there times when you would rather ask someone that is not a parent, a teacher, or a computer screen? What if you could ask her complicated questions and she empowered you with tools to tackle your future?
But what if you don't have that sister, and there aren't many safe spaces for girls where you live?
Where do you go?

Let's face it, the world can be pretty cruel to girls. Sometimes, it doesn't feel safe at all or the media are bombarding our senses with confusing information. Messages are rushing at us fast and loud. Plus, there is always that looming threat that someone could crush our hearts online in a matter of 140 characters.

It's hard to be a girl, but it also can be pretty fabulous.
October 11 marks the International Day of the Girl. The day is a celebration of all things girl and addresses the current global challenges. In a world where girls are increasingly seen commodities or consumers, there is a glaring need for refuge and nurturing.
Even if a girl comes from a strong and intact family, her recreational world isn't necessarily uplifting. Parents have to fight the battles on multiple fronts in ways unprecedented. Still, it is refreshing to see innovative ideas develop to meet these challenges.

In order to tackle some of them, cities around the world are creating events to honor this day. At a local level, in Los Angeles, Surefire Girls has teamed up with UN Women's USNC L.A. Chapter to rise to the occasion.
Naturally, one of the chapter's yoga-thon stops will be Surefire, a conference demonstrating exactly what safety and thriving can look like for girls.
At Surefire, not only will there be inspiring yoga, but it will be an illustration of everything possible for thriving girls in L.A. It will provide a safe forum where girls can ask direct questions to experts in various fields and get answers tailored to them and their needs. Everything will be addressed from how to handle social media, friends, and even how to handle frenemies. Surefire gives girls a plan of action to help them go after their goals. The conference aims to feel like a festival. It's creative, fun, educational, helpful, relevant, and inspiring.
Surefire Girls' inclusion of various nonprofits like Greater Los Angeles USNC for UN Women along with other for profit entities expertly harnesses the intersection of conscious capitalism and charities. This is the promising way forward for large-scale change. Ms. Mason clearly recognizes the rapidly evolving landscape for girls that technology has fostered. But, she also realizes that what girls need is not more online forums but an offline one.

She has been there and with the help of others, she's conquered. Now she wants to help girls triumph too. She explains, "I grew up to find my purpose, but my path wasn't always set as a girl growing up in Idaho. My life was changed by five people helping me find my way and reach my potential. That was serendipity, but we don't have to count on serendipity when it comes to the future of our girls."

In that spirit Ms. Mason aims to pay forward the same confidence and mentorship that richly benefitted her. She's harnessed it under one roof and has created a model that works to be on the current and future pulse of all things teenage girl.

She has also created a space for women that have made the same journey as her. These women have achieved professional success, overcome obstacles, and have obtained positions of leadership. When they reached their goals, they remembered every single person that believed in them mentored them, or signed off on their scholarship. These women want to find a way to give that opportunity to girls who were once like them and be that big sister they never had for someone else.

Surefire aims to bring together these girls and woman at every point of the journey. At the conference, depending on age, a Spitfire, grows into a Surefire, and Wildfire and then gives back as a Bonfire.
If you are a CEO or the girl who wants to be a CEO or if you just want to find your own unique path, Ms. Mason wants you to join the Surefire movement.

With safe spaces for girls harder and harder to find, let's hope organizations like Surefire light up the girls of the nation to reach their highest potential.
Calling all HuffPost superfans!
Sign up for membership to become a founding member and help shape HuffPost's next chapter