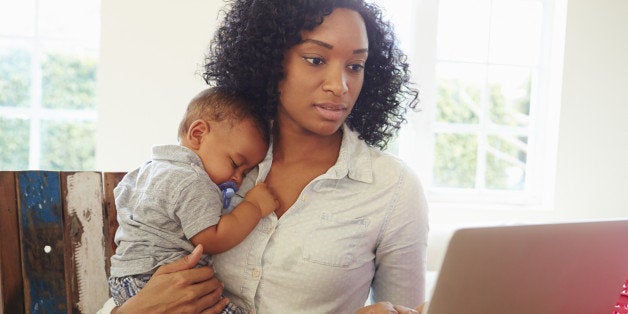 People are always asking me how I manage to consistently work as much as I do with a toddler in the house. It makes me feel great that I have somehow made this near-impossible feat look easy, but I can assure you that it's anything but.
I'd liken it to nailing jello to the wall.
I made the choice to work from home when my daughter was a few months shy of her first birthday. I didn't have the help of a full-time nanny, and my day to day life became, well, a circus. The juggling act between meeting client deadlines, developing creative content, answering a daily onslaught of emails, taking care of my home, and most importantly, taking care of my family, has been a learning process like no other.
As with anything, this routine took a little time to ease in to. There are days that go off without a hitch, and days where I'd like to hide in my closet with my laptop and a giant vat of espresso. There are days I feel more capable than superwoman, and then days where I repeatedly ask myself if I'm crazy to have launched my own writing business with a now super-active toddler running circles around me all day, every day.
I hate to sound cliche, but the truth is, if I can do it, so can the rest of you amazing mamas (and daddies) of the world. Here are a few tips for working from home while parenting:
Get ahead of the game.
Preparation is key. No one knows the needs of your child or children better than you. Create a schedule that allows for a comfortable balance without overwhelming you. Wake up before the kids, allow yourself to organize and map out your day, and answer some pressing emails. Know exactly which parts of your day will demand the most of your attention instead of winging it and hoping things fall in line. They won't. Learning to work on a schedule and create routines that work for all of the people in your home will be a game changer that will not only increase productivity, it will keep you in control of your day.
Ask for help.
Any mom, business owner, or mamapreneur worth her salt knows that it truly does take a village to get ahead. For me personally, I am not in a position to hire a full time sitter or nanny, nor do I want to rely on the help of someone else. I enjoy being with my daughter as much as I can between client calls and projects, however, I know my limits. Luckily, I have family close by who are willing to help a few days a week, as well as a neighbor who is happy to watch my daughter for a few hours on some of my busiest days. The trick is to take full advantage of this time. This is when I schedule any calls (because no one enjoys hearing a screaming child who just spilled her goldfish all over the floor), engage in creating new business plans, and taking a few moments of quiet time to reinvigorate my brain and thought process. Ask for help. Don't be shy. Help is good.
Know your limits.
This is the most important piece of information I can give to anyone looking to maintain a successful career with small children at home. If the first two options do not work out for you, this one will be your secret weapon. Sure, we all want to do as much as humanly possible to keep everyone, clients, children, spouses, friends, and family happy day in and day out - but let's be real here. If you're consistently overextending yourself, something will suffer and it will most likely be you, and the quality of your work. This happened to me quite a bit in the beginning, until I became more familiar with and accepting of my limits. Learning to say no, whether to yourself or others is an invaluable tool for success.
Have a sense of humor.
And be realistic. Do not expect perfection of yourself or anyone else involved in your work-from-home life. Allow a little room for error, a lot of patience, and time to learn. When in doubt - laugh (even if it's at yourself).
The truth is, anything that results in success takes a lot of hard work, trial and error, and patience. You'll get there, trust me.