Co-author :Ellen Offner, Principal, Offner Consulting, LLC, health care strategy and program development.
We don't have to worry about a taco stand smothered with guacamole on every corner anymore. Immigration from Mexico is declining. This is not good news for those of us who love the delicious flavor of chopped red meat smothered with guacamole and sour cream. But fear not, there is more good food coming. The largest influx of immigrants now is from Asia. Lucky us, and lucky U.S., that means a huge variety of foods: Indian, Pakistani, Chinese, Thai, Vietnamese, Nepali, Bhutanese, Tibetan. The array is astounding. Of course each one of these countries has a variety of regional cuisines as well as those of various tribal minorities.
Joy Reid, the talented CNN reporter, highlighted the xenophobia of the Trump campaign in her interview with Marco Gutierrez, founder of the group Latinos for Trump, who pronounced, "My culture is a very dominant culture, and it's causing problems. If you don't do something about it, you're going to have taco trucks on every corner." Most Americans want a taco truck on every corner!
According to a Wall Street Journal analysis, Chinese and Indian newcomers to the U.S. are now outpacing Mexican arrivals in most regions of the country, a marked reversal from a decade ago, when immigrants from America's southern neighbor dwarfed arrivals from the large Asian countries.
In 2014, the most recent year for which data are available, about 136,000 people came to the U.S. from India, about 128,000 from China and about 123,000 from Mexico, census figures show. As recently as 2005, Mexico sent more than 10 times as many people to the U.S. as China, and more than six times as many as India. This is great news for all of us foodies, who relish the variety of creative ethnic foods produced by these immigrants. We foodies are lucky that Mexico is still sending us many newcomers because we love Mexican food!
We can add all these foods to those brought by previous immigrant groups. What family could survive early sports practice nights without the Italian contribution of pizza, first mentioned in church records in AD 997 https://macaulay.cuny.edu/eportfolios/rosenberg14/pizza-culture-3/. Or get teenagers who slept too late to eat before school without the Great American bagel? Probably originating in Germany as thick pretzels (similar to those seen sold by street vendors in New York City and elsewhere) and morphed into the round bread with a hole in the middle by German Jews who emigrated to Poland during the 14th century. These were known as obwarzanek in Poland and can still be found in Krakow and elsewhere. (See street vendor below, Photo by Ellen Offner.) They sell like hotcakes! Cristina Martinez, an undocumented immigrant from Mexico, runs South Philly Barbacoa, rated #6 in Bon Appetit's Top 10 restaurants in the U.S. in 2016.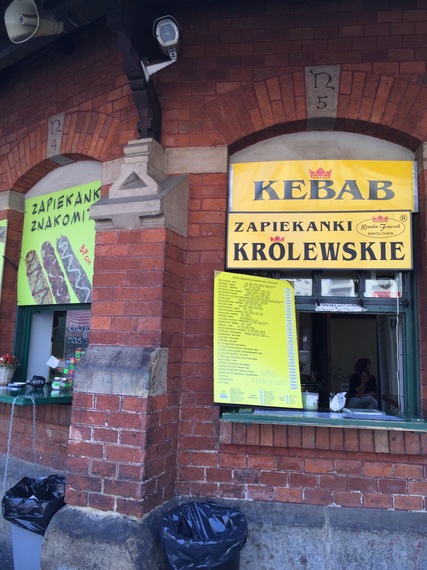 These various immigrant groups have found a way into our hearts, just like mama said, "through the stomach."
The American palate has been enriched and our waistlines, too, by each group of newcomers. Throughout small-town America there are omnipresent pizza parlors and Chinese restaurants. In big polyglot cities, every nationality has a presence in the food scene, to the culinary pleasure of people seeking exotic tastes, customs, and spices.
In our American cities fusion is in. East meets West. Even the lowly Irish stew and Shepherd's pie have been infused with new ingredients and can be found on the fanciest menus.
Some may "trump-et" The horrors of immigration, but we foodies say, "Bring them on!" Immigrants literally add spice to our lives.
The whole food chain is dependent upon immigrant labor and immigrant entrepreneurs. We like our vegetables fresh and we certainly don't want to pick them, except for an occasional excursion to pick-your-own farms. We need these foreign workers to help us in our fields. A headline in the New York Times reads, "Without Immigrant Labor, the Economy Would Crumble." "No one in America is going to benefit from expelling immigrant farm workers. And the cost won't be pennies:
Maybe our bodies or tastes are telling us something. Maybe they're showing us the way that we can learn from each other to everyone's benefit. Maybe our palates should lead the way on immigration policy--welcoming newcomers from around the globe will continue to enrich our culinary options. Weight Watchers beware!
Calling all HuffPost superfans!
Sign up for membership to become a founding member and help shape HuffPost's next chapter