If this can serve as a tale of two typewriters, then let my pithy baby blue Smith Corona serve as the humble doorman to the second (with a capital-T) Typewriter I'm going to feature, one that belonged to Kurt Vonnegut, which now resides in the Basile Community Room of the Kurt Vonnegut Museum and Library in Indianapolis, in a display case loaned by our local Art Museum, which the KVML has called home these first six years of its life.
The KVML still works to just keep the lights on from one month to the next - I like to think of it as the Little Library That Could. It is not often than a new Arts institution like this enters the picture; I hope that what we are working towards will net us a destination worthy of its namesake, whose posthumous star continues to rise and find place among Western World literary giants. It is a nice, very nice, star to place on the Indianapolis map.
Mine: When I turned 11, I was given a Smith Corona Corsair Deluxe the color of a robin's egg. I loved that typewriter and hammered out stories that were as short as they were trite, about girls who grew gigantic pumpkins and blizzard-ridden Christmases. I tinkered with poems and dabbled in song lyrics as I discovered music and romantic notionry. I used up as much corrective ribbon as I did black ribbon and would manually re-scroll the spools of ribbon when they ran out, so I could keep on writing and not have to leave my chair to locate a fresh spool….
I still have that baby blue Smith Corona. It's packed away with other artifacts from my childhood; it helps tell the story of me. Now, as Kurt Vonnegut Library Museum board member and writer, I understand the building block that it was, and is.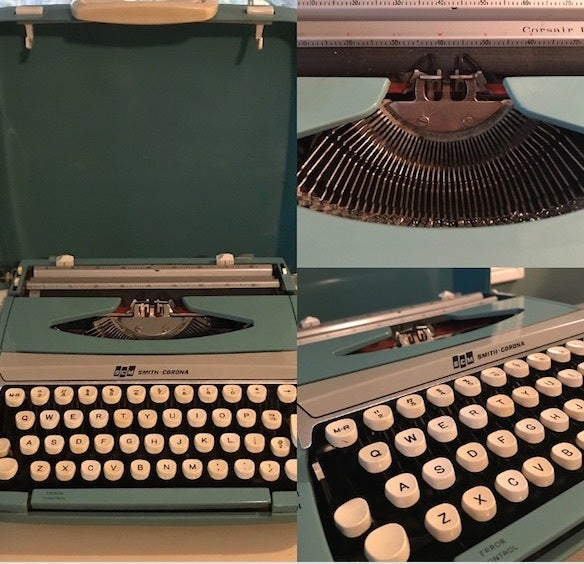 Christie's Auction House recently published a fun piece on typewriters. Online searches make clear what hot collectibles they have become. Typewriters, like creepy crawlers on the attack, strike with spindly metal arms as if to sting. They recall our pre-tech era in a wonderfully exo-skeletal kind of way and pay homage to a time when literature was literally cranked out, leaps past quill and pen but epochs still away from the clouds and computers we now employ – for now, still manually. And anyone who knows the bliss of creative inspiration will get just how seductive these little machines still are, for how intimately they will have figured in the lives of their owners, people who spent innumerable hours alone with them, spilling Helleresque guts and baring truest of selves. Typewriters are the ticking hearts pulled from the most devoted of Tin Man chests.

Kurt's: The typewriter at the KVML is also blue – more of a sky blue. And let us take a moment to appreciate the late retro, burled wood-effect strip adhered to its casing, like a faux, mini mantle or shelf in some aristocratic library. This one is also a Smith Corona, a Space-o-matic 2200 electric, late 70s model that Kurt likely bought new, perhaps one of his last such office machines. He later gave this one to Nanny, his daughter, some time in the 80s. Through my board work at the KVML, I have made the acquaintance of some of Kurt's family. Mark, his son, remembers, "…him changing the ribbon and knowing by the sound if the writing was going well."
Space-o-matic. I wonder if Kurt enjoyed the sci-fi cross-over allusion in the model name…

Nanny, Kurt's daughter, sent me this - I had asked her if as kids they had ever tinkered on their father's typewriters:
No, we certainly did not ever mess with his typewriter growing up…. Growing up, his typewriter was a manual one, not electric. I never used the electric one he gave to me sometime in the 80's, but treasured it. He did send me a beautiful, simple manual one in my senior year of high school, as an encouragement to write, which I did some. I gave that typewriter to my daughter, Nellie, now 26, who does use it. As vinyl records are back in style, so are manual typewriters. Sometimes I hear the sound of it in my house, a friend of Nellie's writing songs.... Unfortunately, smoking seems to be cool, too. Who knows how much Kurt Vonnegut has to do with what's cool and not cool these days. His smoking was every bit as much a part of his writing rhythm as anything, and muzak in the background, and the promise of a martini by days end. I think it ought to be easy for you to find a copy of the Vonnegut Drawings book. I hope I have helped! Nanny V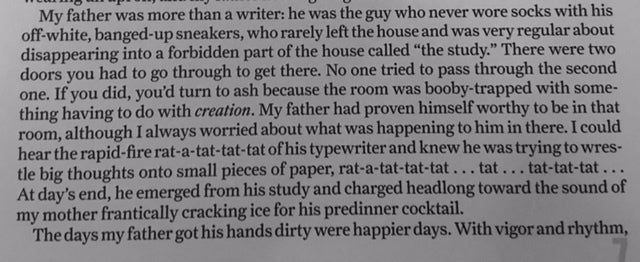 Time and again I invoke the Arts as a means of expression that, no matter how extreme, is a free speech gift by right that can challenge and change society without literal or figurative destruction. Look back on the war protests in the 60s and see what Kurt's most famous work, Slaughterhouse 5 accomplished. Its making the best seller list was critically important as a free market supported form of American protest, for it was done with the near-silent of the turn of a page. Kurt's works are First Amendment products at their distilled best and therefore most effectively American. You know the old adage: pens and swords, swords and pens. That is so cool.
The arts are not a way to make a living. They are a very human way of making life more bearable. Practicing an art, no matter how well or badly, is a way to make your soul grow, for heaven's sake. Kurt Vonnegut
Here is the link to the Vonnegut Library webpage, so you can see what they are all about. And here is a link to their current Kickstarter campaign, which ends November 11, on Kurt's birthday. 2018 will be the year for their Lonesome No More educational programming, which will help put the spotlight on mental well-being and healing, mental health education and global community. Please, take a look and help keep the lights on at what is home for now to Kurt's venerable typewriter, and so much more.

Photos of Kurt Vonnegut typewriter used by permission of the KVML. Nanny Vonnegut quote used by permission.
Related
Popular in the Community