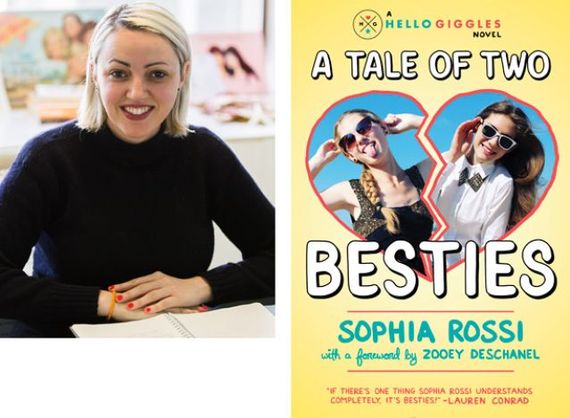 When Sophia Rossi launched the women's lifestyle site HelloGiggles back in 2011 with her friend Zooey Deschanel, media wasn't exactly interested in women playing nice with each other. "Shows like The Hills were based so much on fighting friendships," Rossi says. "We wanted to show that your friends are your family."
Four years later, the site has 16 million unique visitors per month and Rossi has a new book coming out, A Tale of Two Besties (out May 12), which celebrates female friendship. Eavesdrop on our girl talk below:
What inspired you to write specifically for teens?
I loved YA growing up. I read all the Sweet Valley High, The Baby-Sitters Club and Nancy Drew books. When HelloGiggles started, [Zooey and I] created a community of people who had youth as their interest and I wanted to extend that into a book.
Did you reread the Sweet Valley High books as an adult?
I did reread a few of them! For my birthday, Zooey collected all the Sweet Valley High and Baby-Sitters Club books on eBay for me, so we have them in our office. We're constantly remembering stories from both series. Francine Pascal, who wrote the Sweet Valley High series, actually blurbed my book, which is like a dream.
Did you go through what the two friends in the book go through -- trying to stay friends while going to different high schools?
Yeah, a little bit. I grew up in Beverly Hills and there are four middle schools that go into one high school. It was really hard for me to be in such a big school. Some of my friends also went to a neighboring school that was more focused on the arts, so I had to learn how to make new friends while still trying to see my old friends.
It's a huge deal when you're a teen! What was Zooey like in high school?
I didn't go to high school with her, but we had a lot of mutual friends. I think she was very much the same way she is now, from what I remember. She was super in tune to the things she cared about and really active in theater. She's always been super smart and intuitive. And she's always been herself. I think that's why people really connect with her; whether you're like her or not, you connect to the idea that she's pure to her own efforts.
You guys were friends when you launched HelloGiggles together. Do you have any tips for going into business with a friend?
Yes. Celebrate your victories. I think we all get busy with our schedules, but it's nice to stop and say, let's get dinner and celebrate this. My other tip is having clear defining roles, especially at a start-up.
Who are your best friends now?
I have a few besties, but I don't like labeling them as that, because as Mindy Kaling says, "best friends" isn't a term, it's a tier. So I have a bunch. I just had a sleep-over with my bestie Charlotte Ronson last night and her twin sister Samantha. And Lauren Conrad and I became so close when I was a writer for The Hills; I really consider her a sister.
If you go:
Sophia Rossi and Akilah Hughes friendship hangout
New York City
May 28, 6 p.m.
Barnes & Noble Tribeca
97 Warren St., 212-587-5389