A Tale of Four Cities is a series of travel notes from Maddy Lederman's recent trip abroad.
"I'll never forget the simple pleasure of a perfect tomato and a dry, peppered goat cheese."
For this installment of A Tale of Four Cities, I'm sharing excerpts of my letters to a friend and fellow writer. She had asked about my recent trip to Paris while planning her own. Here are musings from a simpler time just a few months ago, when finding the best ice cream loomed large in my thoughts on The City of Light.
Re: Paris

...Mostly what we did was walk around trying to get hungry again so we could pop into the next cafe or restaurant.
Berthillon Ice Cream. You must have this. Don't go elsewhere thinking it will be just as good because you're in Paris. We tried that. It isn't. In fact, I can't believe I'm just finding out about Berthillon at this point in my life. If ice cream like this exists, everyone should know about it. It could pave the path to world peace.
Au Passage (a restaurant) is booked months in advance, but if you go when they open, you might get a seat at the bar or at a wooden barrel (yes, worth it). Their small plates are creative and modern with reverence for French culinary traditions. An upbeat staff of wise-cracking foodies helped us with the complex menu and wine parings.
For authentic Steak Au Poivre that won't break the bank, we liked Chez Paul. Crowded at dinner, we opted for lunch and were surrounded by lingering, local diners. The slow, afternoon pace and pre-War décor contributed to an atmosphere that was so quintessentially Parisian, it could also be a living museum or a niche performance art.
Laduree is an exquisite pastry shop that was recommended by a pharmacist near our hotel in Le Marais. I had Religiuese de La Rose (rose pastry) as instructed, and I am passing on this advice. There are a few Ladurees in Paris, we went to the one on Bonaparte. Everything looked so precious, it made me feel feel giddy.
There will be great food options anywhere in the city. Other places we liked are Chez Josephine (wine and cheese outside on a lovely square) and Chez Marianne (middle-eastern food in an ancient tavern). We missed Le A's Falafel, the lines were insane. If you make it there, please shed some light on how great a falafel can be!
Sometimes we skipped restaurants and had wine, cheese and bread, which was good for both the wallet and the soul. Street markets are filled with local farmers. I'll never forget the simple pleasure of a perfect tomato and a dry, peppered goat cheese with a thermos of wine on the Seine. This is a total cliché, and one there's good reason for.
Re: Reading in Paris: both kinds

...The Writers Museum in Dublin had an exhibit about the publication of Ulysses at the historic, Paris bookstore, Shakespeare & Company. Naturally, we had to buy reprints of the first edition when we got there. The plan was to be "relaxing" in Paris parks, reading. Hilarious.
We took them out once, I barely made it through the introduction. Paris was just too alluring to read, even ten days didn't feel like enough. We carried the thick, heavy copies of Ulysses on to Barcelona, back to Dublin and then New York.
I found out about literary readings at Le Bistrot des Artistes, near Shakespeare & Company, and Culture Rapide in Bellevue, an emerging neighborhood referred to as the "Williamsburg of Paris" (artists and students have moved in). Both of these events had diverse, talented writers and lively, enthusiastic audiences. I got laughs!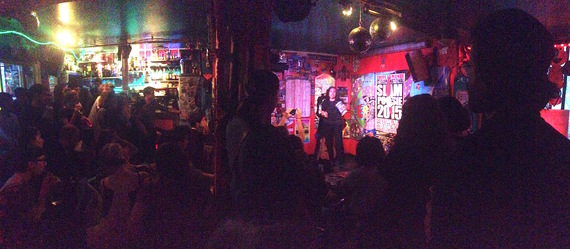 Reading Edna In The Desert at Culture Rapide. Photo by Ray Carter.
Re: sympathy for Paris

...Their breathtaking surroundings must contribute to a certain arrogance that is stereotypically Parisian. Living with such a high-level of aesthetics and being accustomed to it, poor Parisians must travel the world dismayed and disappointed. Where can they go to fall in love with a city as beautiful as theirs?