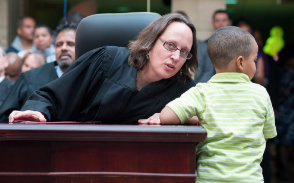 On July 8, attorneys representing scores of immigrant children in JEFM v. Lynch will argue in the United States Court of Appeals for the Ninth Circuit in Seattle, Washington. The case addresses the fundamental right to due process, which entitles defendants to a fair trial. This includes the right to court appointed representation when two parties have significantly unequal representation in court. However, due process is glaringly absent from most immigration cases involving unaccompanied migrant children, leaving youth to defend themselves against expert government attorneys. Those who fail face certain deportation to broken homes and families that may no longer exist. Immense personal danger is almost guaranteed.
The case made headlines in March, when presiding Judge Jack H. Weil—a long time immigration judge, and trainer of rising legal talent— quite seriously suggested that migrant children as young as three years old could learn immigration law and adequately defend themselves in immigration court. Given this logic, failure to secure asylum is the fault of the migrant, rather than the fault of a backward system that selectively guarantees due process. No matter that this type of law is almost universally understood in legal circles as amongst the most complicated. Better luck next time, kid! Unfortunately, for most there will not be a next time.
Judge Weil was instantaneously panned by human rights groups and the media upon releasing the statement, leading him to insist that his comments were taken out of context. Yet perhaps Judge Weil was simply being entrepreneurial, imagining a new venture. A venture that instills a deep appreciation for the legal profession in youth. A venture that builds grit and resilience in children by training them to perform feats decades beyond their years in order to not only achieve, but to survive. Perhaps he will lovingly call this venture a quirky, inviting name a la Barney, Elmo and Associates. Child friendly, but firm. Relatable, but professional.
Indeed, Barney, Elmo, and Associates will specialize in immigration law, and find a unique niche in a legal services market by encouraging each and every migrant child to fend for themselves. The firm will refuse to discriminate by age, offering its services to unaccompanied tykes as young as three and as old as six. It will offer simultaneous English lessons as well, as translation is rarely provided in court. In classic Sesame Street fashion, the budding legal minds will learn the language while soaking up crucial legal knowledge. Perhaps lessons will start with A, for asylum! The kids will absolutely love it—and it will be an academic challenge to boot. At this point, Judge Weil may even grin in spite of himself. He is really doing these parents a favor!
Of course, the firm will only hire the best legal minds to train this burgeoning class of experts. In between restocking apple juice and fitting the tiny attorneys for miniature pantsuits, notables like Mickey E. Mouse and Kermit T. Frog will instruct in proper courtroom etiquette, following the two pillars of the Barney, Elmo, and Associates legal framework: no imaginary witnesses at the stand, and no tantrums.
Unfortunately for Weil, such an enterprising legal venture poses a direct violation of international human rights law, including the Convention on the Rights of the Child (CRC), the International Covenant on Civil and Political Rights (ICCPR), and the Convention Against Torture (CAT). Granted, the United States has yet to ratify the CRC, so Judge Weil is off the hook there.
Given the xenophobic rhetoric that has usurped reason throughout this election cycle, flagrant assertions by a certain candidate that a Hispanic judge is unfit to rule on the Trump University case due to his heritage, and the recent 4-4 Supreme Court vote on President Obama's immigration plan, it is unlikely that a law firm specializing in training child migrants will make any reasonable headway in the coming months, ridiculous as it sounds. Yet where politics fail, the courts play an invaluable role in promoting justice. JEFM v. Lynch is a crucial case, not only for hundreds of young migrants, but for the democratic ideals of due process, equality, and representation under the law. Three years old is far too young to begin training for a law degree. Let us hope that the Ninth Circuit agrees.
Note: This article is my own. It is not a Human Rights Watch piece.
Popular in the Community