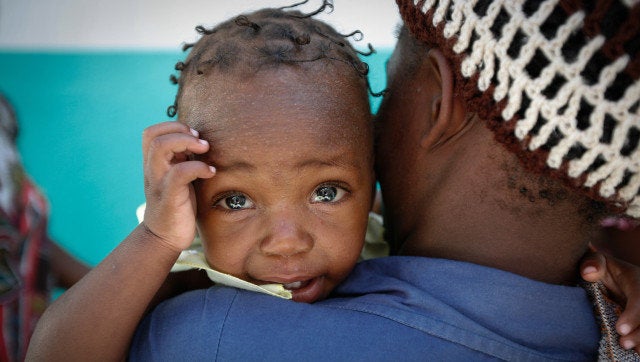 In the last few weeks, I was unexpectedly present at the birth of two baby girls -- both 7.1 pounds -- born on opposite sides of the globe. I witnessed the true miracle of welcoming life into the world, but I also faced the reality that these lives would diverge dramatically.
My work as global nursing director for Partners In Health (PIH) took me to the rural district of Neno in Malawi, where we work closely with the country's Ministry of Health. When a group of colleagues and I arrived, we were greeted by Kelita Silla, an amazing midwife who was the only care provider for the region's small clinic. In one night, she had delivered three babies, cared for all of the clinical patients, and still had to attend to the waiting line of sick children and adults.
Kelita told us about a woman who had just been in labor after walking many hours from her home. We went to check on her -- down the hill to the maternity building, a series of small rooms that were stark but clean and well-organized. We found the woman in active labor on the concrete floor, not wanting to move. It was soon clear that this baby was going to be born right on the cold floor. Baby Dalitso arrived less than two minutes later. She was immediately wrapped in a piece of vibrantly-colored cloth that her mother brought from home.
Luckily this mom made it to the clinic where there was a skilled midwife on staff. Had she suffered complications that required a cesarean section, the outcome would have been very different. The closest facility equipped with operating facilities was many kilometers away, along a dirt road--an impossible trek without emergency transportation.
As providers, we had no medical history on this woman (other than knowing this was her third child), no idea if she had received any prenatal care, or if she had been healthy throughout her pregnancy. With remarkable skill, Kelita quickly cleaned the child with a tattered rag as the quiet mother climbed into the bed and closed her eyes. Baby Dalitso was weighed on a rusty scale, re-wrapped in the old cloth, and placed beside her mother in bed.
After spending a few minutes basking in the excitement, we left to continue on to another clinic while Kelita rushed to attend the line of patients that snaked around the clinic's perimeter. I have no idea what happened to that mother and her baby. The mother was a remarkably strong woman who traveled a rough, long journey to make sure her child would be born in a place with a skilled birth attendant. Luckily, Kelita was there to deliver her child with expertise and compassion.
When I returned to Boston six days later, I found myself in the midst of another delivery. My neighbor, pregnant with her second baby, went into labor around midnight and progressed very quickly. We abandoned attempts to get her to the hospital on our own and dialed 911. For a bit, it seemed this baby was going to be delivered in our driveway. But within minutes, two ambulances arrived with four paramedics. The ambulances were ready to whisk the laboring mother away to any of five world-renowned hospitals that are within six miles of our house.
Within 15 minutes, this mother was inside one of the nation's best hospitals, en route to a specialized delivery ward and attended to by highly skilled nurses and doctors. The private labor room was stocked wall-to-wall with high-tech equipment, and was just feet away from the operating room. When baby Bowie was born, she was cleaned, examined by a neonatology specialist, put in a special isolette with warming lights, given a diaper, and swaddled in a sterile blanket.
If Bowie had any problems, a team of neonatology experts would have rushed her to Boston Children's Hospital, another of the world's finest medical institutions. As she was attended to by a swarm of specialists, mom was closely monitored by her own team of experts who checked every 15 minutes for signs of post-partum complications such as hemorrhage. Mom stayed in the hospital for 48 hours while she and her baby received the best care available anywhere in the world.
Two different experiences, two different lives ahead. If Dalitso is able to survive past the critical age of 5, she will be expected to live for 51 years. While shockingly low, this far surpasses the life expectancy of men in Malawi, which is a mere 44 years. On average, a Malawian woman will have six pregnancies in her lifetime and struggle to complete primary school education, according to the World Health Organization. In contrast, baby Bowie will be expected to live 81 years, have 17 years of education, and will mostly likely have only two children, according to the CIA World Factbook.
When the girls grow up, there will be stark differences in how they will experience pregnancy and delivery. Dalitso, like all women in Malawi, is 21 times more likely to die as a result of childbirth than Bowie. If Dalitso has a child, her child will be 10 times less likely to survive to her first birthday and nearly 20 times less likely to reach the critical age of 5, according to the World Health Organization and CIA World Factbook. Unless action is taken, these disparities in access to care and the unjust difference in life trajectories will continue to grow.
Fortunately, I get to see Bowie all the time. She is a healthy, beautiful little girl I can hold in my arms for hours. As I look at her, my thoughts are constantly with Dalitso, across the ocean. I hope she and her mother are healthy. I hope they will make it back to the clinic to receive the crucial care that could help Dalitso survive her most vulnerable years of life. Both baby girls deserve a chance to lead full and amazing lives and both have a right to live in a world that values them -- regardless of where they are born.
Popular in the Community