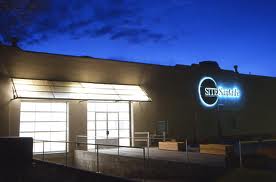 Sixteen years ago, Santa Fe had a vision to establish a contemporary art museum with the focus of bringing the latest and greatest in the contemporary art world to the oldest city in the West. They created a Kunsthalle (non-collecting art museum) with a mission to host a contemporary art survey biennial. Biennials at SITE Santa Fe have been curated by Francesco Bonami, Rosa Martinez and Robert Storr, all of whom then went on to be invited to curate subsequent American pavilions at the Venice Biennale. Dave Hickey received a MacArthur "Genius Grant" after curating the 2001 SITE biennial. Klaus Ottman, Lance Fung and now Sarah Lewis and Daniel Belasco (both protegé's of Robert Storr) are also on the list of curators who have put their vision of the contemporary art world on display in the high desert of the "City Different."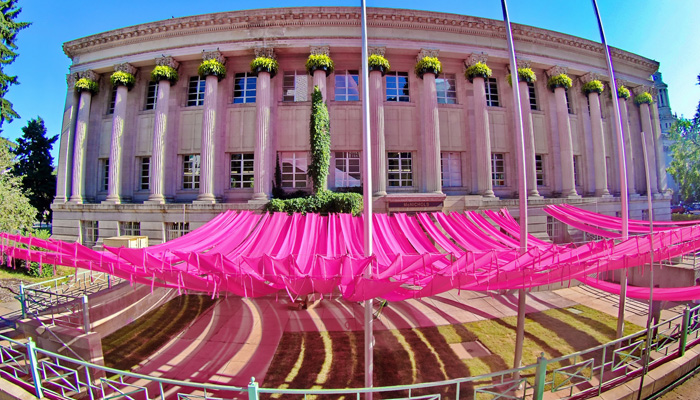 In 2008, Denver decided to join the biennial craze (there are over 200 different biennials worldwide) when art-loving Mayor John Hickenlooper conceived of the idea to host an event exploring art from the tip of Tierra del Fuego to the Hudson Bay. When many in the art community questioned why anyone would host yet another biennial, Mayor Hickenlooper enlisted visionary designer Bruce Mau to help conceptualize what a new biennial might look like. Unfortunately, Mau's vision and the city's budget were on different trajectories. Mau and the Mayor parted ways with everyone claiming amicable split when they finally began talking weeks later. The biennial remained in the hands of a sports guy and a businessman, though the sports guy also left before the event could be launched. Event planner extraordinaire Donna Good was hired to help it all come together and a curator was finally hired in January 2010 to put together an exhibition a mere six months hence. That curator is Paola Santoscoy, a 35-year-old recent curatorial graduate of the Visual and Critical Studies Program at California College of the Arts in San Francisco, originally from Mexico City. No East Coast art stars for Denver. Santoscoy may someday be asked to curate another premiere art event around the world, but the two biennials currently on display in Denver and Santa Fe could not be more different.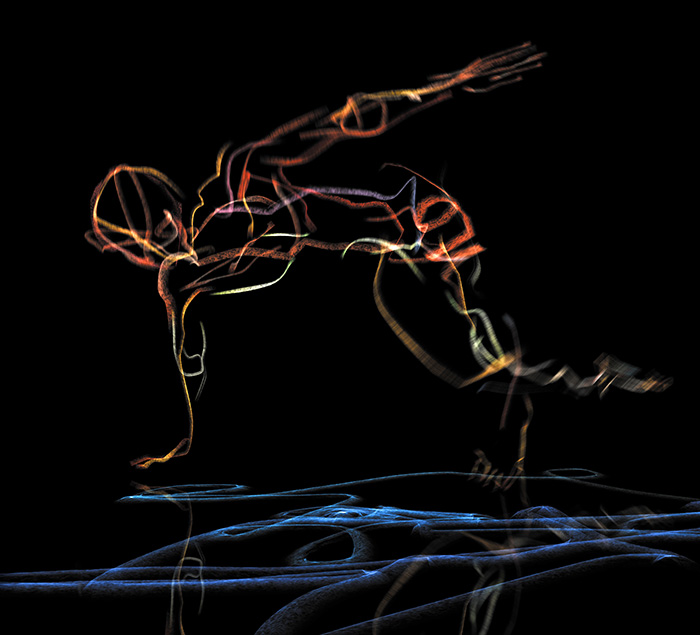 At SITE, Lewis and Belasco present "The Dissolve" a video-only biennial that presents works blurring the line between the hand made and high technology. Exploring art that melds animation, narrative, and formalism. To contextualize, the curator's selected four historical works: "The Enchanted Drawing" produced in 1900 by the Edison Manufacturing Company; "The Adventures of Prince Achmed" Lotte Reiniger's 1926 shadow puppet animation, widely believed to be the oldest surviving feature-length animated film; "Soviet Toys" by Dziga Vertov and "Big Chief" Ko-Ko in rotoscope by Fleischer Studios, both from 1924 these works highlight key technological developments in "animation" and moving picture arts. For the curators, the synthesis is that "technology becomes not an end, but a means to more effectively foreground the primacy of the human imagination." They solidify that thesis by presenting contemporary moving image techniques that create hybrid forms in painting, film, video and performance art. The 21 contemporary artists also on display use state of the art technology of the time to present highly imaginative artworks that equally diverse. Kara Walker, Maria Lassnig, Oscar Munoz, Mary Reid Kelley, Cindy Sherman, William Kentridge and Bill T. Jones are presented in a setting designed by David Adjaye that utilizes dark blue and green cloth to create viewing spaces, it is the most cohesive and successful biennial hosted by SITE to date. It's an exhibit that demands a viewer spend time watching and one that strikes me as rooted in formalism yet remains accessible because one can see the human hand in each work. The works are diverse in medium and aren't polished to perfection. Yet each work addresses an issue and a human story that raises questions. Kara Walker addresses racism with her animated cut-paper silhouettes. Cindy Sherman takes on female identity in the only stop-motion animation from her artistic oeuvre. Maria Lassnig addresses sexism and nationalism through live action, animation and found photography. And Bill T. Jones challenges all our notions about how we see, the figure, line drawing and color through stereoscopic displays and the evolution of 3-D technology.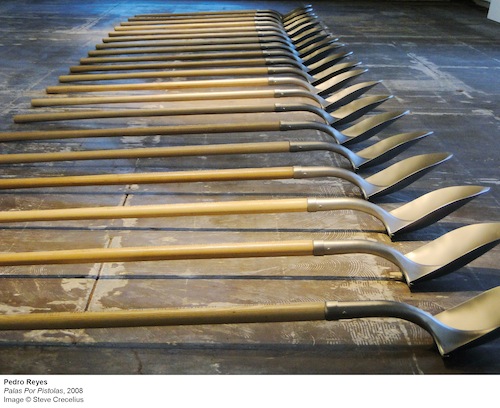 In Denver, Santoscoy has selected 24 artists to create or show site-specific works in the 28,000 square foot McNichols building, utilizing artists from Central America, South America, and Mexico to help share the hemisphere's differing points of view. The exhibit is spare enough for each work to stand on it's own while still engaging other works in the space. Each artist presents a challenging idea, something to make the viewer stop, ponder, question. Whether it's a wall of rohrsach images created from altered silhouettes of countries from the Americas by Armando Miquelez, or Gabriel Acevedo Velarde's video response to racist comments made online in reaction to graffiti art in Lima, Peru or Dario Escobar's "Dawn (Amanecar)" of painted wood baseball bats that references the cultural tension between the consumer middle class and the working class of Guatemala. It's an elegant exhibit, smart, yet nothing is in your face provocative. Of course, the same could be said for The Dissolve despite it's parental warning at the entrance, and the rape images in Kara Walker's video, but we've come to expect that in Walker's work. It's not something new or unsuspected.
Sarah Lewis, just shy of completing her PhD at Yale, was the topic of a profile in the May issue of Vogue, was invited by President Obama to serve on the countries first arts policy committee, and has been identified by NEA Chairman Rocco Landesman as the person he wants to bring on board to help develop his new Our Town initiative. It is almost guaranteed that Lewis will someday win a Mac Aurthur Genius Grant and she is already identified as a young woman to watch. I have not met Lewis, but she's someone who impresses. I have met Paola Santoscoy. We observed mugging together on a Denver Street and spent a couple of hours talking about The Nature of Things over coffee Memorial Day in a Highland Café. She's the kind of person I'd like to hang out with, talk about art with, and spend time with. She's real. She's grounded. She's smart. And this is the difference between the two biennials currently on display in the West. The SITE Santa Fe Biennial is rooted in East Coast Academia, it is connected to the greater contemporary art world, it has it's place among the prominent biennials of the world and manages to produce time and time again, exhibits that propel the explorations of contemporary art, art making practice and ideas forward, whether the exhibitions are deemed successful or not. Denver's Biennial of the Americas is comfortable, a place to hang out, to knock around ideas that are being knocked around in other places around the world. What it's not is a snapshot of something significant. Something connected to academic theory or the greater contemporary art world. It's a biennial rooted in the ancient and modern traditions of the Americas and the challenges facing all people, from economic inequity to the continuing ramifications of post-colonialism.
SITE Santa Fe's biennial is for the brainiacs. "The Nature of Things" is for the rest of us.
Calling all HuffPost superfans!
Sign up for membership to become a founding member and help shape HuffPost's next chapter