Co-written by Kylie Patterson, Racial Wealth Divide Initiative Sr. Program Manager

New Orleans and Miami, two cities long touted as tourists' paradises, share another similarity - racial wealth inequality.
Racial wealth inequality is a major issue in the United States. It's origin dates back to the transatlantic slave trade, followed by the ratification of the 13th amendment, Jim Crow era, civil rights movement to now - the country has a painful history of white supremacy and racial prejudice with economic repercussions.
The racial wealth inequality in post-Katrina New Orleans reflects the inequality from pre-Katrina and explains why the African American community in particular was so vulnerable to a natural disaster and devastated by its impact.
Today, some 69% of families of color are liquid asset poor, meaning they do not have savings to stay above the poverty line in the event of an emergency or job loss, compared to 29.4% of white families. Additionally more than 30% of black households are under the poverty line ($23,850 or less for a family of four), compared to just 4.9% of white households.
These disparities have also led to much racialized internal displacement or gentrification, where former black communities are disappearing and/or moving further and further out from the city center. (See map)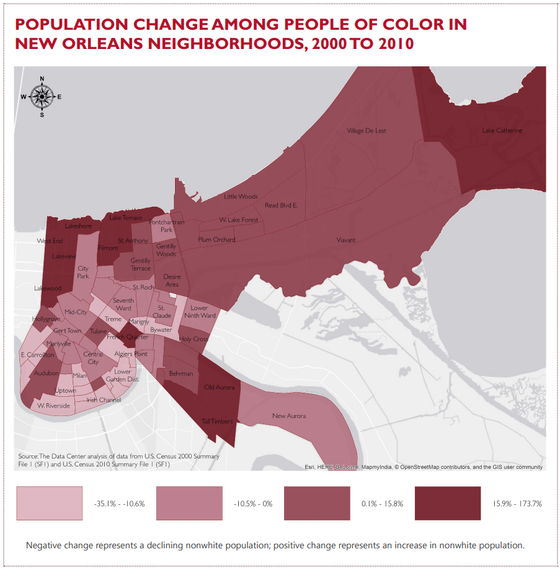 Yet, it should be noted that while the size of the black community decreased post-Katrina, there has been growth in the Latino community, and the Vietnamese community growth is relatively flat. Still Latinos and Vietnamese in New Orleans face similar economic and political challenges to that of African Americans.
Miami's wealth inequality, unlike New Orleans is further nuanced by its long history of immigration. Even today, 3 out 5 Miamians are foreign-born. Miami has been home to numerous immigrant groups. Most recently, there has been an influx of Central and South Americans.
Unfortunately there are great disparities among and even within racial and ethnic groups. The homeownership rate among Cubans is 36.9% compared to just 16.7% of Central Americans. Still, neither ethnic group compares to Whites that have a homeownership rate of 42.9%. In education, we see even greater disparities. Just 3.6% of Haitians have a bachelor's degree or higher compared to 7.3% for African Americans, which is then compared to 31.3% for Whites.
Although similar challenges face these cities, they differ by their magnitude and how they manifest within families and communities - it is these differences that require targeted and local interventions.
With the release of these profiles, CFED also announced their project Building High Impact Nonprofits of Color. The project's interventions rest upon this belief - those working in communities are best equipped and positioned to affect the racial wealth divide.
CFED's Racial Wealth Divide Initiative has selected ten organizations, five in New Orleans and five in Miami. In New Orleans, the selected nonprofits are: Ashe Cultural Arts Center, Jericho Road Episcopal Housing Initiative, MQVN Community Development Corporation, Puentes LatiNola and VAYLA New Orleans. In Miami the selected nonprofits are: ConnectFamilias, Hispanic Unity of Florida, Miami Children's Initiative, Partners for Self-Employment and Sant La Haitian Neighborhood Center. With the selection of these organizations and their investment, CFED's Racial Wealth Divide Initiative, in partnership with JPMorgan Chase, is making the case that to address the racial wealth divide, investments must be made in communities to organizations of color with high impact asset-building services.
There is hope. With these investments, the work of organizations, and significant policy reform we may be able to address the racial wealth divide and find ourselves in paradises that serve both tourists and their local communities of color.
Calling all HuffPost superfans!
Sign up for membership to become a founding member and help shape HuffPost's next chapter