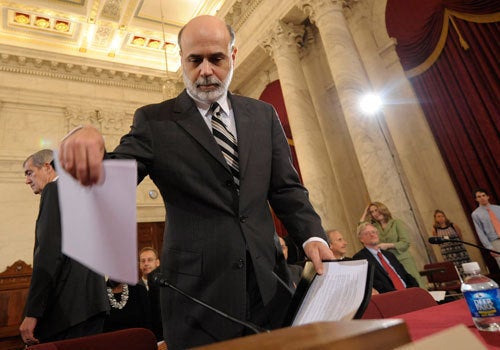 On the same day, President Bush and Federal Reserve Chief Ben Bernanke gave two very different assessments of where the US economy is going. Bush was Mr. Positive while Chairman Bernanke's testimony forewarned of the pain to come. Read excerpts from the two takes below.

President Bush said Tuesday the nation's troubled financial system is "basically sound" and urged lawmakers to quickly enact legislation to prop up mortgage giants Fannie Mae and Freddie Mac. He also called on the Democratic-run Congress to follow his example and lift a ban on offshore drilling to help increase domestic oil production.

Amid soaring gas prices, the toughest real estate market in decades, falling home prices and financing that's harder to come by, Bush said: "It's been a difficult time for many American families." But he also said that the nation's economy continues to grow, if slowly.

Bush said that despite the woes of Fannie Mae and Freddie Mac and the recent government takeover of California bank IndyMac, U.S. depositors should not worry because their deposits are insured by the government up to $100,000

Federal Reserve Chairman Ben Bernanke told Congress Tuesday the fragile economy is facing "numerous difficulties" despite the Fed's aggressive interest rate reductions and other fortifying steps.

At the same time, Bernanke, testifying before the Senate Banking Committee, sounded another warning that rising prices for energy and food are elevating inflation risks. This problem looms even as officials try to cope with persistent strains in financial markets, rising joblessness and housing problems.
Related
Popular in the Community