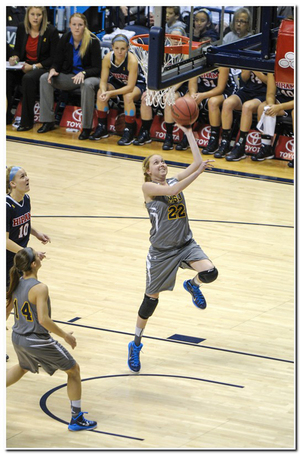 Two new heroes have emerged this year. Each has shown amazing courage, leadership and generosity in helping others. They have achieved all this despite having brain cancer.
Lauren Hill is a Mount St. Joseph University basketball player who is leading a global initiative to cure cancer. Then there is Natalia Marsh-Welton of Cincinnati, an 11-year old whose spirit of giving to feed the hungry is an example to all of us.
On Nov. 2nd, Lauren Hill made the first basket of the NCAA season. She did this despite suffering from an aggressive brain cancer called Diffuse Intrinsic Pontine Glioma (DIPG).
Her left handed layup was seen across the globe. She is a great basketball player. Lauren also made another layup, her third of the season, in a game Friday night.
But what Lauren has done off the court is even more amazing. Rare diseases, like DIPG, don't receive enough funding for research. Lauren has raised awareness and funds very quickly as her story has spread worldwide.
The cure for all cancers may be found in treating rare manifestations of the disease like DIPG. We don't know which road will take us to the cure for cancer. But we need to explore all the avenues. Lauren has reminded us of that. She has started the Layup for Lauren Challenge to raise money for The Cure Starts Now charity.
Lauren has inspired the public to take action. Hopefully, government will follow too. Congress has a rare disease caucus. They should take up the challenge to provide more funding for curing DIPG and other conditions.
Cancer takes away those precious to us and destroys families. But it cannot take away the spirit of compassion and giving as 11-year old Natalia Marsh-Welton showed us.
Natalia was asked earlier this year what her special wish would be. She wanted her brain tumor to go away. But her next wish was to make a special soup to feed the hungry and homeless.
Her recipe, called Natalia's Soup of Love, was created with the help of the Make a Wish Foundation and chef Jean-Robert de Cavel, owner of Jean-Robert's Table restaurant. Natalia then brought the soup and blankets to homeless shelters.
Natalia passed away last week from the brain tumor. Her last wish was to feed the hungry and homeless. She did just that in a big way.
For her birthday in October, Natalia and her family went to the Drop Inn Center in Cincinnati to help the homeless. She gave out the special soup and blankets. Genell Stephens of the Drop Inn Center said,
"This young girl who was fighting to save her own life found the strength to reach out to others that were in need."
Natalia is today's example for the whole world about sharing and compassion. With so many millions of people starving and homeless, we need a lot more Natalias to combat this injustice. (Read more about Natalia's story here.)
Heroes inspire heroes. There are many things you can do today to support Lauren's and Natalia's missions. You can help find a cure for cancer and end hunger and homelessness.
You can take action! What you do today can help someone suffering with cancer or hunger.