It was in the California wilderness where John Muir, the unofficial "father of the national parks," was inspired to start down a lifelong path of environmental conservation--and it was the landscapes of Sequoia and Kings Canyon and surrounding areas that so compelled him. He once called Kings Canyon "a rival to Yosemite" (and we all know how much he loved Yosemite); he likened the ancient sequoia trees to picture windows into history. Muir succeeded in bringing Sequoia to national park status, it would become America's second national park just after Yellowstone was created in 1890. His attempts to bring the neighboring area of the Kings River into the fold ultimately failed, but five decades later after successful lobbying efforts were made by the President, the Interior Secretary, and a talented photographer named Ansel Adams, Kings Canyon officially joined the party.
So here we have two separate national parks joined at the hip, very different and with one big thing in common--size. Sequoia National Park has the largest tree on Earth by volume stationed within its boundaries, it's name is General Sherman. Kings Canyon is home to one of North America's largest (and most beautiful) canyons, and to the world's second largest tree, General Grant. Needless to say, we had completely unique experiences in each of the parks as we're sure many others did who took time off of work or school or life to have their tree-hugging, nature-loving minds blown by the California wilderness.
Since the formation of Kings Canyon, they have been administered jointly by the U.S. National Park Service (NPS), and it is for that reason that we are giving them the same treatment by presenting them together on this page. Below we've outlined some of our favorite places to go and things to seek out in parks 22 & 23 on our great American road trip.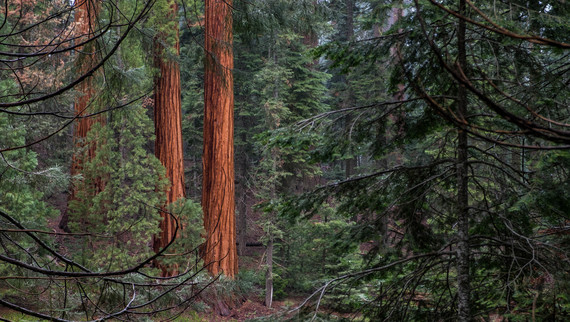 You'll know as you begin to enter the Giant Forest from the warm color and the massive size of the sequoia trees. Photo credit: Jonathan Irish
Giant Forest
The Giant Forest is the unofficial entrance to heart of the park. You will know you've reached it when the conifer forests of pine, fur, and cedar suddenly intersperse with the world tallest trees (redwoods) and largest trees, sequoias. It a spectacular and unmistakable entrance--the trunks of sequoia trees are twice the size of anything nearby and they are richly colored with amber bark, a sight that lights up the deep dark forest. There are plenty of places in the area to pull off and wander through the trees on foot, or, you can simply enjoy the view from inside of your car window. Most visitors spend a lot of time driving in and around the Giant Forest en route to other famous landmarks in the park, including Moro Rock and Tunnel Log.
Moro Rock
This granite stone formation is one of the crowned jewels in Sequoia National Park and a longstanding visitor favorite. It was one of the first landmarks to be cultivated after the Giant Forest was established. Just 400 laddered steps up a rock face (those who fear exposure, beware!) you will find yourself among towering views of the Great Western Divide where you will get a load of the best sweeping views of any accessible place in the park. Weather can easily put a stop to your visit there (standing atop high cliffs during thunderstorms that commonly appear the area can be fatal), but on a clear day you can see the world.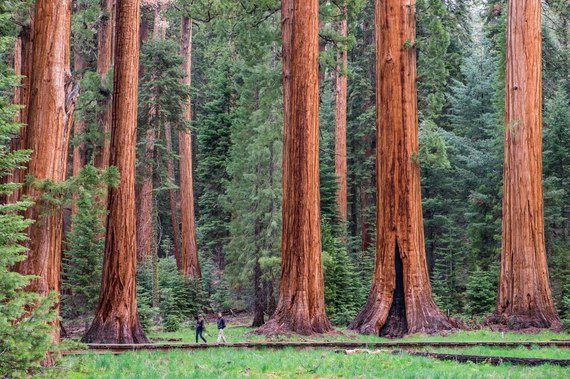 One of the best places to understand the ecology of Sequoia National Park is along the interpretive Big Trees Trail. Photo credit: Jonathan Irish
Big Trees Trail
An easy walk along the Big Trees Trail will give any visitor a glimpse into the ecosystem of Sequoia National Park. It is an easy 2/3-mile walk around a well-established loop trail that hugs the base of an ancient sequoia grove. In the center is a lush meadow that is a perfect habitat for new sequoia growth. Educational signs along the interpretive trail explain the cause and effect of the area's ecology and of the trees' survival. Our favorite aspect of this trail is that it allows a real understanding of the scale of these massive trees--it was here that Jonathan captured the photo that we are using as our featured photo of this park. It is not easy to capture the size of a sequoia tree in a still frame, but we think that the most visually comprehensive photos of sequoias occur when there is a little bit of distance between them and the lens.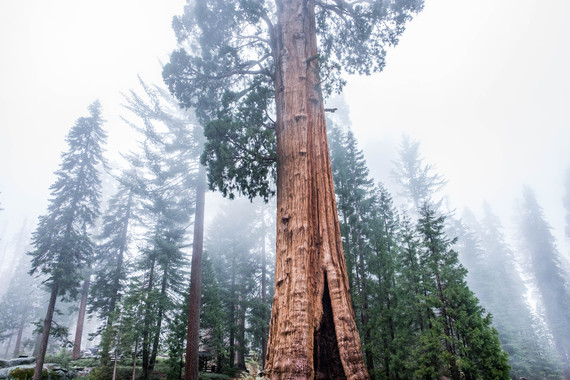 The world's largest tree by volume: General Sherman in Sequoia National Park. Photo credit: Jonathan Irish
General Sherman
The world's largest tree by volume is the General Sherman Tree--the biggest draw in Sequoia National Park. It was there that we caught up with Good Morning America who came to feature us in a national parks special they were airing in May. They had requested that we wait to see General Sherman until we were on camera so that they could capture a raw and visceral reaction of our first viewing. While we were astonished that Good Morning America cared anything about us, we were flung back into reality by our first sight of the tree. It's impossible not to appreciate its size--so big that our project, the TV show, and everything else in modern reality faded in comparison to the 2,500-ish year old beast of a tree towering over us.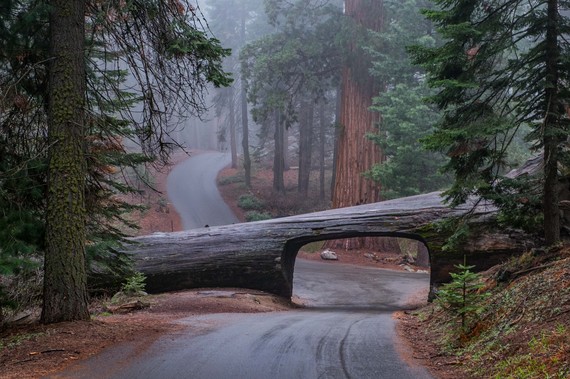 Tunnel Log on a misty day -- large enough to drive a car (but not an Airstream!) through. Photo credit: Jonathan Irish
Tunnel Log
You want to drive through a tree, right? Who doesn't. Tunnel Log is where you can have that experience and capture one of the most iconic views in the park: your car driving through a fallen and hollowed out sequoia tree. Lying across Crescent Meadow Road in the Giant Forest, the trunk is perfectly carved with enough space for a car (but not an Airstream) to drive right through. So creative! It was cut while still standing in 1881 and promoted as a tourist attraction. The 2,100 year old tree, named Wawona, fell during a storm 88 years later in 1969. And there it lays today, for all of us to go and see.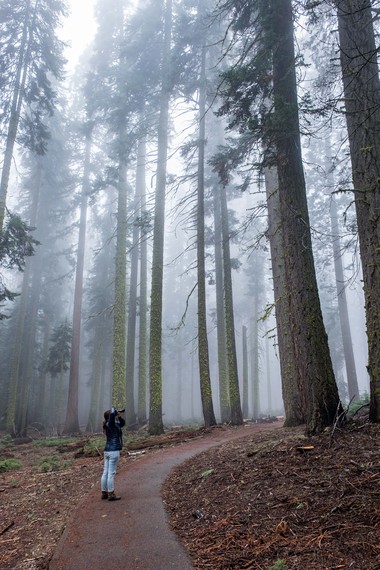 Stefanie Payne captures the tall trees on the trail in Crescent Meadow. John Muir called this area "the gem of the Sierras." Photo credit: Jonathan Irish
Crescent Meadow
This area of the park is very beautiful. It is a perfect place to wander through giant sequoia groves, and with several offshoot trails, you can plan and make changes to your route as you go.
We were attracted to Crescent Meadow for the same reasons that many others are... it is said to be one of the best places in Sequoia to see wildlife, including black bears. And we really wanted to see a bear. In Log Meadow, adjacent to Crescent Meadow and just a short hike away, we spotted a large, female, cinnamon-colored black bear grazing in the middle of the field. Log Meadow is also the location of "Tharp's Log," a hollowed out tree that was made into a home by Hale Tharp--the first non-Native American to inhabit the forest.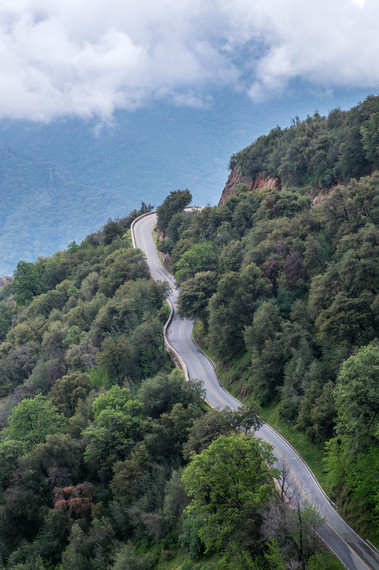 If you love winding mountain roads, both Sequoia and Kings Canyon are parks to add to your roster. Photo credit: Jonathan Irish
Winding driving roads
Our home-base for quick access to Sequoia National Park was in the town of Three Rivers, located just seven miles from the park entrance. From there we were able to easily stop at the iconic entrance sign and park visitor center before starting our trek by car into the clouds. The road shots personify the soul of our adventure this year and the dense surrounding forest adds a bit of unpredictability to the route--wildlife, weather, and incredible landscapes can show themselves at any time. It is the same things that make the drive up so exciting that make the drive back a little bit grating--an hour of constant twists and turns while riding your break the entire time along with the prospect of wildlife darting in front of your vehicle make low gears and cautious driving your BFF's on highway 198.
Kings Canyon National Park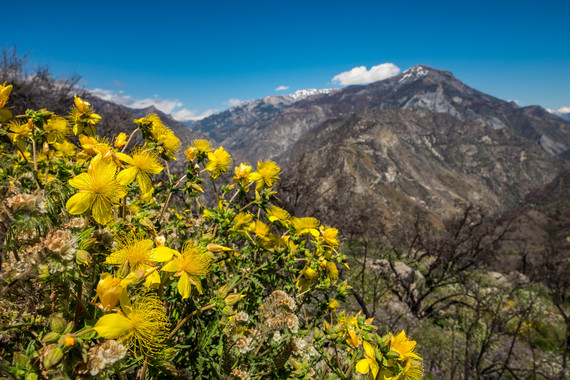 John Muir called what is now Kings Canyon National Park "A rival to Yosemite." Photo credit: Jonathan Irish
Kings Canyon Scenic Byway
Our drive into Kings Canyon has remained one of the highlights of our journey this year. Kings Canyon National Park is broken into two sections--the area closest to Sequoia National Park and where you can find the world's second largest tree, General Grant; and the canyon where at the base of lives the Kings River. This drive is where you will have your 'aahhh-WOW' moment in the park leading to the area that Muir and Adams campaigned for protection for so long ago. Driving over the pass you will crawl the mountainside into a valley that, as I mentioned in the intro, John Muir once said rivaled the Yosemite Valley in terms of beauty. They are incredibly reminiscent of one another, so much so that while looking at a picture of Kings Canyon the other day, I thought it was Yosemite. The Kings Canyon Scenic Byway provides 50 miles of road-traveling-bliss to Roads End ... and along the way you can scout your next steps while in Kings Canyon.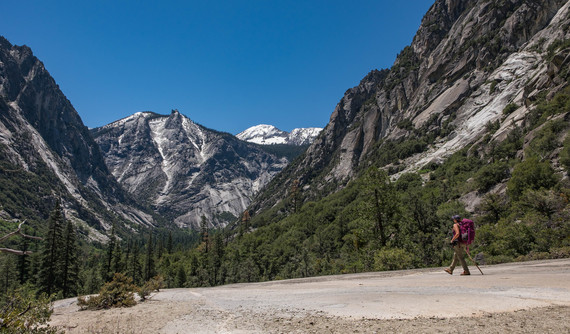 The trail to Paradise Valley brings hikers to one insanely beautiful viewpoint after the next. Photo credit: Jonathan Irish

Backpacking to Paradise Valley
The best way to get your boots wet in Kings Canyon is to head out on a backcountry backpacking adventure. Our hiking-camping combo led us on an 11-mile trail climbing 1,600-feet to Paradise Valley. It was a great way to break in our new Mountain Hardwear backpacks and Ghost Sky tent! Along an established but sometimes rugged trail, we stumbled upon one view after the next that presented stunning photo ops. It's a moderately strenuous hike (due mostly to the elevation gain,) but worth every sweaty step as when we arrived at our campsite nestled in the backcountry forest and situated right by the river, we found ourselves in deer country. We didn't see just one deer, but a herd of them who lived in the area ... they were endlessly curious about our goings-on. Our campsite was one of six of a first-come-first-served collective. While the camping area itself was not so great for photography being deep inside of a canyon and arriving after the fall of evening light, it was a perfect place to camp. Ironically, the lack of a golden hour allowed us some time to unwind and relax with typical forest activities. We built a fire on the forest floor with brush from fallen tree branches and made spoons out of sticks to eat our space-food with as we'd forgotten to pack our plastic sporks. And of course, we slept like babies after a long day of hiking. The ancillary rewards of this outing were that we were able to walk a portion of the John Muir Trail, and catch a view of Mist Falls (not great to photograph or even to see to be honest, but a noted place in the park and a great cool down after a long hike in the desert sun.)
Wildlife
It was during our backpacking adventure to Paradise Valley that we were reminded once again on this project that we were venturing, as guests, into a thriving wildlife habitat. It was on the John Muir section of the trail that we had our first meeting with rattlesnake this year, who quickly let us know that we were on his turf with one loud shake of his rattle. From just a couple feet away we watched it scoot far enough ahead that we felt we could safely bypass the area. From what we heard from other hikers, there were many rattlers out that day and according to the trailhead alert board, for many days prior. Next came our first close bear encounter - he was a juvenile and after realizing that we weren't threatening, he continued about his business allowing us to watch his behavior from a safe distance. If you are into wildlife, this is an amazing place. If you are scared of wildlife encounters, this is still an amazing place--just be sure to learn their behaviors and how to tailor your own in such situations and you'll be fine...and amazed. Wildlife sightings are the most exciting part of our adventure! This great American road trip is turning out to be a great American safari as well.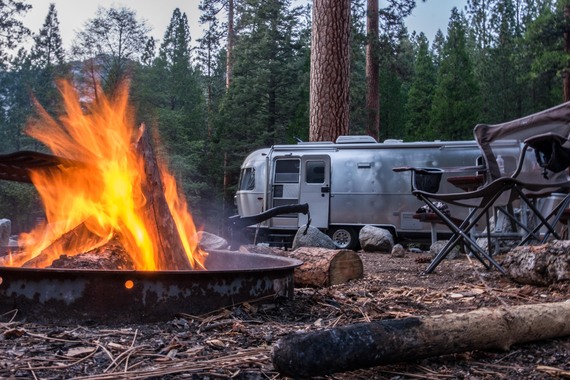 One of the best camping spots we've found all year in the national parks -- Sentinel Campground in Kings Canyon. Free firewood, and space for days!! Photo credit: Stefanie Payne
Camping in the National Park
Our jumping off point into Kings Canyon was at the NPS Sentinel Campground and it has been our favorite campground to date. The sites sit within an expanse of space that allow viewing of the surrounding area but it still feels enclosed, provides more than enough room for Wally to enjoy a good boondock, and with so many tree branches falling to the ground, firewood is for free of the taking! There is a concessioner-ran camp store located just down the street from the campsite and the location is situated within close proximity of trails and falls in the area. The only grievance is that it was here that Stef's precious hiking boots were lifted. Boo. :( Recommendation: safe keep your boots!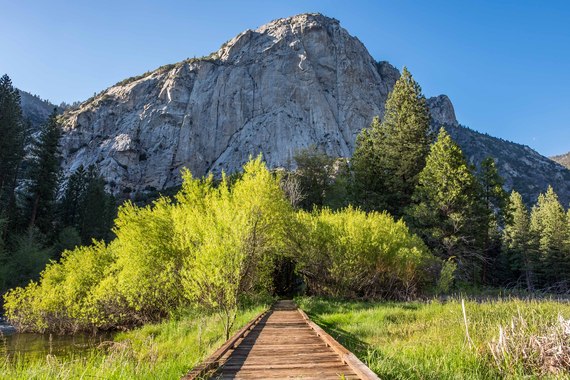 The boardwalk on the valley floor at Zumwalt Meadow. Photo credit: Jonathan Irish

Zumwalt Meadow
It is said that his 1.5-mile trail provides the most comprehensive scenic look at the Kings Canyon meadow floor and we would be inclined to agree with that claim from what we saw there. With boardwalk walking trails stretching the perimeter of the valley and granite stone cliffs towering overhead, the landscape views stretch far, high, and wide. It's one of those places that is so very peaceful that you almost cannot comprehend it ... every five minutes we just kept uttering "it is so peaceful!" And when you find yourself in the still of your own quieted mind and physical environment is when wildlife tends to show herself most. Hushes all around here and that made it a very memorable experience.
Popular in the Community