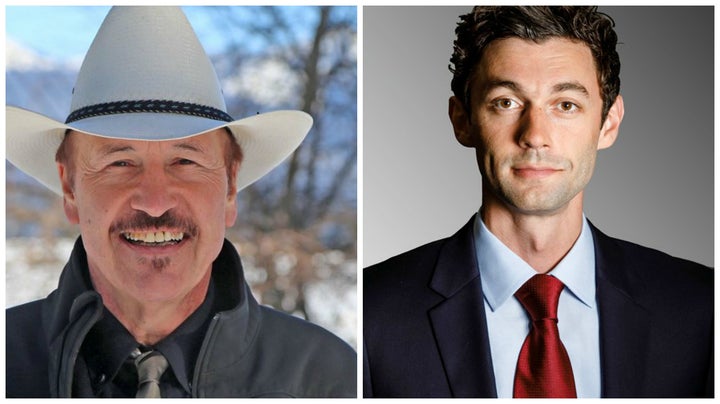 This is the first entry into the 'Thoughts from the Gentleman' series which will consist of analysis and editorial content of all things relating to politics and culture.
Similarities Between The Races
Both Rob Quist the grassroots progressive from Montana and centrist Jon Ossoff lost tightly contested congressional elections fought in traditionally red districts on the electoral map.
On May 25th Quist lost to Republican Greg Gianforte 50-44 (with Libertarian Mark Wicks earning approximately 6% of the vote). Gianforte has since pled guilty to assaulting Guardian reporter Ben Jacobs on the eve of the election.
Last night (June 20th), Jon Ossoff lost to Republican Karen Handel 52-48. Many Democratic pundits and commentators who felt the election would be a referendum on President Donald Trump, who continues to suffer from extremely low approval numbers — however, the results were not as close as they expected. The end result led Kellyanne Conway, current Counselor to President Trump to gloat over social media.
Of course, she didn't stop there.
Differences Between The Races
The amount of spending by the Democratic Party into the Ossoff race was staggering compared to how little was invested into the Quist campaign. According to opensecrets.org the Democratic Congressional Campaign Committee (DCCC) spent only $340,000 in support of Quist.
The DCCC spent $4,992,130 in favor of the more establishment friendly Jon Ossoff during his campaign for Georgia's 6th Congressional district seat. In total the Ossoff—Handel race was the most expensive congressional race in history with the total cost being nearly $60 million and both parties spending nearly $30 million a piece.
By comparison the latest expenditure totals for the Quist—Gianforte race is $12.4 million. The amount sets a record for spending on a congressional race in Montana, yet is only a small fraction of the money which went into the Georgia special election.
Aside from money, there were also a number of differences between the races. While it is incorrect to assume that groups of individuals will share the exact same political ideology, it's fair to assume that national numbers represent growing trends around the country.
During a debate, Jon Ossoff rebuked single-payer (Medicare-for-all) health care, he actually used a Republican talking point to define his approach if he were to become a member of Congress.
The response from Ossoff is peculiar considering the popularity of Medicare-for-all health care around the country. A Kaiser poll found the following results about the health care plan that Ossoff infamously rebuked:
For instance, nearly two thirds (64%) of Americans say they have a positive reaction to the term "Medicare-for-all," and most (57%) say the same about "guaranteed universal health coverage." Fewer have a positive reaction to "single payer health insurance system" (44%) or "socialized medicine" (38%). About half (53%) of Democrats say they have a very positive reaction to "Medicare-for-all" compared with 21 percent who say the same for "single payer health insurance system." When asked directly about "guaranteed health insurance coverage in which all Americans would get their insurance through a single government health plan," the poll finds half (50%) in favor and 43 percent opposed. Majorities of Democrats (70%) and independents (54%) support the concept, while few Republicans (20%) do.
Ossoff also received criticism for not attacking the policies of President Trump more, and not mentioning the highly controversial American Health Care Act (AHCA) in his campaign ads. Yet, Ossoff came out against the AHCA on his website and sparred with Handel over the bill during debates.
Quist was not shy about critiquing the AHCA, "I call it the un-American Health Care Plan," Quist said during his recent campaign while on the stump with Senator Bernie Sanders (I-VT). In the past Quist has came out in support of a Single Payer system, but recently has stated the best way to achieve success on health care is through improving the Affordable Care Act (ACA).
Of note, the easiest way to achieve universal health care would perhaps be through amending existing legislation rather than starting from scratch.
Analysis
There really is never the perfect candidate and neither Quist nor Ossoff changed that perspective. Yet Quist outperformed Secretary Hillary Clinton in the state of Montana by 14 points, while Ossoff performed several points worse than Clinton in Georgia's 6th district.
What the Ossoff race showed is establishment Democratic candidates can not simply run expecting to win due to an unpopular Donald Trump presidency. Ossoff failed to tap into economic and health care populism. His campaign neglected areas such as income inequality, college tuition costs, student debt, and he remarkably parroted Republican talking points on health care.
Democrats running on a neoliberal economic platform will have issues winning competitive races in traditionally Republican areas and districts. This is the same strategy which has led to the Democratic Party to losing approximately 1,000 seats in the past decade. Continued ties to corporations have left many feeling as if the party has abandoned them.
The Young Turks reporter, Nomiki Konst has been an advocate for these reforms in the Democratic Party.
It's reasonable to suspect Rob Quist would have performed better in Montana with further support from the Democratic Party establishment, yet progressives will also have to work on their messaging and continued focus on issues voters care about.
With tepid support from party power brokers, progressives running at all levels have to be laser-focused on their supporters and nothing else. While there have been victories on the local level, progressives need several key wins in order to move the party towards an agenda of economic populism to match the parties stance on social issues.
There's no doubting the popularity of Senator Sanders is a sign of a shifting paradigm in American politics where millennials and post-millennials are further to the left than baby boomers. The popularity of Sanders policies show that when given a choice independent voters are likely to choose that ideology during a general election.
To keep up with Walter's journalism you can follow him @GentlemansHall on Twitter
Popular in the Community