One is 45, a flannel-wearing lesbian, Boston-based local theater luminary and veteran of Chicago's famed Second City. The other is 43, straight, a mother of two and the LA-located former executive producer of such shows as Six Feet Under and the United States of Tara.
Together, Faith and Jill Soloway are sisters, best friends and two parts of the writing team that brought the world The Real Live Brady Bunch, a smash theater hit that sold out New York's Village Gate and earned solid reviews from the critics. With the success came the movie -- a long-forgotten, misdirected ode to the musical and the series -- and the world was the Soloway sisters' oyster: Both moved to Hollywood to pursue fame and fortune. But two years in, Faith, the elder, gave it all up for the New England folk scene; Jill remained out West and toiled as a print writer for 10 years before landing a gig writing for Alan Ball's paean to American ennui, Six Feet Under.
Nearly 20 years later, however, the Soloways have started collaborating again, first with television pilots, and then books, including contributions to one about the circuitous relationships between siblings and another about the lives of women in the arts. In a true Hollywood moment, however, the sisters came full circle when an old friend and Live Brady Bunch cast member called them up to help her on a writing project. The friend: Jane Lynch, current Emmy award-winning and nominated (this year) darling and lesbian du jour. The project: script writing the 63rd Primetime Emmy Awards.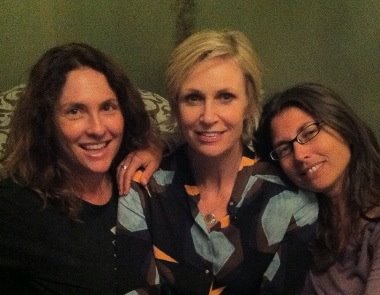 "Jane was a muse for both of us," said Faith, whose Web series "Secrets" recently made its debut on Funny or Die, "and now it's amazing to watch her sky rocket and heart warming that she has reached out to my sis and me to help her write."
The most recent collision of interests has been serendipitous for all three doyennes of Chicago comedy. Lynch, who was born and raised in Dolton, Illinois -- just West of I-94 and the Soloways' childhood home in Hyde Park -- spent 15 years at the famed Steppenwolf Theatre Company and was one of two women picked by Second City in the late 1980s, before her slow, steady rise as comedy actor, then character actor, and then comedy actor once more.
About the same time Lynch started her tour at Second City, Faith Soloway had taken a break from Indiana University, where she was studying theater and performing in a weekly improv group, for a home-stint at the Victory Garden Theater, which had decided to stage her Club-Med themed production of Shakespeare's Twelfth Night. By then a talented musician who had scored her Indiana pals' productions, Faith was approached by a Second City producer who offered her the job of musical director.
Faith left college and began touring with Second City as well as writing for other troupes, including the Annoyance Theater, founded by Indiana colleague Mick Napier. There, she co-created Co-ed Prison Sluts, which became Chicago's longest-running musical. After watching a Brady Bunch re-run with her sister, a burgeoning writer, and a mutual friend -- who could recite all of Jan Brady's lines verbatim -- the Soloways realized the power of the Brady medium and scripted the Real Live Brady Bunch. Lynch landed the role of mom, Carol Brady.
"When you work that tightly, you bond pretty quickly," said Faith of Lynch. "So an eventual love at first sight with a growing admiration."
The show toured for three years before the three went their separate ways -- Faith and Jill to LA to endure production of the Brady Bunch Movie, going from "directing it, to being in it, to maybe helping cater it -- all in about a month," according to Faith; Lynch to LA then the sisters' mom's house back in Chicago for theater and bit parts in films, such as The Fugitive.
"When Jane was asked to host the Emmys, she was told she could bring in her own writer. As she's not a Conan or Ellen type with a writing staff already standing by, she went to where it all started -- where all of our group voice was borne -- back in Chicago at the Annoyance and Second City," said Jill Soloway, who recently directed her first feature film, Tricycle, and just wrapped post-production of Pledged, a comedy about sorority life for which she wrote the screenplay. "I think Jane loves the feeling of knowing that when Faith and I are around she can just go back to that place of utter silliness.
"If you read Jane's book you'll see that she was sort of the third Soloway sister."
And if the Emmy awards have been a reunion of sorts for the Soloways, extended family has decided to join in on the fun. "There are so many people out here who are now in the business besides us -- Andy Richter, Kate Flannery, Steve Carrell, Steve Colbert, Jon Favreau, Jeremy Piven -- just to name a few," Jill said. "We reached out to all of those people and were even able to get a few in the performance for the night."
Lynch, who was unavailable for an interview, told the Chicago Sun-Times that the Emmys would have a "Chicago feel" on Sunday night. To the blood Soloway sisters, this means "filled with love."
"That's what I think our threesome feels like the most -- that feeling of, 'it doesn't really matter what happens out there, she's being held aloft on a little homemade gusset of sisterly support.'
"And oh yes, we'll try to have the word "gusset" said at least three times."
The 63rd Primetime Emmy Awards will show Sunday night at 8pm ET, 5pm PT on Fox. Visit www.emmys.com for more information.
Popular in the Community