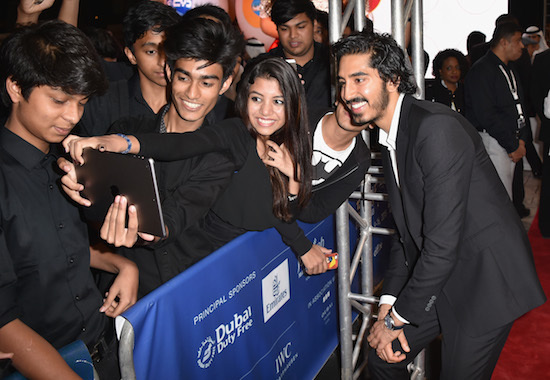 "When you look for a man, what you want to look for is a man with the heart of a poor boy and the mind of a conqueror." ― C. JoyBell C.
I may sound like I'm gushing when I write that meeting the wise, striking Dev Patel and listening to a talk with the handsome, funny Jake Gyllenhaal were the highlights of this year's Dubai International Film Festival for me. And make no mistake, I am. But the thought goes beyond just being in the presence of two beautiful men, beautiful both inside and out. It's about the hope such men bring to the world, to my world. To our world, just through their sheer presence in it.
Dev Patel -- Not That Slumdog Millionaire Boy Anymore!
Dev Patel is no longer that cute, geeky boy he was in Skins and his breakout film role, in Danny Boyle's Oscar-winning Slumdog Millionaire. He's all grown up now, into his wondrous talent and the perfect way to describe his larger-than-life presence is that Patel looks like he's having a good time. A great time, actually, all the time. He's thoughtful and intelligent in his interviews, but he's also game to pose for selfies with his fans on the red carpet. He's serious about arriving on time, he gets his own lunch, he doesn't play the star and he smiles. All these qualities could disqualify him from being the sex symbol that he is, yet don't. Dev Patel makes being a nice guy hot, and he's the trendiest, kindest of them all these days.
During a press conference at DIFF for his latest film The Man Who Knew Infinity in which he plays Indian mathematician Srinivasa Ramanujan, Patel was candid about reconnecting to his Indian roots through Slumdog Millionaire. He admitted that, "all my early years in school I shunned my cultural heritage, and then something wonderful happened when Danny cast me in Slumdog -- I fell in love with the country, the city [Mumbai], the culture." We owe Patel's stellar career to both Boyle and Bruce Lee, an actor he looked up to in his childhood, because, Patel explained, when he would watch, "Enter the Dragon at night, I became enamored of this man's masculinity. As a child you don't understand the nuances of performance but that was the moment I knew I wanted to be on TV." When asked if he thinks Hollywood accepts diversity, or is open to it, Patel again was positive in his answer, "things are changing in Hollywood, the head of the Academy [Cheryl Boone Isaacs] is African American, and personally, I'm riding the tails of Slumdog Millionaire, a film with no stars, where the whole first half of it was subtitled -- there is definite interest in our culture."
Of course, as far as I'm concerned, cinema is a way to bridge cultures, to help us understand "the Other" and I asked Patel his thoughts. "There is no cultural divide when you sit in a dark room watching a movie," Patel replied, then continuing, "what I think filmmaking is about at its core is trying to understand what it's like to be human. You know, that's really the core of it, always." When I left the press conference I could not imagine that I'd run into Patel just a few minutes later, in the lunch room, plate in hand, getting some food, being every man. He saw me enter and came over, hand extended. "I wanted to thank you for your question," he said, explaining that he's often asked what it's like to play opposite Jeremy Irons and things like that, by other journalists. "Sometimes we can be a bit on autopilot when we talk to the press, but a question like yours makes us think." Needless to say, I could hardly think about anything or anyone else for the rest of the day.
The Man Who Knew Infinity has been picked up by IFC for North American distribution and will be hitting US screens in April of 2016.
Jake Gyllenhaal -- "Magic Comes in Risk."
I've joked around that I've been stalking Jake Gyllenhaal, both in Cannes where he and his upcoming Nocturnal Animals director Tom Ford were having lunch on the Carlton terrace across from me, and in Venice, where the actor made dying by frostbite seem like the perfect way to go, in Everest. But this time, I'd like to think he was stalking me, coming to my favorite festival DIFF, to my beloved destination Dubai to shut it down in style! A woman can have her delusions, can't she? Anyway, I wasn't the only one acting like a teenage girl in his presence. Steven Gaydos, Vice-President and Executive Editor of Variety magazine giggled, as he got his photo taken with Gyllenhaal handing him the "Variety Performer of the Year" award, and said to the audience, right before diving into his questions, that he'd "flown sixteen hours from LA just to get my picture taken with this guy!"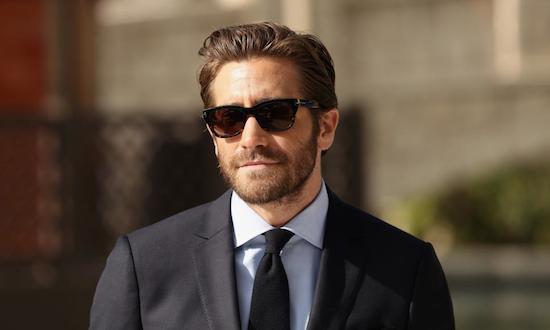 Gaydos' style had me question his questions, and I know most journalists in the audience were shifting in their seats, listening to him ask things like "how do you prepare for a role?" when what we really wanted to know was how Gyllenhaal prepared for a particular role, like the ready-for-everything, hungry-in-so-many-ways Louis Bloom in Nightcrawler. Thankfully, after a few generic questions, Gyllenhaal managed to take the bull by the horn and get his own conversation going, which inspired laughs, when he admitted "I take my guidance from hip hop, you act like your first time might be your last time, and that's from Biggie [the Notorious B.I.G.]". He then brought up his own humanity when he admitted, "I realized early on that I wasn't as smart as I thought I was and had to spend a long time preparing," for a role. He also shared memories of his childhood, with his screenwriter mom, "I remember knocking on her closed door," a few times, he said, "and probably ruining a screenplay or two..."
When we think of Gyllenhaal the actor, we can't help picture Brokeback Mountain, by Ang Lee, a filmmaker the actor admires, as he does Ken Loach and the Coen brothers, for whom he'd "work for free!" But his own taste in film runs the gamut from A Prophet, to A Separation, to Jerry Maguire and The Goonies. Perhaps a role that personally touched Gyllenhaal more than any other has been the recent Southpaw. It was during a question about playing boxer Billy "The Great" Hope that Gyllenhaal uttered my favorite quote, "magic comes in risk," and admitted that the complicated character "changed the molecular structure of me."
The best part of the talk came once Gyllenhaal began taking questions from the audience. While it appears most of his more cooky fans are from Australia -- one tried to get up on stage to get a picture taken with him simply because, she admitted, she loved him "soooo much!" -- the actor showed his sense of humor and his unassuming style when dealing with his admirers. And even those few pesky journalists sprinkled among the fans who wanted to know about his future plans. He described his upcoming Demolition, co-starring Naomi Watts and directed by Jean-Marc Vallée as a man "who takes apart his life and reassembles his life at the same time." He also sees it as, "a metaphor for awakening to who we actually are," as human beings.
But the giggle-until-you-cry moment came almost at the end of the chat, when a man stood up and admitted that his best friend was really in love with Gyllenhaal, and could he say "I love you" to his friend, so he could record it? "What's your friend's name?" Asked the actor. We all heard "Daniel" I promise. "Daniel? Your friend's name is Daniel???" Gyllenhaal exclaimed quite amused. "No it's Tanya, Tanya is my friend's name." Replied the man in the audience. The actor waited a moment, perfect comic timing, and said, quite deadpan, "I love you... Tanya?" I still laugh, even as I type this.
And the biggest myth about Hollywood, according to Gyllenhaal? "That everybody is really short, and that's a stereotype I don't appreciate," he said tongue-in-cheek, then continued, "the really talented ones are, I'm not."
Demolition is scheduled for release in April 2016.
All images courtesy of the Dubai International Film Festival, used with permission.
Popular in the Community