One is a nationwide business, the other a small local farm. No matter the size, both are giants feeding those in need in their community. That's what it takes to end hunger in America.
You need people to care. You need organizations to use what power and influence they have to make a difference.
Take one small corner of America, the Western Hills area of Cincinnati. Every Sunday, during the summer, Burwinkel Farms sets up a stand in Delhi Township. They sell the yummiest corn, fruits and vegetables in Ohio. But on Sunday mornings, they also do something more.
Burwinkels donates boxes of food to the Holy Family Church's Pantry in Price Hill. The Holy Family Pantry is part of the hunger fighting network of Cincinnati, led by the Freestore Foodbank.
The need is significant. According to Feeding America, over 18 percent of the area (Hamilton County) is "food insecure."
Local pantries need donations. Burwinkels is rising to the challenge. So far this summer hundreds of ears of corn have been donated to the Holy Family pantry. That's more than just food for the needy. It's also nutritious food. It's green beans and other delicious produce. That nutritious food gives anyone great energy and strength.
This past Sunday, even amid the threat of big thunderstorms, Burwinkels did not miss a beat. Manager Karen Burwinkel said 5 crates of food, including their specialty corn, were donated to Holy Family.
The previous Sunday, four boxes of that produce also were donated to the pantry. Outgoing director of the pantry, Diana Penick, says of the generosity, "That was so kind of you to donate. Fresh produce is such a luxury for our clients. Thank you!"
Burwinkels is consistent. Their staff will make sure donations continue each week through the summer.
Meanwhile, a couple of miles down the road is another store doing its part, a Panera Bread location. Nationally, Panera Bread has a program to fight hunger. The Western Hills Panera lives up to that standard.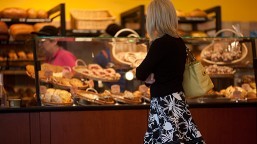 They are against food waste. There is lots of food on display when customers enter the store. Even if sales are slow, it's not thrown away at the Western Hills location. Melanie Murray of Panera says " We donate end of day product to Sisters of Charity, Ronald McDonald House, Salvation Army, Harrison Senior Center, St. Antoninus Pantry, Holy Family Pantry, Light of the World Ministries, Vineyard Community Church outreach program, and St. Bernard's Pantry."
These local agencies get this food to the needy. For example, the St. Antoninus Pantry supports the St. Vincent De Paul Society, one of Cincinnati's leading agencies fighting hunger and poverty. In cities and towns across the country Panera is helping out every day to feed the hungry.
Hunger is a crisis in America. There are over 49 million people who struggle to get food according to Feeding America. It weakens the country to have so many people lacking nutrition. But there is enough food in the country for everyone.
When people get that food, it can make the difference of getting through a tough time. That is something positive for all of us.
When you look at how exactly to end hunger it requires the participation of individuals, companies and government. The crisis is too large for any part of the team to be sidelined. When someone takes action against hunger, it's an example for others to follow.
It's good to know that Burwinkel Farms and Panera Bread are two businesses doing their part. We need more like them.
Related
Popular in the Community