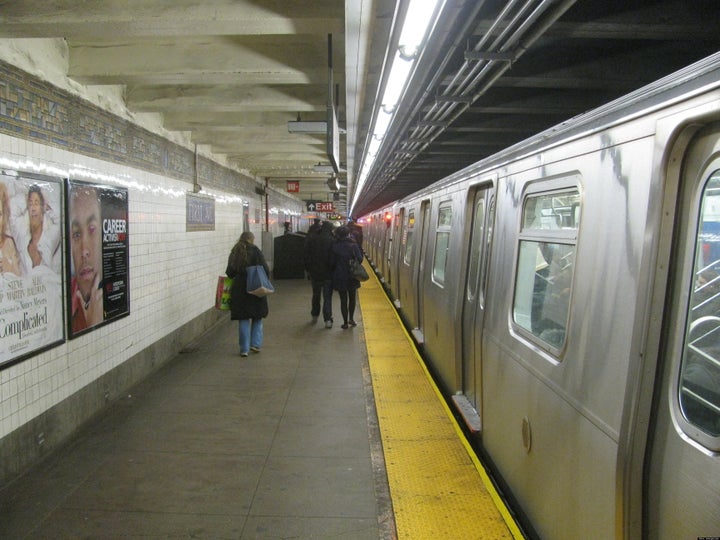 Alex lost the race, but he told me he enjoyed the journey. "It confirmed my belief that the subway is not only the most logical mode of transport in a city as clogged as Beijing, it's also a great deal of fun to ride, and challenges you to derive humour from the frustration that it often presents you with."
Had I known early enough, I might have joined the two. I love trains, whether they're underground or overground. I especially loved the New York City subway system, imprinted in my mind ever since I was a teenager in Los Angeles pining over my lack of transportation options. When I moved to the Big Apple, my favorite trip was on the Q train out to Coney Island from midtown. I'd daydream the entire way while guessing which passengers would exit at which station.
Having recently moved to Beijing after a decade on the United States' east coast, I knew I had to learn the subway system. From the glittering 机场快线 (Airport Express) soaring above the city, to the winding Line 10 connecting the Central Business District with the Olympic Green with the Wudaokou university neighborhood, the Beijing subway is giving me a whole new world to explore.
Naturally, I can't help but compare the two systems. With ambitions to become the world's largest network by 2020, the Beijing subway inevitably calls for comparisons against what is arguably still the world's most famous. Of course, it's not fair to compare two train systems of vastly different ages with vastly different histories and needs. But as my fourth grade teacher taught me, no one ever said life would be fair.
So let's see how they measure up.
Beijing Ditie: New Kid on the Block
Although officially operational since 1969, the Beijing ditie, or subway system, has seen remarkable growth in the past decade. According to Wikipedia, the city began developing 12 additional lines after winning its Olympics bid, to its current 209 miles, with a peak ridership of 6.6 million serviced in a day.
Clean, Cheap and Efficient: After a decade of riding east coast trains, it's a breath of fresh air, literally, to step into the Beijing subway. The trains arrive with predictable regularity, with announcements and signs in both Chinese and English. Clear maps at each station indicate where each station exit leads, and many stations are air-conditioned. All of this for the low low price of 2 yuan, or approximately 30 US cents, all added to an Yikatong tap card.
Phone Service: Wax poetic all you like about the underground subway being the last bastion of hope against our over-connected lives, but you know you want to tweet while squished up against strangers during rush hour. Voice and data services function both in stations and while in motion (as evidenced by Alex Taggart's extensive tweets), so there's no coordinated rush to check messages as everyone emerges from the station.
New York City MTA: The Old Man's Still Got Some Moves
After over one hundred years of service, the New York City subway system is going strong. Wikipedia tells me it runs on 209 miles of track across five boroughs (and soon, perhaps, New Jersey), and it services some five million people daily.
Character: Say what you will about the filth, but New York City's trains have character. This is a subway system with distinct smells, giant rats, passionate singers, daring breakdancers, and, if you're lucky, public nudity. These are the trains of Keith Haring and John McClane, and on special occasions you can even ride a historic train car. Amidst a gentrifying city, the subway retains its gritty romance.
Express Trains: For all its length, the Beijing subway lacks express service. I remember that first trip on the 2-3 line from Wall St. to Penn Station. Almost all the stations in between whizzed by, and the slow, plodding 1 train never caught up. The express trains have saved me from missing at least a few important meetings when even the cabs wouldn't have helped.
24 Hour Service: 24 hours is 24 hours. Even though Beijing's subway begins early, at 5 a.m., and ends at 11 p.m., the absence of trains in the wee hours means having to think twice about staying out late. It's never fun having to wait at four in the morning on the L train platform with drunken hipsters, but at least it's an option when the wallet is running thin.
My vote? I'm still undecided. New York City's subway feels like a dusty old library book with scribbled margins and torn-out sheets. Beijing's trains are the hip new e-reader with bells, whistles and the distinct feeling that you're stepping into some version of the future.
Alex said it best about the Beijing subway: "I love to watch how people physically fight for the best platform spot, or take the packed escalator rather than the stairs, even if they're in a rush. Beijing's subway challenges you to find your own amusement, rather than laying it out in front of you."
Related
Popular in the Community