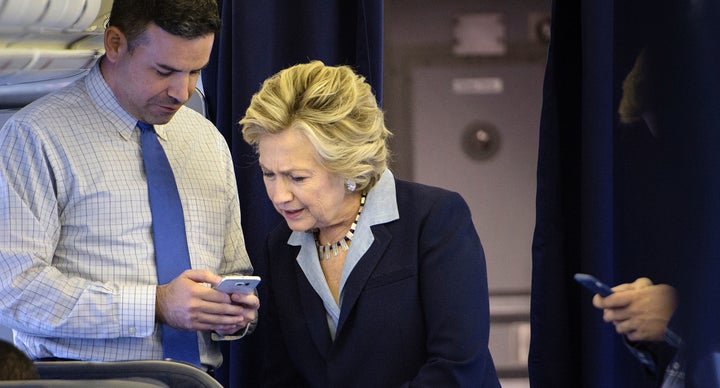 Reacting to Donald Trump's peculiar predawn Twitter tirade against a former Miss Universe, Alicia Machado, Hillary Clinton and her team responded over the weekend with a deft bit of mockery – a string of early morning tweets from Clinton's official Twitter account.  
Clinton's first tweet appeared at 3:20 a.m., just like Trump's. But instead of spewing personal vitriol, engaging in fat-shaming, or obsessing about some (apparently non-existent) sex tape, the Democratic nominee for president of the United States focused on an actual issue worth discussing: Her plan to dramatically expand AmeriCorps, the nation's flagship national service program, and the college scholarships AmeriCorps members earn, and to enlarge community service opportunities more generally.  
"It's 3:20 a.m.," Clinton's initial post began. "As good a time as any to tweet about national service."
For her insomniac followers and the millions of other voters who would see it later, there was a link to a post on Medium detailing her idea for a new National Service Reserve to facilitate greater participation in meaningful volunteer work not requiring a full-time commitment. 
Clinton's tweets provided a classy retort via social media to Trump's "unhinged" (Clinton's word) Twitter ranting in the wee small hours. But it did more than that, elevating the future of national service to a visible campaign issue.
It bears noting that Clinton's message about tapping Americans' spirit of service across party and other divides to help solve the nation's problems was given added resonance by another weekend development – namely the New York Times' scoop about Trump's claim of a nearly billion-dollar loss on his tax returns which, it seems, legally enabled him to avoid paying any federal taxes for many years.
So as voters were learning about Clinton's national service platform on Twitter they were also receiving pertinent information regarding Trump's own personal example of citizenship, one at odds with at least one familiar measure of giving back.
Now there's a compelling election contrast.
REAL LIFE. REAL NEWS. REAL VOICES.
Help us tell more of the stories that matter from voices that too often remain unheard.