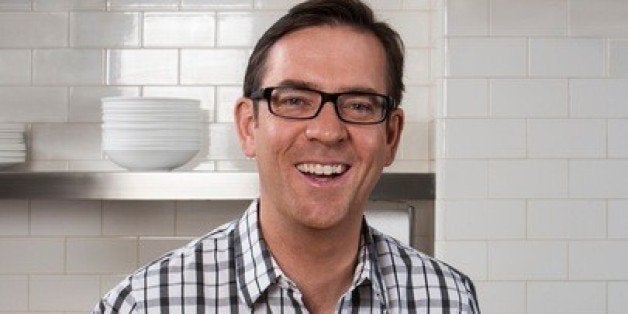 When we think of Food Network, Ted Allen's smiling face always comes to mind. From Top Chef to The Best Thing I Ever Ate, Allen has found a home hosting an Emmy Award-winning series called Chopped -- have you heard of it? We think so. Instead of chatting about which five ingredients he would choose in a Chopped challenge, we had a chance to chat with him about the important stuff: summer cocktails, food trucks and hosting an exciting new dinner series.
What are your top three favorite food cities?
The great thing about the growth in our appreciation of real food and creative cooking over the past few decades is that almost every American city is developing an exciting dining scene -- it's not just the usual suspects any more. There are such vibrant culinary scenes in Nashville, Miami, both Portlands, Seattle, you name it -- we've been lucky to have so many great chefs on Chopped from all of those towns. But at the top of my list: New York and Chicago, for their enormous range of ethnic cuisines and world-class fine dining, and, of course, New Orleans.

Summer is here and we want to turn up the heat. Any suggestions for a spicy cocktail to drink on our rooftops?
I've always loved Sangria for a party on a warm night, particularly white sangria, because it's lighter and, for me, works better with citrus. How about giving it a Mexican twist by infusing it with some chopped jalapeño, some cilantro, even a dice of jicama for texture? Yes, that!

What are a few food/restaurant trends you're most excited to see take off?
Everybody's been talking about the food truck trend for years, but I think some folks may be missing what it the most profoundly exciting thing about it. It's great, of course, from the perspective of young entrepreneurs who are enjoying the somewhat lower barriers to entering the food business that a truck represents over a bricks and mortar restaurant. But what's really exciting to me is that this is making available real, scratch cooked street food from all over the world more available, giving office workers the option of fresh, interesting food instead of fast food junk. Why eat a prefrozen junkburger when you can have a Vietnamese banh mi sandwich, at a price that is just as affordable? Over the long haul, that could change the American palate.
What is one of your fondest food memories?
My Grandma Allen's banana pudding, from the back of the vanilla wafers box. That is an honest to goodness scratch custard, paired with fresh bananas, fluffy meringue, and crunchy cookies -- I call it the tiramisu of the South!
How will you be pushing the boundaries with your new Tastemakers series?
I worked with Eater.com and Pepcid on their Tastemakers series of fine dinners to provide food enthusiasts like myself with unique and exclusive dining experiences, starting with the northern Thai flavors at Pok Pok NY in Brooklyn, to show how the pros stay in the game when declining to eat something is not an option and encourage food enthusiasts to push their culinary boundaries even further.