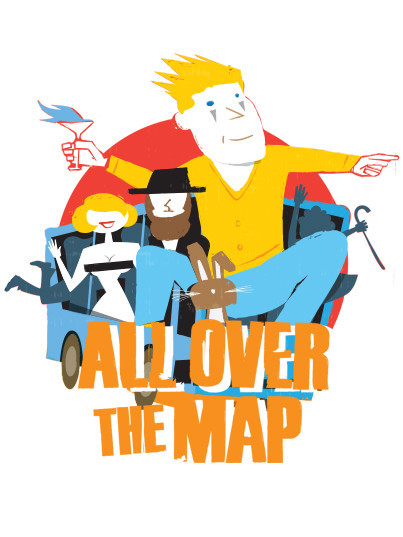 I think Gloria Steinem would like All Over the Map, the new one-person play written and performed by actor/mime/master storyteller Bill Bowers. Steinem's recent book, On the Road, chronicles her life in transit, as a writer, activist, and voracious listener determined to reveal voices that have been quieted--e.g., voices of women, people of color, queer people, Native Americans. Steinem's interest in humanity knows no bounds, and the same is true for Bowers. In All Over the Map, he tells us mind-expanding tales from a life on the road, but he also shows us. Bowers' mimetic talents link together his travel stories and compel us to engage with his central question: how far will any of us go to be seen, to be heard, and to get closer to other people?
(Full disclosure: I know Bill. He has performed for my theater company, Lynx Ensemble, which aims to cast against type--and you can't get more against type than a mime who talks.)
Bowers' first solo show, Under a Montana Moon, was a collection of silent stories - performed all in mime - about "what could happen under a Western sky." He then wrote two more shows that blend mime and text: It Goes Without Saying, the story of why he became a mime, which premiered off-Broadway at Rattlestick Playwrights Theater; and Beyond Words, a look at the journey from boyhood to manhood in all of its multitudinous fluidity. In All Over the Map, he shows and tells us about what it's been like to perform these plays around the world.
The ease with which Bowers performs his stories makes his audience feel we are traveling with him. As one would expect, the open road invites a great variety of things: thrilling discoveries, laughter, loneliness, incredible generosity, and upsetting violations; the range of comfort, danger, and awkwardness that comes from getting close to other people; and the unparalleled power of sharing the vastness of the world with a complete stranger.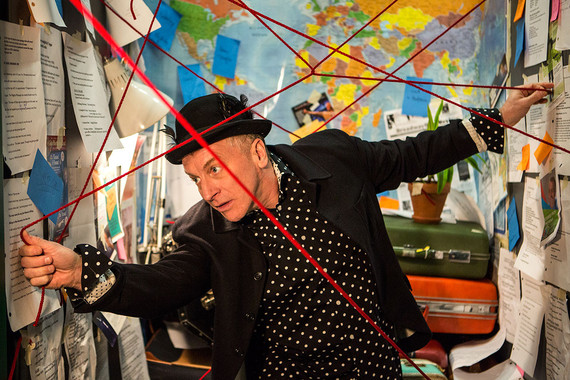 Bill Bowers in All Over the Map at All For One Theater
We join Bill as he is trapped in his car in Georgia during the blizzard of 2014, and feel the coldness of his wintry isolation, but also the warmth of his virtual connections to friends via social media, and the disorientation when a prostitute presses up against his window--hitting home the irony that closeness can create distance, and vice versa. And speaking of hookers, we meet the famous "Happy" one, whose initial beneficence is not all that it seems. As he narrates these hilarious, thrilling, disconcerting, and heartbreaking stories, we join Bill in the dilemma of how to be vulnerable enough to allow great things into our lives, while remaining guarded enough to protect ourselves from violation.
More stops on the train include an Amish community that has no idea how to receive a mime but nevertheless makes the effort to forge a connection in its own wonderfully awkward way; and a nudist colony that Bill visits, in winter...his recounting of the gracious hosting he received in this bit rivals David Sedaris' memoir, Naked, in terms of sharp insight and laugh-out-loud effect.
One of the most evocative stories is of an ambitious mime who happens to be a bunny (as in "Easter," not "Playboy"). Bowers tells this bizarre story with his unique penchant for humor, but his attention to detail keeps us curious about what is underneath our laughter, as we wonder about the voiceless person behind the furry entertainer with the big ears. Hilarious tales like this one somehow feel intuitively connected to some of the quieter, more penetrating, moments on the journey, such as when Bill meets a mysterious man in Macedonia who after seeing him perform one of his shows, stares at him disquietingly, and says only, "You make visible the things that are invisible."
If you are unable to join Bill Bowers for this current stop on his adventure, make sure to catch All Over the Map - or any of his other shows - the next time they come around. You will be transported not only around the globe, but also through a delicious range of human experience. You will be inspired to travel beyond the limits of your own home, and to listen for voices that have been quieted, including your own.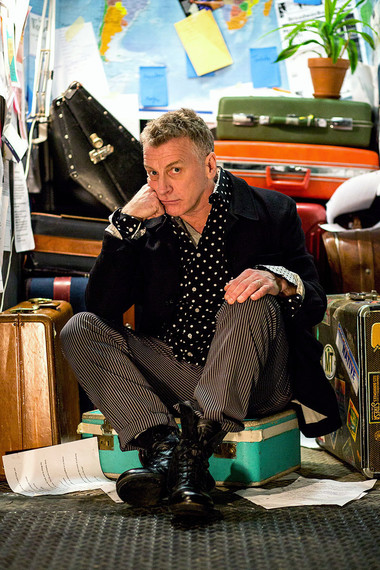 Bill Bowers in All Over the Map at All For One Theater.
Directed by: Martha Banta
Click here for information about Bill Bowers.
*This post first appeared on Mark O'Connell, LCSW's Psychology Today column, "Quite Queerly."
Calling all HuffPost superfans!
Sign up for membership to become a founding member and help shape HuffPost's next chapter