2 Recipes to Treat Dad to on Father's Day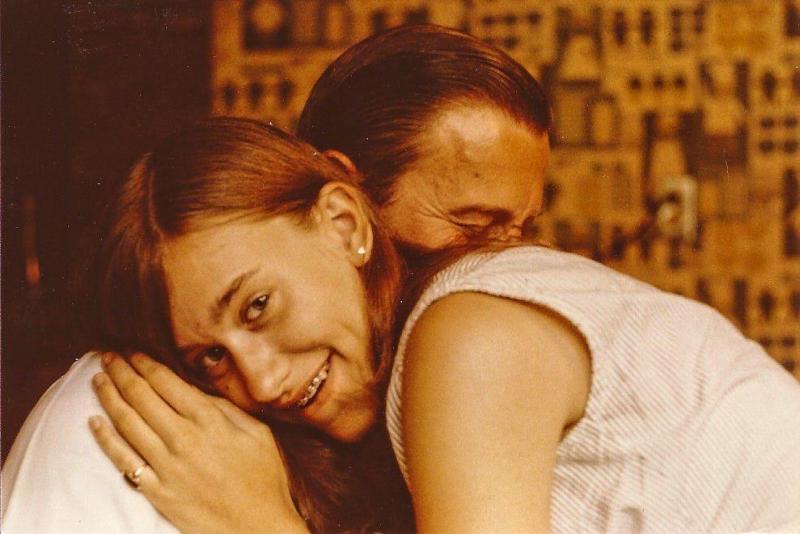 During my childhood, love was often overshadowed by my mother's mental illness. She was the Pulitzer Prize-winning poet, Anne Sexton, who wrote every day about her struggles. My father tried to combat that darkness by coming home from work, stripping off his jacket and tie, and setting pots out on the stove. Unlike today, it was unusual for a man to don an apron, but Dad had resolved to create a happy family dinner table—something he hoped would give my sister and me the stability we needed so badly in the wake of my mother's ups and downs.
His food was always simple, whatever he could manage between five and six o'clock. Unfortunately, once we all sat down, his effort was often swamped by tension. Love crept out of sight: my mother sometimes refused to eat at all, and Dad grew silent and angry. None of it was anyone's fault. It was just the way it was.
As I approached my teenage years, I became interested in cooking with Dad as a way of connecting with him as a daughter. Pleased, he passed along his family recipes, complete with secret tips. I learned how to slow bake a chicken slathered in butter, or put together a tasty spaghetti sauce infused with garlic, or simmer beef stew till the house became redolent with the fragrances of marjoram and thyme.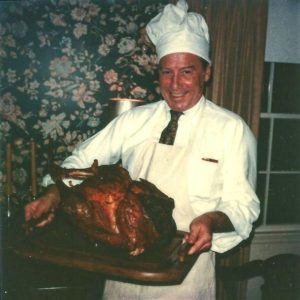 By the time I was in high school, we were discovering the joy of creating new recipes as we both grew more adept in the kitchen: oven-baked chicken morphed into Chicken Cordon Bleu, and soon there was his version of a quick hollandaise sauce created to crown one of my favorites—Eggs Benedict, now featured on so many upscale brunch menus. Salade Tomate was a family staple on summer nights.
Cooking with Dad was always an adventure. And just as it was for him, it's also my way of passing love along, this time to those who sit down at my kitchen table.
Here's the recipe for Al Sexton's Never Fail Hollandaise Sauce and Sexton Salade Tomate. Maybe you'll make Eggs Benedict for Father's Day Brunch, or serve Salade Tomate for supper as your appetizer!
Al Sexton's Never Fail Blender Hollandaise
Place in Electric Blender:
4 eggs yolks at room temperature
¼ teaspoon salt
Dash of Tabasco
2 teaspoons lemon juice
Blend everything at high speed.
Meanwhile, melt 1 stick salted butter in saucepan. When hot and bubbling, (but not turning brown), pour slowly into running blender. It will thicken right away.
If you need to increase the recipe, do so in individual batches, keeping the previous one warm in a double boiler or a small pan set within a larger pan holding warm water. Then combine the batches.
Serve immediately and enjoy!
A Portuguese recipe reinterpreted by Al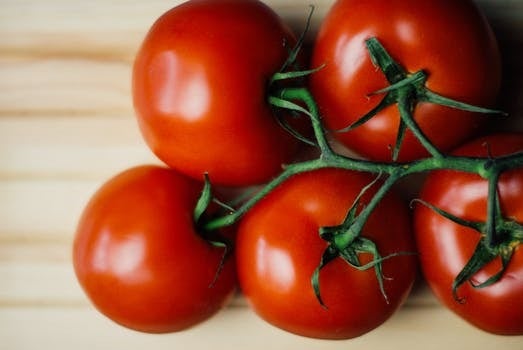 This can be served either as an appetizer, or as a main course for all the vegetarians out there. I always double or triple it. But ripe tomatoes are a must.
4 tangerine-sized tomatoes; if using heirlooms or beefsteaks adjust size accordingly
1 medium yellow onion (Vidalia would be great but not necessary; any variety that's mild)
¼ cup olive oil
2 garlic cloves
1 cup finely chopped Italian parsley
1 hardboiled egg, thinly sliced
1 lemon
Chop tomatoes into medium sized chunks. Dice onion. Mix tomatoes and onions gently in a large mixing bowl. Chop the garlic finely, or put through a garlic press (best), and add to the oil. Now put the oil onto low heat. The garlic should sink to the bottom. Keep the oil fairly hot, but do not simmer. Garlic will puff up and rise up to the surface as it cooks slowly. When it has been floating at the top for a few minutes and has thoroughly infused the oil, take off the heat and pour it over the onions and tomatoes. Salt to taste. Squeeze lemon over mixture. Toss lightly with parsley, just to mix, but not so tomatoes break apart. Let sit for a couple of hours at room temperature. Then taste for salt and lemon. Pour onto serving platter or bowl in as close to a single layer as you can manage, and spread the sliced egg across the top piece by piece. Serve with warmed French bread to sop up the very tasty juices.
Have fun fighting over it!
______________________________________________________________
Linda Gray Sexton was born in Newton, Massachusetts in 1953. She is the daughter of the Pulitzer-Prize winning poet, Anne Sexton, and graduated from Harvard in 1975 with a degree in literature. She has published four novels: Rituals; Mirror Images; Points of Light; and Private Acts. Her three memoirs include: Searching for Mercy Street: My Journey Back to My Mother, Anne Sexton; Half in Love: Surviving the Legacy of Suicide; and Bespotted: My Family's Love Affair With Thirty-Eight Dalmatians. Linda is now at work on a fifth novel, and writes a bi-weekly newsletter/blog, which is available on her website. There you can also read more about her, as well as excerpts of her books. Linda lives in California with her husband and their three Dalmatians.
Copyright 2017 Linda Gray Sexton
Calling all HuffPost superfans!
Sign up for membership to become a founding member and help shape HuffPost's next chapter
This post was published on the now-closed HuffPost Contributor platform. Contributors control their own work and posted freely to our site. If you need to flag this entry as abusive,
send us an email
.