I hadn't been to Philadelphia in so long that I couldn't even pin down the date, but when I heard about the Impressionists exhibition at the Art Museum, and its focus on their indefatigable cheerleader and art dealer Paul Durand-Ruel, I knew I had to go. This was bound to be something different.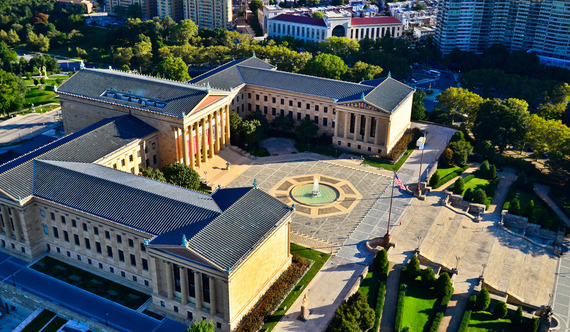 It absolutely was. I'd been enjoying those painters since elementary school on Sunday visits with my parents to the Metropolitan in New York, but I had no idea that Durand-Ruel worked so feverishly to push their art in France and the United States (where they seemed to take off faster, btw!). He was their champion, and it's no exaggeration to say that he discovered them.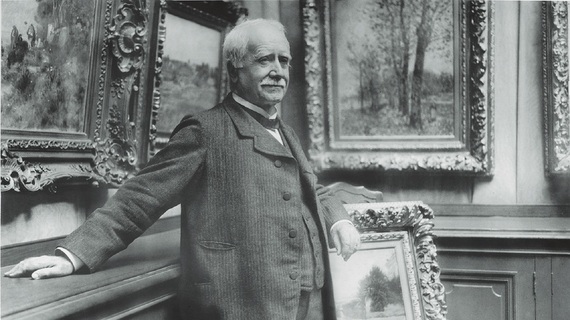 I followed the advice of someone at the museum and got myself a 4 PM ticket and the galleries weren't crowded--just as she had predicted. So I had plenty of time not just to enjoy the Renoirs and the Monets, but to read and absorb the informative but not overwhelming wall placards that took me through his life and career. Following Durand-Ruel's story through the galleries, I was astonished at how heroically he worked to get the Impressionists exhibitions, to sell their paintings, to make them known, loved, and even famous. He risked bankruptcy more than once, and his efforts were Herculean. Fun fact: The American painter Mary Cassatt offered to lend him money at one point....
The paintings are displayed as elegantly as if you were in a private gallery and at one point there's a mock-up of his own salon. Room after room is filled with wonders, and there's a stunning collection of Monet's famous Poplars (which sold well quickly in his day). But my favorite Monet was his meditative portrait of his wife, perhaps because it matched my mood (I was nursing a migraine).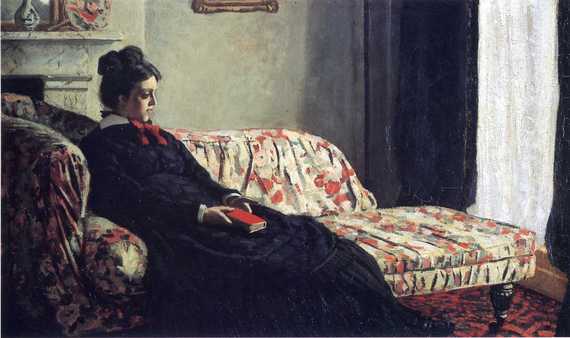 You probably won't need the audio guide. The exhibition isn't huge, and there's more than enough information on the walls. You can study and appreciate the paintings without someone telling you what to look for--unless that's your thing of course.
My dinner wasn't French-themed, but close. I ate at the lovely Rose Tattoo Cafe not too far away, which takes its name from the play by Tennessee Williams. It's one of the most unusual restaurants I've ever eaten in. The two-story main room suggests NOLA's French Quarter with its wrought iron balconies and vines, creating a romantic, subdued, relaxing, quietly festive mood. The staff was friendly and helpful with the menu, and I got there early because I wanted to make sure I could take photos without bothering other diners.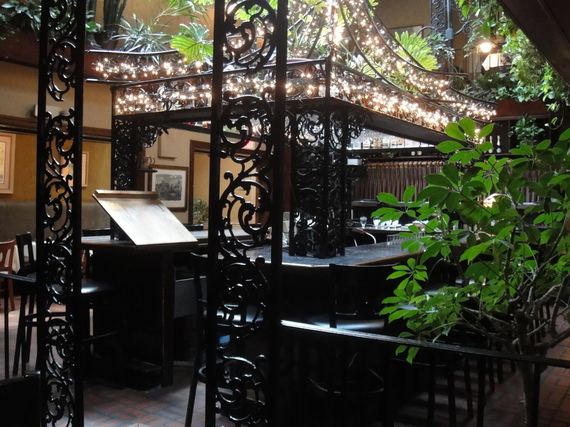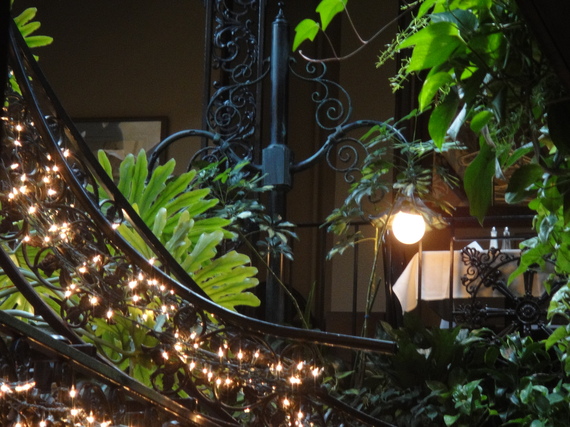 My meal was everything I could have hoped for, starting with unique seared Provolone and a terrific South African Riesling-style wine which I stuck with throughout because it was so delicious. The seared scallops were served with fingerlings, sauteed leeks, and smoked bacon in a creamy sauce to die for. I'd go back for both dishes any day. A perfect meal to help me contemplate what I'd seen at the Museum, but of course worth savoring just for itself.
Fine food, great art, what an afternoon and evening!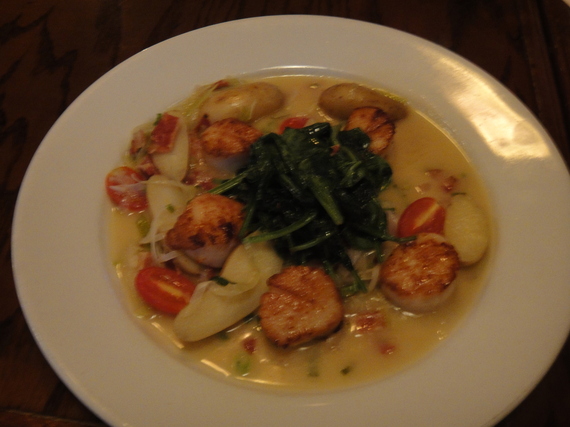 Lev Raphael's 25 books in genres from memoir/travelogue to mystery can be found on Amazon.