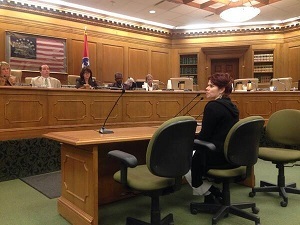 Tennessee's Common Core State Standards make sense to me. Yet there has been some confusion about these higher expectations from the classroom to capitol buildings. Several members of the Tennessee legislature have recently taken a stance against the Common Core State Standards, this supposedly "federal" initiative to control education at the state level. But have they really looked at the standards? Have they paused to consider what our students really need?
Tennessee's Common Core State Standards were created as a joint effort between educators, community leaders, and state administrators who recognized the disservice done to our students by giving graduates diplomas without the demonstration that they are fully career- or college-ready. Student achievement data and college retention rates indicate that our students are not prepared for real world learning or the work force, which creates a dilemma for our nation. Tennessee's Common Core State Standards identify the skills needed to be prepared for college or career success and allow for deeper practice of skills as opposed to running through a checklist of knowledge students need just to pass a test. Because I understood the necessity of this change as well as the difficulty, I became a Common Core Coach for Tennessee so that I could help teachers prepare to use new instructional strategies to raise student achievement and maximize the autonomy that the Standards provide for teachers. Classroom teachers like me will supplement our own content and select the best teaching methods for our students.
After using the new methods, I have seen in my own classroom that the Common Core State Standards are effective. My students are all at-risk or below grade level, and these are students who skeptics say would be harmed by raising expectations even higher. However, over the past four months of full implementation of the standards, I have seen students take apart complex documents and hold self-sustained classroom discussions that did not seem possible. For example, I watched my junior and senior class join together and prepare for a student-led class discussion over a historical speech. I was nervous to step out of the conversation and allow them to lead. The results were amazing as the discussion comments and questions were at college level from students who came to me with failing grades. Afterwards, the students approached me about doing these types of discussion more often. I watched this boost of confidence foster a greater desire to achieve more and become more active learners. My classroom walls were full of student-created charts, and one student even said, "I have never been able to see my words posted on the wall like this." They used their own charts to write essays and wanted to do the same process again. The strategies are working.
Though the standards sound like the next step we should take, there has been much debate and growing skepticism. After testifying twice in support of Common Core before the Tennessee Senate Education Committee, it became clear to me that two words are muddying the waters: common and curriculum. Before making any argument for or against the standards, we must first understand that Tennessee's Common Core State Standards are NOT a federal curriculum. States and school districts determine curriculum, and individual teachers will determine the methods and materials used for instruction. Teachers will even have more autonomy in their classrooms as they teach with more depth and less breadth.
The beauty of the standards are that they are a common set of skills, initially in mathematics and literacy, that all students should have before entering college or the workforce. The standards are less focused on the content knowledge and more on the reading and analytical skills utilized to acquire such knowledge through reading rich texts. Our students need equal opportunities instead of having lower expectations in Tennessee. These standards allow mobile families such as those in the military to know that even though the curriculum and text selection may differ, students are learning the same important skills in every state.
As a parent and classroom teacher, I understand that the standards are not an issue of politics and government control, but instead a necessary improvement of classroom instruction. As a nation, we have diluted education for too long. Individual success stories are present; however, as a unified nation "with liberty and justice for all," we have failed our young people with a lack of consistent and rigorous expectations. The time for excuses and political debates has ceased, and common but not dominating standards will uphold our educational cohesiveness.
I whole-heartedly believe that the success or failure of the standards rests on the teachers, my colleagues, who must take the lead in the collaboration needed to revitalize instruction through the standards. It is a colossal responsibility, but teachers are serious about student achievement, and we accept the mission. What is hindering teacher morale now is the political bantering and late-blooming opposition. The public needs to know that teachers are seeing results already. Arguments must stop and the attention must be placed on professional support for teachers and resources for students. Teachers are already willing to raise expectations for ourselves and the students. Now, we need support so that we can continue to lead.
Casie Jones is a teacher at the MLK Student Transition Academy in Shelby County, Tennessee, and an alumna of the Teach Plus Teaching Policy Fellowship.
Popular in the Community