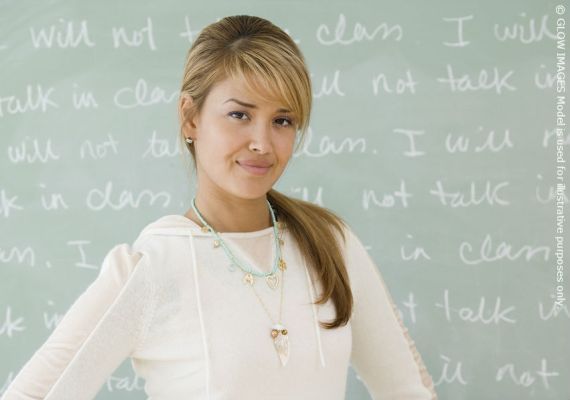 If only I lost those extra pounds, If only so-and-so wasn't in my life, If only I got a raise, If only I was younger, If only I hadn't said that...
These refrains can seem as solid as a concrete wall. They have a way of putting off happiness and health in the present, making them seem like only a remote possibility in the future.
I've found that if I can detect these sneaky thoughts quickly, and do something about them, they lose their foothold. Take grudges, for example. There are plenty of studies that show how holding onto past wrongs is a negative influence on health. One from the Mayo Clinic points out that choosing a path of forgiveness leads to physical, emotional and spiritual well-being.
But what about when the grudge belongs to someone else, and they refuse to forgive you?
Some years ago, when I was working as a high school English as a Second Language teacher, I made a careless and unintentional comment to one of my students about the deplorable conditions in the city where she grew up. She was visibly offended and although I immediately apologized and tried to take back my comment, I could tell she wasn't ready to forgive me anytime soon.
If only I hadn't said that...
This once top performing student became sullen and disruptive. She stopped caring about learning in my class and her grades took a nosedive. As any teacher knows, one uncooperative student can upset the balance of the entire class. Well, at first I thought time would heal her wounds. But after several weeks, the wall of misunderstanding between us was enough to make me dread coming to class. I had tried every technique to help her, but nothing was working.
I decided I needed to spend some time thinking about how I could affect a change that went beyond teaching strategies.
I've found that when I seek an inspired answer through prayer, I feel more peaceful, flexible, less stressed and more open to creative solutions. The Scriptures show us how God is communicating good thoughts to us at all times and in turn these ideas guide our actions. "I know the thoughts that I have thought towards you, saith the Lord, even the thoughts of peace, and not of trouble, to give you an end, and your hope." (Jeremiah, Bible Gateway)
In this case I wanted to do the right thing. One day during a quiet moment in class, I prayed for an answer. It occurred to me that I should recommend this student take a special exam that would allow her to go into a mainstream English classroom.
The test was exclusively for the highest performing students and it was in my hands to make the recommendation. Despite her recent poor grades, I felt she deserved a shot at this opportunity. I called her to my desk and asked if she felt ready to take the exit test. Her eyes lit up and her entire demeanor changed. I don't think she expected me to recommend her. In that moment, I could feel a powerful sense of kindness mending the rift between us. From that point on she was her normal, cooperative self. She ended up passing the exit exam, too.
The next semester she came running down the Language Arts hall to hug me and thank me for my recommendation. She was thriving in her new English class.
I would never have predicted this specific outcome, and yet I've come to trust in the clarity and specificity of divine answers to break down barriers to whatever might conflict us and try to separate us from harmony. There is always a solution, bigger than the problem, waiting to be discovered.
REAL LIFE. REAL NEWS. REAL VOICES.
Help us tell more of the stories that matter from voices that too often remain unheard.