Up until my sophomore year in high school, I had never encountered a teacher that truly "changed my life." I had managed 15 years without being impacted by that one teacher who I would remember fondly 20 years down the road. But that all changed when I walked into room 139 of Francis Howell Central High School.
My first day of Yearbook Production class, Mr. Matthew Schott told my class something that has stuck with me since: the beginning stages of anything you do will suck. Yes, he said that on the very first day. Mr. Schott is just an inspirational guy like that. He said whether it's learning to ride a bike or writing the first draft of a story, it is going to be terrible in its early stages. What's most important is acknowledging it sucks, and making it better.
I am absolutely certain that when I first started writing articles for our yearbook, they were horrible. Looking back now, I actually feel bad for him and my editors having to deal with my terrible writing. But, that's beside the point. Mr. Schott isn't one to just tell you your work is terrible. He tells you why it's terrible and how to fix it. He genuinely cares about your success and the development of your personal skills. Each student is more than a grade, a test score or a story for a publication. His number one priority is for everyone to get better not just at writing, but better in many aspects of life. Mr. Schott will jump through any number of hoops to make sure we do. He has spent time teaching me the basics of journalistic writing, editing countless stories and pages and helping me fine tune my lackluster skills into great skills I can apply anywhere. Being in his classroom has taught me so many valuable skills for my life to come. (I can practically see Mr. Schott cringing as he reads this because he hates clichés.) Cliché or not, it's true. I have learned to be a leader, to work well in groups and to hold my own under criticism.
This year, my junior year, I'm the copyeditor for our yearbook. In just one year, Mr. Schott has taught me so much about writing, design and journalism in general. He is the definition of a journalism nerd and it appears to have rubbed off on me. His love of writing and reading quality journalism has inspired me to major in journalism myself.
I hope when I'm 40 years old like he is, I am able to impact the lives of people who I encounter everyday.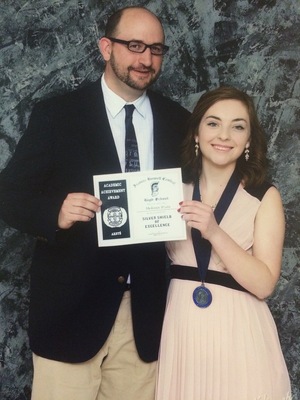 Become part of the conversation and tell us about your own favorite teacher using the hashtag #HPHeartsTeachers on Twitter and Facebook.
PHOTO GALLERY
Good Sleep Habits For Teens
Calling all HuffPost superfans!
Sign up for membership to become a founding member and help shape HuffPost's next chapter