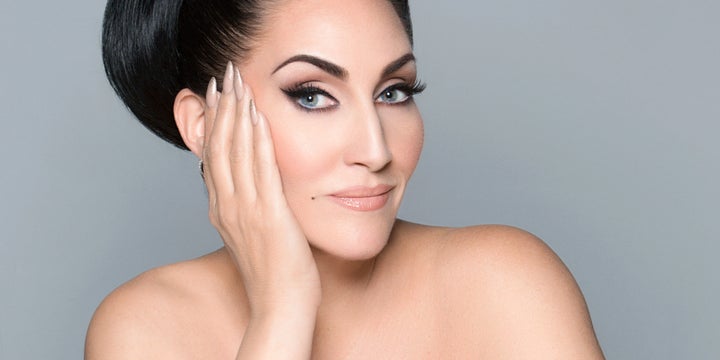 Tonight, performer and RuPaul's Drag Race judge, Michelle Visage, will get to step on stage, start her engine and, well, not f*ck it up. Something tells me that she'll do great. The TV/radio host and self-professed "drag queen" will join a very special evening of "24 Hour Musicals" at the United Artists Theater in Los Angeles. Last week, I had a chance to chat with the star about this, spill the tea about the most recent season of RuPaul's Drag Race, and more.
In "The 24 Hour Musicals," a team of over 100 performers, including artists from Broadway, film, television and music, come together to write, compose, rehearse and perform four original musicals within a 24 hour time span. The 22-year long tradition has brought together extraordinary artists many times to create unique theater around the world, raising millions of dollars for charity.
Visage will be joined by fellow stars, Jamie-Lynn Sigler (The Sopranos), Wayne Brady (Kinky Boots, Whose Line Is It Anyway?), Jesse Eisenberg (The Spoils), Retta (Girlfriends' Guide to Divorce), and Isabelle Fuhrman (Master of Sex).
Jackson Gay (Atlantic Theater Company) will serve as director for one of the musicals, and Tyce Diorio (So You Think You Can Dance) as a choreographer. "The 24 Hour Musicals" will be held at The United Artists Theater beginning at 8p.m.
Steve: It was exciting to hear that you're participating in "The 24 Hour Musicals." How did you get involved?
Michelle:​ My agent asked me if I wanted to do it and I said, 'Absolutely, are you kidding me!?' It scares me to death… that means I have to do it. Then when I saw that Wayne Brady was going to be there, Shoshana Bean, Alicia Witt, [and more], it got me even more excited. So, it's terror! I'm completely terrified by the idea.
Steve:​ Why are you so scared?
Michelle:​ Well, because, you're walking in as an actor, as a theater kid, you're used to preparing and over preparing. But, you're walking into this not knowing anything and just singing for people who don't know you or what you do or your range… and then they write a part for you and you perform it the next night. If that's not frightening, I don't know what is.
Steve:​ Well, as a judge on Drag Race, you're no stranger to watching the creative process in a very compact period of time.What do you think of such a condensed approach to creativity?
Michelle:​ I love creating. I love being with creative people who can think quickly on their feet. I'm an improv girl, so for me having that [in] me is going to help. So, the idea of it is great, but it's also scary.
Steve: You're a very vocal supporter of TodayTix, the ticketing app and sponsor of "The 24 Hour Musicals," which is offering $99 tickets to the show. Why do you love the app so much?
Michelle:​ I went to New York City… I wanted to see John Cameron Mitchell in Hedwig [and the Angry Inch]... I had seen [TodayTix] advertised somewhere and downloaded it on a whim. I thought I was never gonna use it and I thought 'You know what? I want to go see John. My time is limited, I have one night. 'It was a storm outside, a snow storm. So we got tickets… It was so easy and so amazing. I told Ru[Paul] and Ru downloaded it and we both became obsessed. It's a legit love affair. I didn't get paid I just fell in love with it.
Steve:​ Well, time to chat about something very important… this past season of Drag Race! What do you think that the move from Logo to VH1 says about the mainstream cultural recognition the show has received?
Michelle: I think it's important. I think it's necessary. I think there are lives being saved because of RuPaul's Drag Race. And that sounds dramatic but I can say that for me, [when I was a kid], being made fun of and being picked on and feeling alone and like a loser... If I had a show like RuPaul's Drag Race, maybe I wouldn't have had some of the thoughts that I had. Or had the issues that I had. Whatever the situation is, maybe I wouldn't have had all that if I had a show like RuPaul's Drag Race. At the end of the day it's never going to be completely mainstream. Ever. Drag is never going to be completely mainstream because it's still a queer art form. It's still a queer television show. That's who we are at the core of our show. So, nobody is going to ever have to worry about us "selling out" or leaving the queer base because that's who we are.
That's why it's such a big deal that we got 8 Emmy nominations, because this is a show about gender non-conformance, about queer performers, about gay people. And we've finally been recognized in a big way. Having more of a mainstream platform is important to these children who need to know that their lives matter.
Steve:​ You mentioned art form. Season winner Sasha Velour has a very unique, artistic approach to drag. What do you think of her aesthetic?
Michelle:​ I think it's amazing. I think we've seen every type of drag come across the stage of RuPaul's Drag Race and there is no end in sight of what can be on the stage. I think that any four of those finalists... this is the first season that I can say that I would be fine―not only fine but happy―with any one of those four girls being the winner. But, I am super happy it was Sasha because she was consistent, though sometimes quiet, but she was consistent and focused through the whole competition.
Steve:​ I'd love your thought on the fact that among the show's winners there's Sasha Velour, Raja, Violet Chachki and Sharon Needles. They in particular have a very modern take on drag and drag aesthetic. What do you think about that and the various forms of drag and where drag may be evolving?
Michelle:​ I think it has evolved in a sense of having tentacles and reaching out in branches. I think it will always be what it is at the core… rebellious and poking fun at society and giving hetero-normative bullshit the middle finger. So I don't think you can just say that this is the future of drag, because drag is drag [even if] all the kids think they are doing the future of drag. It's always been there. There were always club kids. There were always camp queens. There were always glamour queens. These things always existed. What's old is new again. Nobody can claim anything, but I think the fact that it's getting recognized for the art form that it genuinely is, is a beautiful thing and there are no limitations.
Steve:​ Your wisdom comes across so much on Drag Race. What do you think you have learned since you first became a star in [the girl group] Seduction?
Michelle:​ Life. Life is the greatest teacher. When I was 17, I knew everything. You couldn't tell me shit. I knew everything. I was never wrong, but I learned as I went on in life that not only is it okay to be wrong… you learn the biggest and most important thing in life is learning from failure and learning from things that you do wrong. You have to be open to that. For me it's all about living and being open and aware of what's going on. I'm a learner and I'm a freaking hustler. I've learned a lot since my days in Seduction but I hustled to get myself into Seduction and it's about using the wisdom that you achieve and helping it better you.
Steve:​ You've succeeded in music, radio, podcasting, on TV, and that list just goes on and on. Looking ahead, what's next for Michelle Visage? What do you want to accomplish?
Michelle:​ Accomplish, and what's next, are two different things because you never know what's next. I'm not one of those people who is going to say "Oh I've got this coming, that coming." To me, what's next is focusing on theater and focusing on film and television. I've loved doing 17 years in morning radio and I've loved being a singer and performing in a girl group, but for me it's now about now showing the world―as an actor and a performer―what I can do and what I'm made of. A lot of these young kids are just finding out that Michelle Visage is a singer and that my degree is in musical theater. This is what I do, so Broadway and West End are the immediate focus and other television and film opportunities. That's why I'm [doing] "The 24 Hour Musicals." I cannot wait to raise money and show everybody what I'm made of.
Steve Schonberg is the editor-in-chief of Center on the Aisle and can be seen regularly on NBC's "Weekend Today in New York."
Calling all HuffPost superfans!
Sign up for membership to become a founding member and help shape HuffPost's next chapter