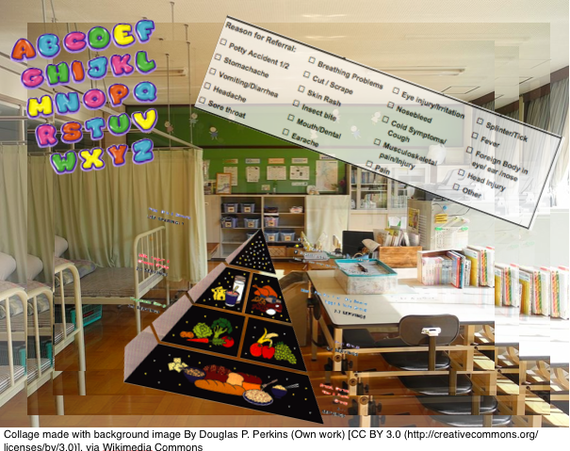 Dear School Nurse's Offices,
Thank you. Thank you for housing my endless tears, letting millions of anxious students sleep off their "migraines" to skip a test, for getting dozens and dozens of "menstruating" girls out of swim class (because no one should have to go through that, bleeding or not), and for providing me with the instant relief of heroin.
No, not one nurse in your office gave me anything stronger than generic brand ibuprofen, but your solace, and your security gave me the comfort and hope I imagine Kurt Cobain was in search of (Like you know in that one song?)
Crying into that elderly nurse's large bosom when I slept through an exam or was just not feeling pre-calculus is truly why I'm alive today.
In the Torah Abraham left all four sides of his tent open so that guests and the needy could easily enter. Well, I'm sure thats what your interior designer was thinking with the whole tissue thin mint green curtain around the bed.
When that baby was open, boy was I going to stretch a fake stomach ache into a good nap. The half ajar curtain separating that other student and I, who I've never said a word to (but I know our moms have played tennis together at least once) forms a bond between us. Are they really sick and in pain? Chances are no, because this is a school nurses office and not an episode of House. But man, this is that camaraderie I read about in All Quiet On The Western Front.

These new comrades were a great trade in for most of my two-faced high school classmates. Instead now, my partner in crime and I had each other's backs, from covering for each other as we endlessly scrolled through our phones, to playing along as we both nervously faked slumber when the nurses came to check. That foam bed was just what I needed and was there for me when no one else was. Who needs to splurge on a Tempur-Pedic mattress when those foam beds exist?
It felt like forever that I starred at those terrible thank-you drawings little kids had made you, almost as if I was Gertrude Stein. The teal and royal blue tile patterns on the floor that are somehow yellowing show that you, the nurse's office, only get better with age. Boy did that jar of free (but expired) condoms make us all feel more mature and adult.
You know what nurse's office? I think your the reason I'll never "peak" in college. Without knowing that you can convince my divorced parents and my instructors that I HAVE to take off a day to anxiously cry myself into relief and a Netflix binge, I know I will never thrive. Dare I call you my missing security blanket?
Maybe you're whats making some folks call us millennials weak, but I don't care. Whether you just went to the nurse's once for a scrape in second grade, one guilty episode in High School when you weren't ready for an oral presentation, or like me, all the time, we've all experienced that comfort.
So here's to you nurse's office.
REAL LIFE. REAL NEWS. REAL VOICES.
Help us tell more of the stories that matter from voices that too often remain unheard.