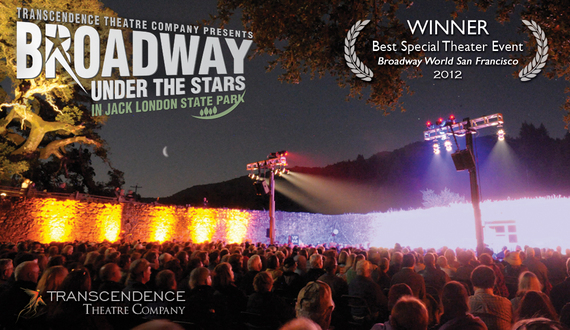 Feeling like I couldn't spend one more night doing the same old thing -- drinks, dinner and a movie, I hopped into the car with my beau and took a lovely one hour drive through the Sonoma wine country to Glen Ellen, where the Transcendence Theater Company (TCC) performs Broadway-inspired numbers amongst the ruins of the Jack London State Historic Park.
It was an easy drive, and before I knew it we were being greeted by several friendly volunteers and staff. A few steps into the park, we found ourselves in a very large straw-laden outdoor picnic area with tables and hay bales for sitting, several wineries pouring their yummy reds and whites, and food trucks serving up faire to satiate those of us that didn't pack our own picnic (next time for sure). Live, casual background music was playing for the first couple of hours while we picnicked before the real performance under the stars began.
By the time we wandered into the theater area, it was clear I had finally broken the same-old-thing spell -- the vibe was magical. But I still had no idea I was about to have the most unforgettable evening of my summer.
It is hard to describe the gloriousness of a show of Broadway performers singing and dancing to the music of live musicians, along the backdrop of the Sonoma vineyard hillsides, within ancient ruins, under the moon and stars. The only thing more magnificent than the setting was the actual performance. I so often long for a new high, and watching Broadway Under the Stars completely blew me away.
As a New Yorker, I have seen lots of Broadway shows, so I did not expect this little outdoor show to knock my socks off. The originality of the musical numbers and the level of talent of each of the performers were incredibly impressive. I was delighted to find the Trancendence Theater Company's work soulful, joyous, uplifting and very, very entertaining!
As I perused the Summer Season program, I could not believe I had not heard more press about TCC. In 2013, they won the "Best Choreographer," "Best Special Theater Event", "Best Production for Youth," and the "Theater of the Year" by Broadway World San Francisco.
I sat through the entire evening completely captivated by one song after another. Whether they were singing a medley of classic Broadway show tunes or dancing and singing tributes to favorite performing artists, it was one show stopping performance after another.
More than just performers, these men and women share their higher purpose and dedication to their mission with the audience between numbers and weave through their show their clear devotion to the arts, environment and community. They enthusiastically shared their vision that "the power to change the world lives in each and every one of us," and it created an authentic connection with everyone gathered under the stars together. The energy generated around the collective work of this group of artists felt inspirational and heart-opening. Their outspoken commitment to making the world a better place each day was contagious and had me up and out of my seat applauding many times that night.
So if you're looking for a feel good experience in Northern California this summer and want to try an evening event under the stars, you need not look any further. Trancendence Theater Company is not to be missed. Their 2014 summer performances run through September 6th.
And if their work resonates with you, the TCC's 2014 Paint the Universe fundraising campaign is on, raising funds to keep their work alive.
(By the way, their Paint the Universe signature red blend wine made in collaboration with Benziger winery is absolutely delicious, too).
For more information: Trancendence Theater Company
Find them on Facebook : TCCSonoma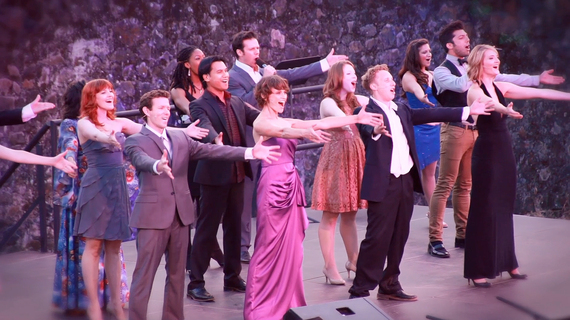 Calling all HuffPost superfans!
Sign up for membership to become a founding member and help shape HuffPost's next chapter