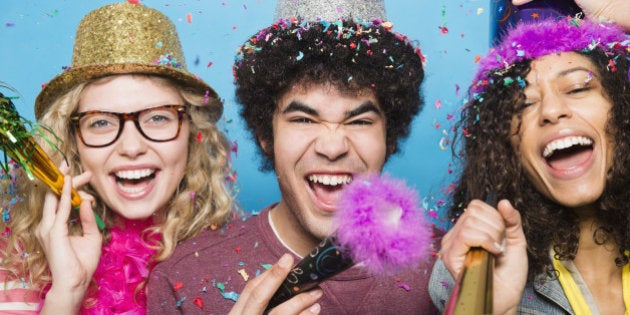 There's a lot of pressure around New Year's Eve (and in general) to go to parties and to drink. Whether you are new in your sobriety or have been sober for a while, it can be difficult at times to navigate this in a world where so many holidays and social occasions revolve around drinking.
Whether you struggle with an addition to alcohol or drugs, the following are some tips for maintaining your sobriety on New Year's Eve.
1. Seek out a sober support person.
It's important to come up with a plan for how you will handle potentially triggering situations in advance. This can help when it comes to reducing anxiety, as well as the chance that you may turn to substance use.
First off, seek out a sober support person who you can text/call if you are struggling, or who will be at the function you plan to attend. If you have a sponsor, make sure that you are honest with them about how you are feeling, and reach out if you need support.
If you are going to a New Year's party where alcohol or drugs will be present, come up with what you will say if people invite you to use with them, or ask why you are not partaking.
2. Avoid people, places, or things that are big triggers for you to use.
If you can avoid people, places, or things that are major triggers for you to use-that is likely your best bet. For instance, if you know that hanging out with a certain crowd will be triggering, it's perfectly ok to decide not to spend time with them.
If your friend is texting you about how drunk or high she is, it is well within your right to ask that she not discuss this with you.
You deserve to set boundaries for your own mental health and well-being.
3. Set positive intentions for the New Year.
In order to stay motivated in your recovery, think about some positive intentions that you can set for the New Year. What are some goals that you would like to accomplish in your life?
I find it helpful to list goals in categories such as, health and well-being, relationships, career, financial, etc.
If you are feeling urges to want to use alcohol or drugs, remind yourself of why you sought out sobriety in the first place? Addiction can truly destroy people's lives and often causes you to do things that you would never do sober. It's also important to remind yourself that just because you have an urge, does not mean that you need to act on it. Instead, work to simply notice the urge and practice some alternate coping strategies.
Lastly, picture how great it would feel to start the New Year hangover-free!
If you do end up slipping, make sure to reach out for help and support. It doesn't mean that you have "failed," it just means that your addiction won out in that moment, and that you'd benefit from more support.
If you struggle with addiction, sobriety can enable you to have the meaningful and joyful life that you truly deserve.
Jennifer Rollin, MSW, LCSW-C: is an eating disorder therapist in private practice in Rockville, Maryland. Jennifer specializes in helping teens and adults struggling with anorexia, binge eating disorder, and bulimia, and body image issues. Jennifer provides eating disorder therapy in Rockville, MD, easily accessible to individuals in Potomac, North Potomac, Bethesda, Olney, Germantown, and Washington D.C. Connect with Jennifer through her website: www.jenniferrollin.com
REAL LIFE. REAL NEWS. REAL VOICES.
Help us tell more of the stories that matter from voices that too often remain unheard.
This post was published on the now-closed HuffPost Contributor platform. Contributors control their own work and posted freely to our site. If you need to flag this entry as abusive,
send us an email
.