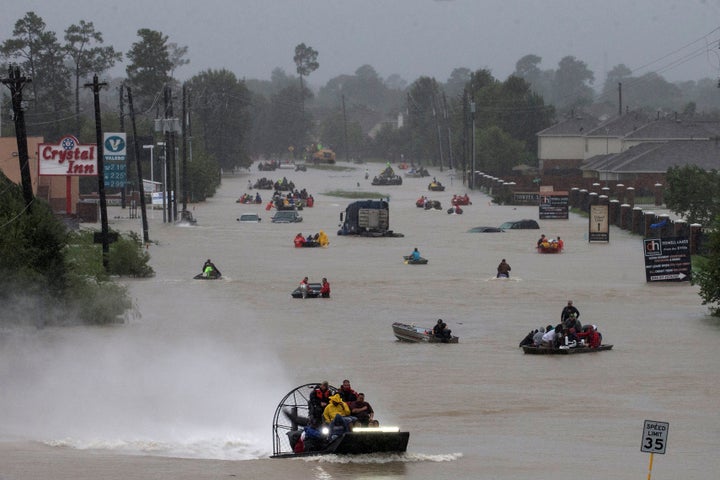 More than a third of Americans say they or someone they know has been affected by the flooding in Texas caused by Hurricane Harvey, according to a new HuffPost/YouGov poll, which finds a generally positive initial reaction to the response by President Donald Trump and the federal government.
Four percent of those polled say they've been directly affected, 12 percent that someone in their family has been affected, and 22 percent that someone else they know has been. With some people falling in multiple categories, that adds up to a total 34 percent who know someone who's felt the impact of the storm. In the South, that total number is 40 percent.
For some, the effect has been tangential or relatively minor. Some say they or a relative have been forced to postpone a trip, have temporarily lost power or have been unable to get to work in the past several days.
Others say the effects on them or their loved ones have been far more serious.
"Mom's house in Rockport was destroyed. She's 84 years old so we will have to figure out her insurance, and apply for assistance," wrote one Texas man. "My father-in-law lived in Port Aransas, Tx. He is still unsure of the condition of his home. They are all staying with us 100 miles north."
"Our daughter may have water damage to her house," another Texas resident wrote. "A friend does have water damage. My husband and I were up all night watching the water level at our house, our daughter's house and our friend's house."
Asked how his family had been affected, one man wrote simply: "Have not been able to get hold of them."
A 51 percent majority of Americans say they approve of the federal government's efforts to handle the flooding in Texas, the survey finds, with just 16 percent disapproving, and the remaining third unsure. Opinions of Trump's performance are also positive, with 42 percent approving, 24 percent disapproving and the rest uncertain. (The survey was conducted almost entirely prior to Trump's visit to Texas on Tuesday, during which he praised the turnout for his event and, according to pool reports, made little mention of the victims of the storm.)
Perhaps unsurprisingly, Americans' ratings of Trump's performance were far more polarized than their opinions about the federal government overall. Among those polled who were asked about the federal government's response, voters who supported the president in last year's election were 35 points likelier than those who supported Hillary Clinton to approve. Among those asked specifically about Trump, the gap in approval between Trump and Clinton voters was twice as big.
Brock Long, Trump's pick to run the Federal Emergency Management Agency, has decades of experience in emergency management and has been hailed by a former FEMA official as "probably one of the best prepared (people) that the country could ask for."
"FEMA is going to be [in Texas] for years," Long said Sunday in an interview with CNN. "This disaster is going to be a landmark event. ... While we're focused on response right now and helping Texas respond, we're already pushing forward recovery housing teams. We're already pushing forward forces to be on the ground to implement the National Flood Insurance Program policies and doing the inspections that we need. We're setting up and gearing up for the next couple years."
Americans are split on how much the nation currently spends on disaster relief ― 32 percent say it spends too little, while 33 percent say it spends the right amount. Just 6 percent say the country spends too much.
They're generally confident, if not deeply so, about their own areas' abilities to withstand a disaster. A near-majority, 49 percent, say they think their state government would be at least somewhat well-prepared to handle a disaster, although just 13 percent say they'd be very prepared. About three in 10 say their state would be not very or not at all well-prepared.
The survey also finds that 47 percent of the public believes climate change played at least a somewhat important role in causing the flooding in Texas, with just under a third believing it played little or no role.
Use the widget below to further explore the results of the HuffPost/YouGov survey, using the menu at the top to select survey questions and the buttons at the bottom to filter the data by subgroups:
The HuffPost/YouGov poll consisted of 1,000 completed interviews conducted Aug. 28-29 among U.S. adults, using a sample selected from YouGov's opt-in online panel to match the demographics and other characteristics of the adult U.S. population.
HuffPost has teamed up with YouGov to conduct daily opinion polls. You can learn more about this project and take part in YouGov's nationally representative opinion polling. More details on the polls' methodology are available here.
Most surveys report a margin of error that represents some, but not all, potential survey errors. YouGov's reports include a model-based margin of error, which rests on a specific set of statistical assumptions about the selected sample rather than the standard methodology for random probability sampling. If these assumptions are wrong, the model-based margin of error may also be inaccurate. Click here for a more detailed explanation of the model-based margin of error.
Popular in the Community