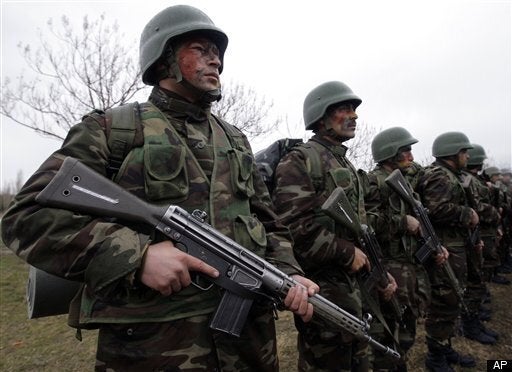 Consider the following thought experiment. Give the Afghan Taliban our technology and money, and have them journey thousands of miles to the densely forested hills and mountains of rural Pennsylvania, close to where I currently live. Who's going to prevail? The Afghans fighting a high-tech counterinsurgency campaign, or the PA locals fighting a low-tech campaign to defend their homes and way of life?
My money would be on my "hillbilly" (a term I use affectionately) neighbors who love to hunt, who know the terrain, and who are committed to liberty. My students, male and female, are generally tough, resourceful, love the outdoors, make their own beef jerky, cut and split their own wood, have plenty of guns and ammo and bows and knives and, well, you get the idea. Even in my classes, they're wearing camouflage pants, vests, and hats. They could go from college student to people's warrior before you could say Mao Zedong. And I doubt they'd spare much love for foreign fighters on their turf.
Now, consider an Afghan intelligence officer trying to understand rural PA culture, to blend in with the locals, to win hearts and minds. What are the chances this intelligence operative would be successful? If he speaks English, it's in a broken, heavily accented form, insensitive to local and regional variations. If he can't bargain with words, he might be able to bribe a few locals into helping him, but their allegiance will wane as the money runs out.
As this imaginary Afghan force seeks to gain control over the countryside, its members find themselves being picked off like so many whitetail deer. Using their drones and Hellfire missiles, they strike back at the PA rebels, only to mistake a raucous yet innocent biker rally for a conglomeration of insurgents. Among the dead bodies and twisted Harleys, a new spirit of resistance is born. Now, if you've followed me in this thought experiment, why don't we get it? Why can't we see that the odds are stacked against us in Afghanistan? Why are we surprised that, by our own assessment, our intelligence in Afghanistan is still "clueless" after eight years and "ignorant of local economics and landowners, hazy about who the powerbrokers are and how they might be influenced ... and disengaged from people in the best position to find answers"?
And why would we think that a surge of more "clueless" operatives would reverse the tide?
Would more Taliban forces deployed to the hills and valleys of PA win the hearts and minds of the locals?
I know the answer to that hypothetical: as the PA rebels might say, no friggin' way.
Professor Astore currently teaches History at the Pennsylvania College of Technology in Williamsport, PA. He writes regularly for TomDispatch.com and can be reached at wastore@pct.edu.
Related
Popular in the Community