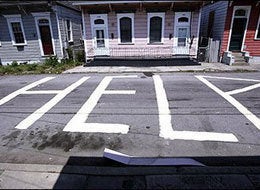 For the last month, I've been writing about a woman who is now less than $1,000 and one week away from homeless. Her name is Debbie. She's in her early fifties, a remarried widow, and mother/grandmother living in Bradenton, Florida (south of Tampa). After nine months of scraping by on a shoestring income and combing every job opportunity, she's at the end of the road. (See Hello America, This is Your Wake Up Call (Part 1))
Of all the lousy times, now during the worst economic meltdown America has seen in nearly a century, she's facing eviction. In this last article about Debbie, I humbly asked all who feel moved to help prevent the tragedy of homelessness in America from happening again, and specifically to help me prevent it from happening to Debbie.
Like so many stories, Debbie's seems to be going out not with a bang but with a whimper. Despite her circumstances, she remains selfless to the last as she writes:

"Like my landlord said, pay by the 30th or leave the house. Right now I have no means whatsoever to pay the rent, so we have no choice but to go. No place to go but our car. After twenty years, it is all we own. I have already looked at rest stops and buildings with many offices and rest rooms that are in hallways thinking this is a good spot to come to wash up if I end up homeless. What a horrible thought but I have to think those thoughts, I have to. I have to have a plan and be strong and get all the tears out now so if it happens I won't upset my kids. God, I thought if I end up homeless without a plan and I fell apart in front of them they would just be so scared. Plus I don't want to make my husband feel like a failure. So I have to stay positive even in the darkest hour to spare my family any more pain than needed, I always listen to that song 'Bridge Over Troubled Water' by Simon and Garfunkel. It gets me through sometimes."
A year ago, Debbie's life was a lot more like yours and mine. She and her husband, Randy, didn't make much money, but both had jobs and earned enough to provide for the basics and then some. They'd never been in deep debt or on welfare. Debbie's several grown children struggled financially and still do, but had lives of their own; save for one, a daughter, now nearly twenty, who is physically and mentally disabled as the result of open-heart surgery as a child. She is still dependent on Debbie. Debbie also raises one of her grandchildren, an eleven-year-old boy. Together the four of them would do simple, inexpensive things together, like spend a weekend at the beach. Next weekend, they might be living at the beach.

Keep reading...