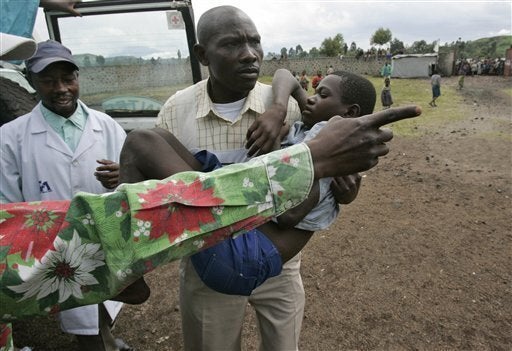 The sun is rising over the Serengeti. It is 8:00 am and we have been on the road for almost two hours, crossing the Kenyan bush for a Maasai political rally 235 kilometers from our point of origin. Up until now, the roads have been pitted, wash-boarded and rocky, but were at least identifiable as roads. After an hour and a half, we come to the end of any marked roads. There are no signs or direction markers. The rest of our journey will be on pathways whose only definition as roads are the tire tracks of the few vehicles that came before us. From time to time, the tire tacks disappear altogether and we are left to our own ingenuity as navigators.
Driving our Toyota RAV 4 is Meitamei Oli Dapish, a 40 something Maasai activist and agitator, currently chair of the North Narok NDP-Kenya party. Hansom and outspoken, Meitamei ran for Parliament in 2007 on the NDB-Kenya ticket, only to be defeated by the wily and long-serving Maasai octogenarian, William ole Ntimama. Despite his defeat, Maitami emerged from the traumatic 2007 elections with his credibility enhanced and reputation established. When NDP-Kenya's standard bearer Stephen Kalonzo Musyoka joined forces with the fraud-tainted President Mwai Kibaki and accepted the post of Vice-President, Meitamei was thrust into a position of prominence as the leading Maasai from the Vice-Presidents' party.
Raised in a traditional Maasai village, Meitamei's father had twelve wives and 60 children. Meitamei meteoric rise to political stardom is the direct result of his abject failure as a goat herder. As a young Maasai boy, it was his duty to tend to the family's goat heard and keep them safe from lions and other predators. Abstract and cerebral, Maotomia invariably returned home in the evening with fewer goats than he left with in the morning. Despite the obligatory beatings from his father, Meitamei's herding skills failed to improve.
In 1972, the Kenyan government received a four-year grant from Britain to provide rural education in Maasailand and demanded that each village send one boy to boarding school. Suspicious of the Nairobi elite and jealous of Maasai traditions, Meitamei's father resisted. When the police arrived at the village to enforce the government's edict, Meitamei was selected by his father as the village designee. Given his ineptitude as a goat header, sending Meitamei to school avoided a dangerous confrontation with the police while divesting his family of its most unproductive member.
Smart and ambitious, Meitamei excelled in school, despite the degradation of the Maasai culture and language that predominated government schools in the early '70s. Whenever his mother would come to visit every few months, Meitamei was so embarrassed by her traditional Maasai attire that he would meet her outside the school grounds so that no one would see them together. After four years, the British grant expired and Maasai students were told to either pay school fees or go home. Bereft of money but instilled with a love of learning, Meitamei remained at school for several weeks, hiding from the registrar and sneaking to into class. Inevitably, his rouse was exposed and Meitamei was summoned to the headmasters office were he received a thorough beating and was sent home.
Returning to his village after four years at boarding school, Meitamei was even more out-of-place in his native environment. His mother recognized his predicament and sold several goats to pay for school fees. Meitamei moved steadily through secondary school and college. Along the way, he became radicalized politically. As a youth leader during the tumultuous rule of President Daniel arap Moi, Meitamei spoke out against the Maasai political establishment, clashed with police and was frequently arrested.
While obtaining a masters degree in the United States, Meitamei matured as a politician, accepting free market capitalism as a necessary instrument of development and intensifying his love of Maasai culture and tradition. Today, Meitamei is as comfortable sleeping in a dung hut in a Maasai village as speaking in a college lecture hall or engaging in high level political discussions with Kenya's Vice-President. The main vestiges of his radical past are a visceral distrust of the Kenyan police and an inconvenient habit of speaking truth to power.
Meitamei knows Maasai land very well, but has never ventured as far South as we are going today. As we leave the marked roads, we make a right turn and head down a dirt track. We continue for 5 kilometers, unsure whether we are heading in the right direction. We approach a Maasai village, and ask an elder for directions. I cannot understand Ma, the Maasai language, but what I gleaned from the conversation was "go that way."
As we drive off, a 16 year old boy runs after us and we stop the car. Can we give him a lift? As I look at the kid, I see he is carrying school books and a practice exam in English with detailed questions on leadership and integrity. Maasai always give each other rides whenever there is room in the vehicle, and even when there is no room. Clad in traditional Maasai robes, the boy alights into the car.
Meitamei talks rapidly to the boy in Ma as we take off down the road. A few minutes later, he turns to me and asks if I have 1000 shillings. I reach into my wallet and take out a single 1000 shilling bill (about $12.50) and give it to Meitamei. He stops the car, gives the bill to the boy who jumps out of the car and walks back toward the village. The boy had been in our car for less than five minutes. I have no idea what just transpired.
Meitamei starts the car, tunes to me and explains:
This boy was sent home from school because he had not paid is school fees. He was walking home to his village, a three-day journey. To get home the boy would have to walk through the bush amidst the lions, hyenas and other predators.

This kid is in eight grade was scheduled to take his qualifying examinations for secondary school. The test is given only once a year. If the boy missed the exam he would have to put his education on hold for an entire year. Who knows what he would have done for a year or he would ever have been able to get his life back on track?

I asked the boy what he owed the school and he said 1000 shillings. That's when I asked you for the money. He is now heading back to school and will take the examination tomorrow. I we hadn't given the boy a ride, he never would have been able to complete his education. Now he will have a future.
We drive for another 3 kilometers, past a truck sunk axel deep in mud with a half dozen men trying to extricate it. Meitamei asks the truck driver for directions to the political rally. As it turns out, we are heading in the wrong direction. We should have turned left 10 kilometers back instead of right. The Maasai elder we had talked to at the village had given us inaccurate directions. We turn around; head back to the intersection, get on the right road and resume our journey. If we had not gotten lost, we never would have met the boy, never had heard his story and never been placed in a position to help him with his school fees.
We drive another two hours across goat trails, over mountain trails and through river beds. Gunning the Toyota across muddy streams, we have no way of knowing how deep the water is or whether we will get stuck before reaching the other side. Eventually, we reach our destination, a village of 500 with a scattering of adbe houses, a school and a church.
The political rally is a five-hour kaleidoscope of red clad Maasai warriors, pin striped evangelical preachers, head shaven Maasai women with babies on their backs and a pauperie of Kenyan political figures ranging from corrupt cleptocrats, pot bellied military chiefs to real-world heroes. Vice president Kalonzo arrives by helicopter to the delight of the crowd. Mobbed by an exhilarated throng of chanting Maasai men, Kalonzo is visibly bemused as his single security officer nonchalantly follows him through the teaming crowd with no apparent trepidation or concern. After dining on a traditional Maasai meal of lamb, goat, potatoes and rice (served in chipped enameled bowls at the modest home of the local councilman) the Vice President returns to the rally and listens patiently to the bloviations of a dozen Maasai politicians eager to share his podium. ("You Maasai are a long-winded bunch," he whispers to Meitamei). After speaking to the rapt crowd--who has already heard five hours of speeches and evangelizing--Kalonzo takes off in his helicopter for the half-hour flight back to Nairobi. The traditionally clad crowd of 5,000 Maasai dissipate into a spectrum of color for the 10 - 20 kilometer trek back to their villages.
As Meitamei and I begin our four hour drive back to the lodge, the sun begins to set. After an hour, the sky is completely black. As we drive across the bush trying to follow the tire tracks from our earlier trip, I remember the sleeping lion we drove past in the morning and imagine were is now; hunting for fresh prey no doubt. If our car broke down or got stuck, no one would find us until morning. It was both scary and exhilarating.
Meitamei's driving to and from the rally would have been a physical workout in itself, but he had also delivered two raucous speeches at the rally and escorted the Vice-President. We return to the lodge at 9:30 pm, tired from the long drive and rattled from the bumpy ride. Meitamei orders coffee; I need a drink.
I stroll up to the bar and scan the array of bottles. Feeling entitled, I order a double Chives Regal on the rocks. The glass arrives. Anxious for the apothecary effect on my frayed nerves and tired muscles, I down the scotch in a single gulp. The bartender hands me the check and I turn it over to assess the cost of my beverage: $1,000 shillings.
Three months later, Meitamei was drinking coffee at the Seasons Hotel in Narok. At the adjoining table a preacher was talking to a school teacher. Meitamei overheard the teacher tell a story of a brilliant but impoverished Maasai student in South Narok who was expelled two days before the national examination because he had not paid his school fees. One day later, the boy returned to school with $1000 shillings which he received from a mysterious American in a white Toyota who had picked him up at the side of the trail. The boy paid his school fees, took the National Examination and was accepted to secondary school. The preacher replied that the boy's good fortune must have been a miracle from God.
Miracles are when good things happen at the right place, at the right time to the right people. Africa is a land full of miracles, some realized some lost, some waiting to happen. The opportunity to make miracles is the gift that Africa bestows upon us. Whether the miracles are realized is our decision.
Related
Popular in the Community