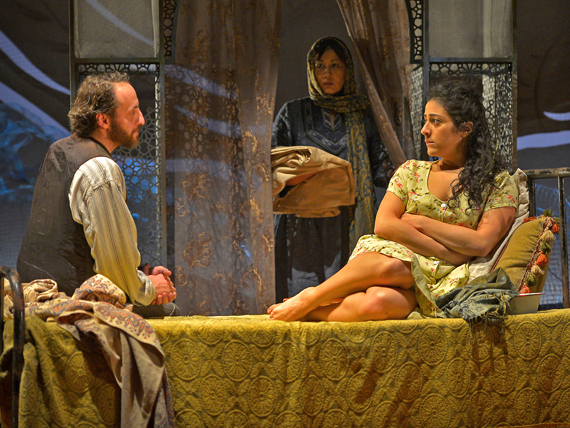 A proposal of marriage in desperate times: Rasheed (Haysam Kadri) and Laila (Nadine Malouf); his first wife, Mariam (Kate Rigg) watches.
Transforming a novel into a play -- especially one as sprawling as Khaled Hosseini's A Thousand Splendid Suns -- inevitably requires difficult choices: how much to keep, how much to cut, how to shape the elements that appear on stage. In adapting the novel for San Francisco's American Conservatory Theater, the Irish-Indian writer Ursula Rani Sarma preserved virtually every significant element of the book, reducing most to fleeting images and too often turning drama into melodrama.
There's no denying the play's power, as well as the beauty of its staging and its exquisite musical backdrop, but the adaptation crams far too much into the two hour and 40 minute narrative. Carey Perloff directed, but even her immense skills couldn't smooth all of the text's rough edges.
Spanning some 30 years, the drama's cascade of scenes track the lives of two young women and their troubled homeland, Afghanistan, focusing especially on the abuse and oppression the women suffer and their capacity to endure.
The play carries them from the decade before the Soviet invasion of 1979, through the civil war that followed the Soviets' ouster, the brutal years under Taliban rule and ultimately to the emergence of a shaky democracy after the Taliban's overthrow. Optimistically, its conclusion suggests a happily-ever-after future for the protagonists who survive. Daily newscasts remind us that such future tranquility was a fantasy.
The women are Mariam and Laila, expertly played by Kate Rigg and Nadine Malouf. As youngsters they had little in common, Mariam being the illegitimate and illiterate child of a poor, lonely and bitter woman, and Laila, 15 years younger, being the educated daughter of a professor and his wife.
Fate and tragedy bring them together as wives of a mercurial tradesman, Rasheed (Haysam Kadri). Mariam was his first spouse, thanks to an arranged marriage, but her failure to bear children -- especially a son -- has turned his initial affection to cruelty. Laila becomes wife number two after a bomb blast kills her parents and Rasheed, a neighbor, rescues her from the rubble and takes her home to recuperate.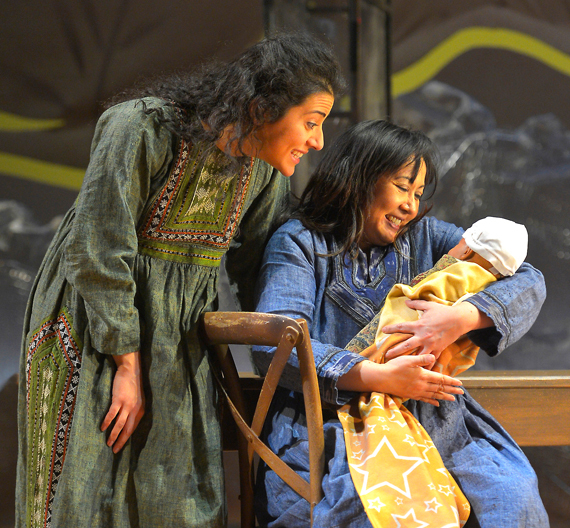 Bonding over an infant: Laila (Nadine Malouf) and Mariam (Kate Rigg)
Her arrival brings Mariam little joy, since it diverts Rasheed's few kindnesses to the newcomer. But time and events, particularly the birth of a daughter and then a son to Laila, eventually lead them to understand and support their common humanity. It also leads them to reinforce each other against Rasheed's ferocious brutality in the drama's most gut-wrenching scene.
The principals receive reasonably solid backing from another 10 performers, virtually all playing multiple roles. Few are on stage long in any scene, though even brisk glimpses of men in palpably fake beards have to break the spell of several moments.
Most notable among the supporting actors are Barzim Akhavan as Laila's father and as a sympathetic mullah (as well as two other roles), Pomme Koch as a young man who captured Laila's heart before disaster struck, and Nikita Tewani as Laila's daughter, who grows into a vibrant pre-teen.
David Coulter composed and performed the subtle and exotic score, playing on (this is from his program bio) "musical saw and other weird and less weird instruments," and adding immensely to the shifting moods.
Strong contributions also come from Linda Cho's Afghan costumes and especially from Ken MacDonald's surreal set, which employs wire rings to suggest sun and moon, and twisted-wire fencing along with a stencil-cut backdrop to frame the action.
A Thousand Splendid Suns runs through Feb. 26 in ACT's Geary Theater, 415 Geary St., SanFrancisco. Tickets are $20-$105, from 415-749-2228 or act-sf.org
Calling all HuffPost superfans!
Sign up for membership to become a founding member and help shape HuffPost's next chapter