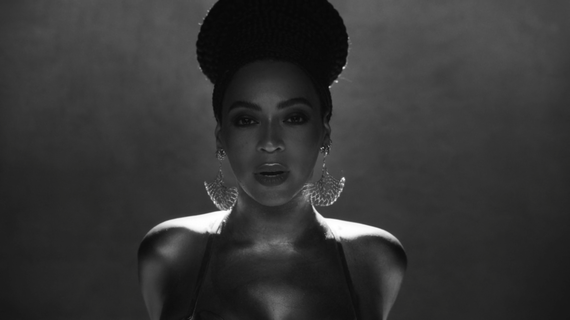 Most of the world is still mourning Prince. But those who love the Beyhive are in heaven right about now. This past weekend Beyoncé released her visual album Lemonade on HBO and Tidal. While I'm not a fan of Bey, I must say compared to the other songs she puts out, this actually says something of substance. It's clear, she has been through something and grown woman Beyoncé has emerged. Perhaps she will have staying power like the greats. Though there will never be another Prince, but I digress.
The album weaves a story of discovery that features Love, betrayal, intuition, anger, rage, redemption and forgiveness. It touches on family, religion, social justice issues and the impact on the lives of Black Women. She is vulnerable, raw and firmly entrenched in her womanhood in a way she has been unable to communicate until now.
The visual artistry of the album is breathtaking. Whether her husband, Jay Z was unfaithful or not is really not important. What matters is that we believe her story and for that the Carters have solidified themselves as marketing geniuses.
Jay-Z said, "I'm not a businessman, I'm a Business, Man!" With the addition of Beyoncé, the Carters are now more than a business, but an enterprise worth a billion dollars. The push to get into the music streaming business may have seemed a good investment at the time, but since its launch, Tidal's sign ups have been abysmal. As much as people like Kanye, Nikki Minaj and Rihanna, they are content to continue to get music from means other than Tidal. Pandora and Spotify have a loyal following because they are older and less expensive. But even the new Apple Music has gained significant traction for those that love innovative Apple products. However, The Carter's will not be deterred. They gave us a sample of their genius when Beyoncé released Formation. Tidal allowed people to stream Formation for free to get a taste of what it would feel like to use their service. So many people downloaded Formation that I imagine the Carters looked at the numbers and had a conversation that went a little like this:
Bey: What can we do to get people to buy into Tidal?
Jay: Tell them I'm cheating on you.
Bey: Yeah, they'll eat that ish up to get the tea.
Jay: Let's call it lemonade.
Bey: Let's get that paper boo.
Now, I'm making light of the conversation but my point is that in this day and age it's important to understand how to market yourself or your business. If you know enough about your customer you will know their likes, dislikes, hopes, dreams and desires. The star appeal of the Carter's is enough to want anyone to associate with them, but once you throw some drama in the mix, catchy lyrics, funky beats and artistry, you have a masterpiece which will send them all the way to the bank singing, Wu Tang's,
"Cash Rules Everything Around Me, C.R.E.A.M. get the money, Dolla dolla bill y'all"
The launch of Lemonade is Marketing 101 and here's why:
It told a story. A bunch of stories in fact. People love a good story and they love a good storyteller.
It answers a question. Everyone wanted to know if Jay-Z committed an indiscretion in his marriage. The tabloids said he did and it lines up with the video of Solange attacking him in the elevator a year ago after The Met gala. Now this album confirms what everyone thought was true.
It tells a consistent narrative that makes you watch and listen all the way until the end and then you buy.
It's visually appealing. It hooks you in with the images so that you become so engrossed and want more.
It appeals to your emotions. The key to a good product is how it makes you feel after you've used it. Lemonade makes you feel every emotion as you watch it so that by the end you are cheering for Beyoncé.
Beyoncé and Jay-Z schooled us with Lemonade. If you want to be the best in the game, become a marketing mogul. Take out your pen and paper or laptop to take copious notes, because The Carter's aren't done. School is back in session.
Calling all HuffPost superfans!
Sign up for membership to become a founding member and help shape HuffPost's next chapter