What do you picture when you think about innovation? If you're a tech fan, maybe you picture someone taking an Uber to the Apple store. If you work in international development, maybe you see someone in sub-Saharan Africa using mobile money to pay for solar electricity. But there's much more to innovation than cool new inventions that transform lives (though we love those too).
That's why USAID created the U.S. Global Development Lab. Part of our mission is to find the next generation of breakthrough innovations to reduce poverty. But we also test new ideas to change the way we do international development. You can't hold these innovations in your hand, but they are just as important.
Assembling a Tiger Team
The Lab is a small innovation hub within a big organization with an even bigger mission--ending extreme poverty. We are a catalyst for change, which means we can make a big difference even though we're pretty small--like a spoonful of yeast in a big batch of dough.
When we first got started in 2014, we created a dedicated team within the Lab to find ways to streamline processes so that USAID can be more agile and impactful. The team is made up of seven people from across USAID, including three people who wear two hats -- one for the Lab, and one for a bureau in another part of USAID. Together, the team paves new pathways within USAID to help us accelerate development impact. This set-up helps the Lab coordinate closely with other parts of USAID that are responsible for HR, legal, procurement, and IT functions.
Bringing in New Voices
USAID has a long tradition of partnership, and the Lab is testing new ways to collaborate through highly interactive multi-stakeholder workshops and design sprints. One tool that enables this practice is the Broad Agency Announcement, or BAA, which allows us to collaborate with potential partners before we award funding, working together to define a problem and design a solution for challenges that don't yet have clear answers.
Rarely used before 2014, the Lab's advocacy for collaborative design and the BAA has made an impact on how USAID does business. In the last two years, USAID has used the tool more than 50 times, resulting in more than 100 awards. In Indonesia, for example, USAID issued a BAA focused on inclusive workforce development. More than 300 local and international companies and organizations responded to the call, including Volvo, Intel, and BP. Over the course of three days, they explored the challenge and developed new solutions together. The practice of co-creation enables USAID to bring these diverse problem-solvers together to design and test new solutions that are appropriate to a unique context.
Adapt or Perish
The Lab is a strong supporter of Adaptive Management--a dynamic approach to managing programs. We use feedback loops to iterate and improve our performance, and to adapt to changing conditions on the ground. We've worked with USAID's policy office to integrate adaptive management into our official policies, changing the way we do business.
We are also supporting innovations and technologies that make adaptive management possible, like real-time data solutions that enable rapid, two-way feedback. These digital tools ensure decision makers have the right data at the right time. They can also allow for faster course corrections and continuous improvements.
Real-time data can be very powerful. For example, when USAID partner PSI switched from paper-based to mobile tools in Zambia, it helped them battle HIV more effectively. By collecting data in real time, they were able to take a more agile approach to counselling and testing services. When they used paper systems, the process of collecting, processing, and aggregating data took a month. That timeline dropped to a week when they switched to mobile tablets. They were able to make faster decisions, stretch their resources to diagnose more people, and connect people with preventative services more effectively.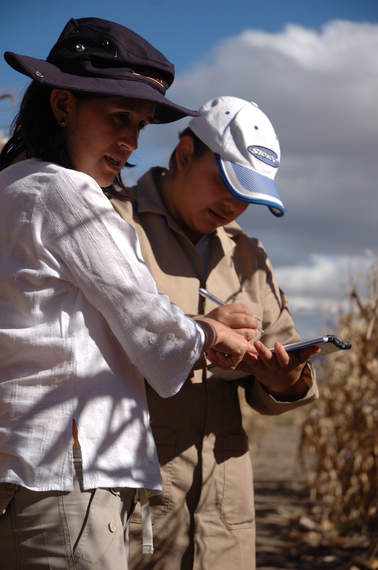 Natalia Palacios, maize nutrition quality specialist, oversees the harvest of maize lines. Photo credit: CIMMYT.
Tapping the Best Talent
When USAID established the Lab, we knew we needed to find the smartest, most creative scientists and innovators to join us. We needed to pull from beyond the usual suspects, to bring in people from tech companies and universities and research labs who might not realize there was a place for them in international development. So, we used new hiring models, targeted recruiting, and fellowships to bring in the expertise we needed, an approach that is now becoming more and more common at USAID.
For example, the Lab brought in people like Dr. P. V. Sundareshwar--a tenured professor focused on climate change and ecosystem restoration--to be our Science Policy Advisor. And we recruited people like Danielle Cass--a Silicon Valley-based "Innovation Evangelist" and expert in mobile technology--to be our Tech Sector Liaison. In her words:
"Like many people with zero global development experience, I am embarrassed to admit that I had only limited familiarity at the time of USAID, most likely through its humanitarian response work. I definitely never would have found USAID if I hadn't been recruited by the U.S. Global Development Lab - but I am really glad they reached out and found me."
Calling all HuffPost superfans!
Sign up for membership to become a founding member and help shape HuffPost's next chapter