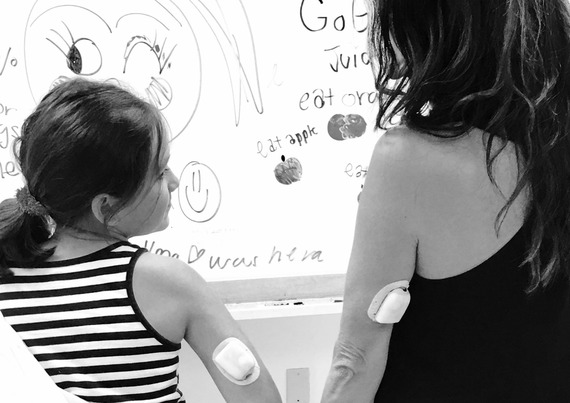 Photo credit: Hirania Luzardo
Pancake has been highly desired for a while. Officially, she has recently come into our lives on April 6, 2016. Pancake is a precious device with a blue case, savvy eyes and a brain that is capable of valuable storage and useful data. Pancake is our insulin pump.
Why the name? My daughter Uma says that her insulin pump is her girlfriend.
Uma is 10 years old and copes with Type One Diabetes. I can conclude that she perhaps choose the name Pancake due to her unsettling cravings for sweets.
Bringing Pancake home has required several training, classes and the normal trial-and-error learning processes. Sometimes, she gets mad because we don't provide her with the right information in order to fulfill her job of delivering the right doses of insulin. The innovative medical device is known as Pancake, but her official name is the OmniPod Insulin Management System.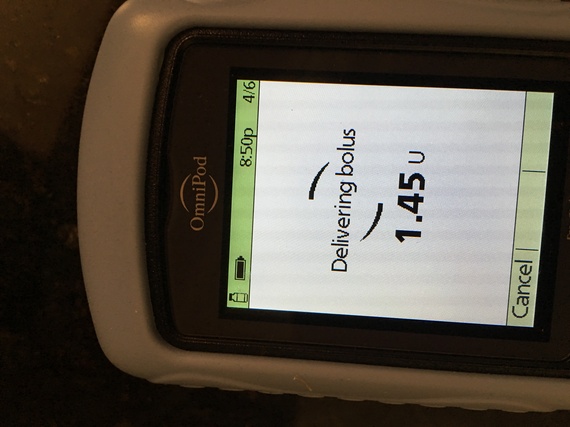 Photo credit: Hirania Luzardo
How can this medical device supply a more meaningful quality of life for Uma?
There are many medical benefits that can be mentioned, but for Uma it means freedom of not having 7 or 8 injections per day. Also, it reduces the constant fluctuations in her blood glucose performance. Living with Type One Diabetes is a daily challenge that requires discipline, perseverance, awareness and knowledge. This task is even more demanding and stressful for children.
On October 29, 2014, the news of having diabetes is given to Uma. That day meant that a life changing event would have an impact on our lives in every single way. As a mother, I have experienced all kinds of trivial emotions: sadness, frustration, distress and hopeless thoughts.
Sometimes, I am totally self-absorbed in the annoying idea of thinking that a biological cure will never be possible. I feel defeated by my thoughts about the obstacles given by the medical and pharmaceutical bureaucracy.
However, most days I am full of energy and positive thoughts that Uma can obtain in the near future the cure, and be free of devices being attached to her body. I am looking forward to enjoying a day in her life without the countless finger pricks, administering shots, and counting every single carbohydrate she consumes on a daily basis.
Regardless of my mood swings, I am so blessed and thankful for having Pancake at home. We are convinced that this alternative therapy, which replaces the injections given, will help us to focus more on our smiles and our beautiful memorable seconds that we share. Pancake is creating a strong bond between Uma and me.
Uma and I are using Pancake. My daughter is receiving insulin. I am with saline solution, but the feeling is the same. We have become more connected. My decision of testing the OmniPod pump in my own body goes beyond empathy. It is walking together down the rocky road with my little girl, and understanding her experience, emotions and reaffirming to her: "You are not alone".
Welcome Pancake! Help us spread our voice that we are not alone in this battle. We need leaders, followers and friends. Uma and million of kids deserve it.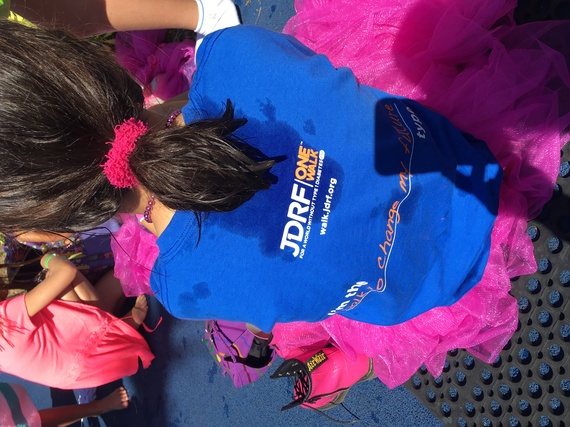 Photo credit: Hirania Luzardo
Related