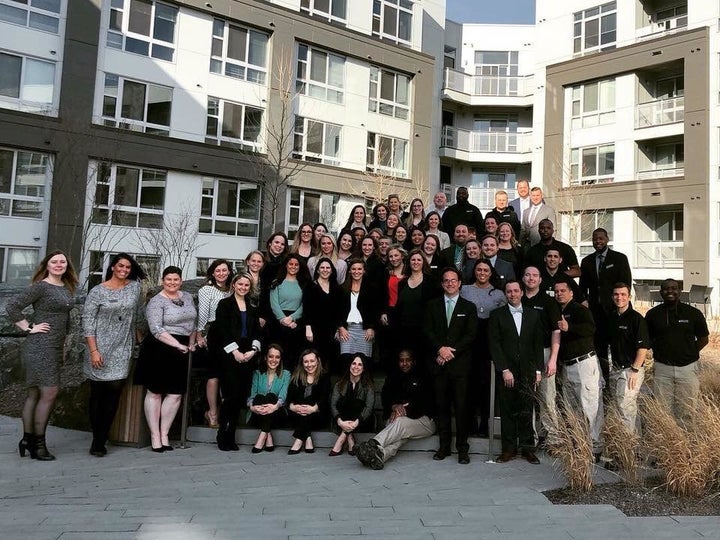 By Toby Bozzuto, president & CEO, The Bozzuto Group
Sometimes, the world seems unhinged. Like a door that is separating from the jamb. What once felt reliable and firm in your hand, now gives way with unpredictability. The horrific violence and bigotry in our country is percolating like a pot on medium heat, only minutes away from a boil. Pittsburgh, Thousand Oaks, Parkland, Las Vegas, Orlando — unfortunately, the list goes on and on. We cannot allow this kind of hatred to be normalized. Rather, we need to stand up and speak out against all forms of bigotry and extremism.
When my own children see the news and ask me what is going on, I say, "You will be fine, you will be safe," but inwardly I know that this might not always be true. How profoundly sad is it that I find myself at a loss for words trying to explain repugnant adult behavior to my 10-year-old son? I take comfort, however, in knowing that I can tell my children, that while there may be dark moments, the lives that we live every day can be filled with light. We will refuse to be defined by darkness; instead we will look for ways to be the light.
Like you, I watched the horrors in places like Charlottesville and Squirrel Hill. I saw the faces of anger and of fear glowing pathetically by torch light. I saw a street and a synagogue where love and hate literally intersected in defining moments of chaos and abominable horror. On display was the enmity between those with open hearts, and those whose hearts had likely long been barren.
As the CEO of a large residential company employing nearly 2,700 people, I, along with my associates, recognize that we are in a unique position to become a catalyst for change. Herein lies the opportunity for my company, as well as your own.
The Bozzuto Group will continue to strive to uphold a paradigm of what is right, and what is good. We will always recognize the tremendous richness and beauty in the diversity of our organization. We will be open-minded and curious to different thoughts, backgrounds and perspectives. We are a family serving families, and we will continue to do so with humility and respect.
As such, the leadership of Bozzuto wholeheartedly denounces intolerance of any sort. Conversely, we embrace diversity and inclusion of each of our associates, as well as the residents and communities we serve. There is absolutely no place within our organization for anyone who does not share these values.
Our company hopes to be an exemplar of the extraordinary experiences a group of people who are diverse in race, gender, religion, sexual orientation and background can create when they work together. We seek to understand each other, and continue to recognize the beauty and richness that diversity offers. As a result, our organization thrives and continues to succeed based on what we are adding to our community, not taking away from it. Let me affirm now and forever, that Bozzuto's commitment to these efforts will remain a critical part of our corporate DNA.
Together, we will continue to dedicate our careers toward creating sanctuary for our residents and each other. We will work hard every day to do this without bias. We will embrace our differences, instead of allowing fear to extinguish our positivity. In moments of darkness, the light from each and every one of my associates shines brightly.
The Bozzuto Group will do its part to try and set the standard that others will measure themselves by — after all, to lead means to go first. Aside from being the right thing to do, maintaining diverse and inclusive teams within our company allows us to be smarter and more innovative, while giving us a far better chance to achieve financial success. Simply put, embracing diversity will drive our business forward. This is our time, and our chance to make a real difference.
In a world that suffers often from a paucity of leadership, the time is now for business leaders to step up and take action. This is our responsibility.
This will be our light, which will guide us as we stand up for all that is good and right in the world.
Related