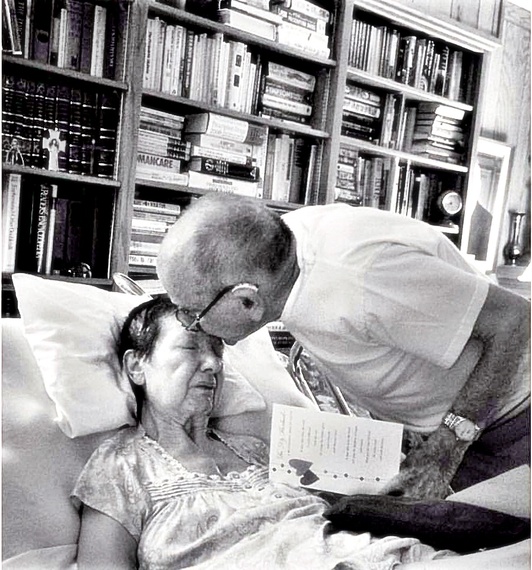 Because ALS took her voice away, she had a very special card for his birthday. Yes, she could no longer speak, but their love, their daily sacrifice spoke louder than any human words were capable of communicating.
Married for 59 years and 5 children later, they had beaten the odds.
In November of 2011, Julie was diagnosed with Amyotrophic Lateral Sclerosis, ALS, also commonly known as Lou Gehrig's Disease. This is a progressive neurodegenerative disease that causes muscle weakness, paralysis, and ultimately, respiratory failure.
One of the most frustrating things for both Charles and Julie from ALS was that Julie's brain activity and cognitive function were completely intact and functioning, all the while her body, muscles, and the ability to move, eat, and speak had been stolen from her by this terrible disease.
Most would think that this would be the the most challenging thing that their marriage would endure but that was not the case. The one thing they would probably never fully overcome was the loss of their son, Frank, who was killed doing mission work in Hawaii at the young age of 20 years old.
It was their strong, Christian faith that got them through this tragedy, and every other hurdle in life. But after going through the nightmare of losing a child, they faced this monstrous disease head on. The battle that would greatly impact their marriage as well as their entire family.
Julie was no longer able to communicate while still having so much to say. She was no longer able to point to letters on a board, she was no longer able to turn the pages in her books that she loved to read.
ALS was beginning to rob each and every joy from her everyday life.
After being married for almost 6 decades, Charles testifies that his marriage was set apart from other failing relationships today because people aren't raised with the same values and work ethic. Many are found to be selfish, and don't sacrifice for each other the way he and his wife did.
They navigated through the rough territories that ever couple faces by remaining patient and loving with each other. By listening to the sometimes irrational solutions proposed by one or the other, without ridicule or intolerance. By sticking with the mid-course solutions and actions available. By finding compromise.
Throughout her many blessings as well as trials, Julie kept a strong faith in Jesus. She never wavered from that even through the gruesome disease that overtook her body. Likewise, Charles had an incredibly successful career as an attorney and business man, volunteering for over 50 years as the school board attorney. He's lived a life of serving others, including taking a large family in his own home until he could find them a home of their own to live in.
It's safe to say this man has lived a life of doing good to others who would never be able to repay him. This blessed, humble husband and father was able to live by one of the secrets of life: all that is really worth doing is what we can do for others.
Charles paid for caregivers around the clock as his wife requested to be at home in her beloved book room. But despite the caregivers being there every hour, Charles was always by her side. He sat in the library room with her because she was scared to be left alone. She always wanted him there. Despite being exhausted and very frail, he granted her wishes and never left her side.
But he did not do this out of guilt nor out of obligation, but because it was his choice. He chose to be there with her. He chose to not leave her side.
It's safe to say he expected nothing but appreciated everything. Every moment with her. Every tomorrow that he was given with her was simply... a gift.
But as every love story has one, this too, has an ending. Julianne passed away on November 21st surrounded by her family, as she lay peacefully in her book room, where she wanted to be.
In her final hours, she was seen to have shed one tear in her sleep. As Julie's daughter whispered in her ear that she was soon going to be in Heaven to be reunited with her son who was taken from her decades ago, a single tear streamed down her face as she was asleep.
Charles's last words to his beloved wife were short and simple, yet everything he lived by each hour of everyday. Before she left him, he whispered, "I love you, Julie". He loved her with everything he had, but it was more than that. He chose her, day after day, and gave himself. Even on the toughest days, he chose to be there. He chose love. He chose selflessness. He chose them.
A timeless love can be defined as having no beginning or end. Eternal. Not being restricted to a particular time or date. Yes, although she is no longer here, their love will remain timeless. ALS may have taken her body, but nothing will be able ever steal their love.
Author's note: I began writing this piece weeks before Julie's passing. Although I'm heartbroken that Julie is not here to read it, I know that her story, her marriage, her timeless love will inspire so many.