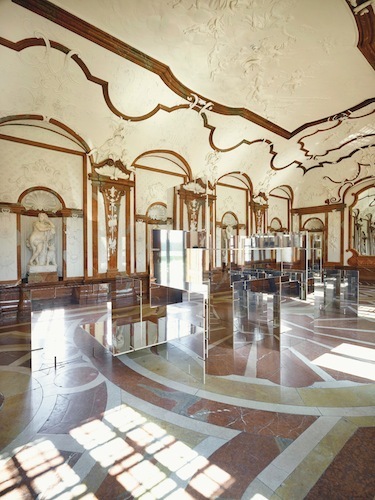 Exhibition view "The Other Side" Marble Gallery Photo: Gregor Titze, © Belvedere, Vienna.
Throughout art history, the significance of the mirror has changed and adapted.
Classical civilizations believed that the mirror could show an image of the subject's soul. By medieval times, it appeared in art as a symbol for chastity and transience, and Baroque painters incorporated mirrors as a symbol in "vanities" images, a reminder of the decay and ultimate pointlessness of earthly treasures. The reflective surface also pops up in occult rituals, fairy stories and nursery rhymes, and even on the celebrated cover of the issue of Time naming "You" as 2006's Person of the Year. The only thing that remains constant is the human fascination with gazing into a surface and seeing themselves looking back.
And in our present culture - of selfies, narcissism, and love of glitz - the new show at the Belvedere gallery in Vienna, "The Other Side," couldn't be more timely. In contemporary art, the mirror has been shorn of much of its traditional symbolism and operates on a more material level, but that doesn't make the work on display here any less impactful. Erwin Wurm's "Stress Bumps" (2008) is a life-size aluminum sculpture, reflective spears puncturing and distorting the human form while John M Armleder's "Nutnaabul" (2002) plays with the vanitas idea, a shining, oversized 2-D skull peering from the gallery wall, the eyes and teeth cleanly punched from it's metallic surface. Douglas Gordon's "Through A Looking Glass" (1999) builds the famous scene from "Taxi Driver" (in which Robert De Niro's Travis Bickle finally tips over into madness while addressing himself in the mirror of his squalid apartment) into an hour-long double screen loop.
With additional work also included from historical figures like Jean Cocteau, big names like Cindy Sherman and contemporary installation artists like Elmgreen & Dragset, this is a busy, varied show that brilliantly utilizes all the spaces of the Belvedere, including the gardens. Go to look at the art, and stay to see yourself.
"The Other Side" on view at the Belvedere in Vienna through October 12, 2014.
--Justin Quirk is contributor to ARTPHAIRE. He is a journalist and editor based in London, England. He is editorial director of House, the Soho House Group's quarterly culture journal, and also of Victor, Hasselblad's photographic biannual. He writes features for The Guardian and Sunday Times newspapers, Wallpaper* magazine and Phaidon's Agenda site. When not working he mentors young creatives at The Cut, he writes graphic novels and curates exhibitions for the Canadian artist Nathan James.
PHOTO GALLERY
%u201CThe Other Side%u201D in Vienna
REAL LIFE. REAL NEWS. REAL VOICES.
Help us tell more of the stories that matter from voices that too often remain unheard.