A digital nomad spreads the love of programming around the world.
"Basically, I hate the winter. I love Argentina, I love my country, but when it gets cold, I go to a place where I don't need a jacket. I can't stand the cold."
Nico Mengual and I are talking on Skype, and I ask him where he is in the world on this particular morning.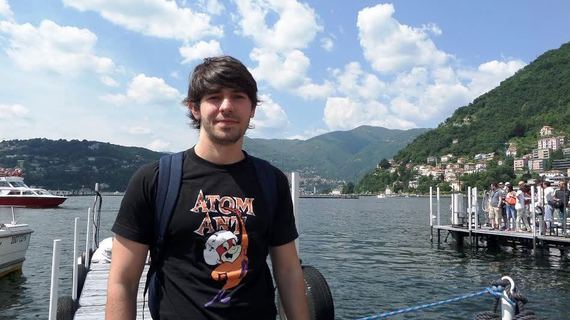 Photo Courtesy of Nicolás Mengual, Full-stack Developer & Technical Screener at Toptal
The warm beaches of Cancún, he tells me, where one of his two twin sisters currently lives. It's currently winter in his home country, so like a bird in the midst of its seasonal migration, he has packed up and headed to warmer climates for a few months.
Nico is a digital nomad. Toptal, the company for whom he is currently a software engineer and technical screening lead, does not have a central office, so as long as he has a reliable internet connection at all times, he can work from anywhere in the world.
Nico's top notch expertise in full stack development and systems administration makes him highly sought after in the technological world. One might expect to find him reclining in one of Google's nap pods or scaling the rock climbing wall at Facebook on a given afternoon, but he's sworn off the corporate life for good. And he's got no plans of going back.
"When you work for Toptal, many of the clients are startups, so it's more likely that you'll be more deeply involved in the whole business process. I get to do everything, and I get to see and build the final product from the beginning. If I compare all my knowledge from seven years of corporate experience against two years of work at Toptal, I've learned three times as much at Toptal. The fact that you're always surrounded by people on the cutting edge of technology is awesome and very exciting." For a digital nomad who craves a hands-on experience of the world, this system is perfect. And the fact that Nico can roam the world as he pleases thanks to Toptal's distributed model is icing on the cake.
"As a community, you get to know awesome people through Toptal. You chat with them online every day until you can do a trip and meet them personally. You get to know people working in Croatia, Hungary, Italy. Toptal sponsors these events around the world to let people get to know each other. I was talking to my friend Martín Chikilian once--I was in Manchester when he called--and he told me, 'Dude, you gotta go to Budapest! Everyone is going there.' I bought my ticket right then and there, and the next week I was in Budapest with a great portion of the Toptal team. It was great because we worked during the day and then went out and explored the city at night. We did everything together. And we've done that all over the world."
Nico's life-long fascination with all things computer-related began at a very young age, at an institute called simply "Master" in his hometown of San Pedro de Jujuy in northern Argentina, just south of the Bolivian border.
"My passion for computers started very young. My father was the head of this computer institute for people to learn basic programming. My father knows nothing about programming, he was just the capitalist who ran the business. We lived in a huge house with 30 computers, in the time of Commodore and the floppy disk."
For a budding tech whiz growing up right on the cusp of the dot-com bubble, this house full of computers was paradise.
"It was fun for me, I was always trying to sneak into the computer rooms even when my father didn't want me to--but I did anyway." That passion for programming quickly grew into a field of study, as Nico began taking his future calling more seriously. "I taught myself a lot, but I also credit a lot to my university experience, for the education they gave in the fundamentals."
Barely into his twenties, Nico found himself working with such firms as Hewlett-Packard and IBM, doing customer service troubleshooting calls to help pay for his studies in computer programming at Universidad Tecnológica Nacional in Córdoba. The work ultimately landed him a full-time job.
"After graduating, I went back to Jujuy to be with my grandfather--he's like a second father. He always keeps a room for me--and I kept my job with IBM. That's when I started working remotely, because the IBM team was in Pennsylvania and I was in Argentina."
That first taste of remote work hooked Nico into a lifestyle he would soon come to adopt full-time. But first, he had to find a way around his corporate job.
"Working for IBM, it was pretty easy. There wasn't anything exciting about the work. When you work for a big corporation, your responsibilities are limited. You get very specialized doing just one little thing."
The work proved unrewarding for Nico, who quickly felt his skills were not being fully utilized. "After a few years at IBM I resigned and wanted to pursue my freelancing career."
He started work as a developer for Elance-oDesk, now Upwork, initially having a great deal of success as his list of clients grew longer.
He soon ran into a problem, though.
"When I started making more money I decided to start traveling, but oDesk was a bad service because the contracting was too informal. I was not sure how much money I'd be making at any given time. People often wouldn't hold up their end of the deal. It made me rethink my freelancer status. I couldn't keep a stable lifestyle while working for that company."
"At that moment, my friend Nahuel told me about Toptal. I applied that very day, no preparation. I had fun with it. My English test was with a very nice girl, and I enjoyed speaking English anyway. My coding live challenge was actually with Martín Chikilian, who's also from Argentina and is someone I admire a lot--he's my Obi Wan Kenobi."
"That was somewhere between April and June of 2013, and I've been with Toptal ever since. I am now also screening new applicants. I train engineers to contribute to our screening, making sure they know the platform, have the fundamentals down, et cetera. We usually reject more than 97 out of every 100 applicants, and it's a lot of intensive work and a tough process."
Now, the expert programmer and the globe-hopping nomad can finally coexist.
"When the winter started coming to Argentina in 2014, I went to Europe and traveled around there. Milan for two months, then Stockholm, London, Manchester, Budapest, Cannes, Barcelona, Madrid, and some others. Then I went back to Argentina when the summer came."
Freedom to travel aside, as the point man for the technical screening team, Nico's job description rests somewhere between community builder and quality assurance controller. He has a large role in the company's extremely rigorous vetting process for new developers joining their network--Toptal's admission rate for developers currently sits at just under 3%, making it more selective than the Navy SEALs and most Ivy League universities, including Harvard. He jokingly claims the application process is much tougher than when he joined, but that suits him just fine. If he's got any frustrations with the direction of the technological world these days, it's the new-found proliferation of tools that make it easy to develop apps and websites with little technical know-how.
"There is too much hype these days on the new tools that will do everything for you. It makes the population dumb in some sense. There are a lot of frameworks now that allow people with no technical foundation to create an app or a website. So the application can look very beautiful on the outside, but structurally it's a mess. Then, when you have to fix a minor detail on the inside, people aren't prepared to do that because they never learned the foundations. There are tons of developers out there. Just not enough good developers"
So now Nico spends his time leading the crusade to assure programmers and developers truly know their trade on a foundational level. The work allows him to take dead aim on his biggest pet peeve: "When you're a technical person, you have to be logical and rational. If something's not rational, it bothers you."
"My grandfather has a drawing I did when I was five years old. It's an illustration of Donald Duck. He still keeps it. It was pretty good for a five-year-old. I've had a passion for illustration and drawing from a very young age."
Indeed, among the many professional qualifications Nico lists on his website, the final is "amateur artist." I asked Nico if he ever combined his artistic tendencies with his programming work.
"It can be a beautiful product when you create well-thought code, yes. When it's so well done, it can be artistic. But sometimes I think they are the total opposite, the technical and the artistic. Sure, you can do technical stuff that is creative, like designing a website, but the coding uses only rationality and logic, which you don't want when you're doing something artistic. These things need to be in balance."
In spite of his intense dedication to logic, Nico says his artistic passions help him grow just as much as his technical work.
"Sometimes when I'm doing too much technical stuff, I have to escape and go draw. Or I go play the guitar when I've got some free time. I studied music while I was living in Bolivia, so when I was in high school I was playing in bands around college festivals. It was always fun, just an escape for me."
But to peg Nico as a mere amateur sketch artist fiddling on a guitar or moonlighting with little drawings in his diary isn't exactly the whole truth, either. In fact, he has had a number of art pieces commissioned. He even contributed a series of political comics for the magazine El Cuarto Poder in his hometown in Argentina.
I asked Nico if this meant he was a particularly political person.
"I am, yes. My politics comes directly as a consequence of being a technical person. I should go ahead and say this, my opinions are my own--they do not represent my employers in any way--but when I see something in politics that's irrational, it just makes me angry and I get very verbal about it. Argentina, like most countries in the world, has a lot of political points of view. I kind of see them as cartoons, so I draw them! That's how I express my views. Someday I might get more actively involved. I hope that I can combine my technical expertise with my passion for politics"
But for now, he's perfectly content to traverse the globe, meeting up with fellow Toptalers and experiencing something completely new each step of the way.
"Traveling gets you to face new realities, to get to know and see things you wouldn't have ever imagined, people living their lives in a way so different from anything you've experienced. The combination of the technical experience you get with the personal experience of traveling and seeing the world is ideal, amazing. You keep growing as a person, keep learning, keep opening your mind to new things."
Nico tells me he plans to head to New York City, where, he assures me, there will be plenty of Toptal events and meetups, after a few more weeks in Cancún.
"It'll be my first time there. One of my best friends, Javier El-Hage, is the Chief Legal Officer of Human Rights Foundation there, so I'm going to do some volunteer consulting for them. If I like it very much I'll probably stay there for a while. Then I'll go back to Argentina, stay with my grandfather. The other day I talked over the phone with him. He jokes and tells me, 'I'm dying,' but he's a funny old man. He jokes like that all the time. He's not actually dying. He just wants me to come visit him."
Any regrets along the way?
"Well, I would have loved to be a professional soccer player, but nature wanted me to be a programmer instead. And I love it."
REAL LIFE. REAL NEWS. REAL VOICES.
Help us tell more of the stories that matter from voices that too often remain unheard.