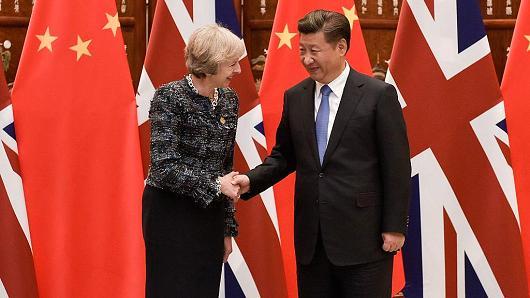 A Conservative majority in the UK general election this week would strengthen Britain's hand in its Brexit negotiations but may weaken its long-term appeal as Europe's top destination for Chinese investment. The terms and conditions of the UK's future access to the European Single Market will likely remain in limbo for some time even if the newly formed government manages to strike a transition deal. These unknowns will open new M&A opportunities for Chinese investors but may also increasingly shift their attention towards the continent.
First, the good news. The UK is Europe's second biggest recipient of Chinese investment and a weak Sterling may further increase interest in buying British assets at a discount. Industries that Chinese buyers consider to be especially attractive, such as chemicals and industrials, stand to be among the winners. Post-referendum deals already include the purchase of Thompson Aero Seating by China's Aviation Industry Corporation, the sale of Marina Imports to Heibei Sitong New Metal Material and the acquisition of UK chemical firm Fine Industries by Lianhe Chemical Technology.
Buyers have been eager to complete deals in a rush, as capital flight has been a major driver behind the surge in Chinese M&A. For UK asset owners, this is an opportunity. Firms with an interest in continued operation should feel free to ask for a higher cash component in structuring deals and maintain a high level of management and board autonomy. This is entirely achievable under the current conditions. M&A 'the Chinese way' differs from the classic model of post-merger integration - execute rapidly, combine functions into one operating platform and eliminate duplicated roles. The Chinese approach tends to be much more hands-off. It typically leaves existing management in place, avoids disrupting the acquired business and seeks out selective synergies.
The bad news is that Beijing is increasingly concerned about how capital flight under the pretext of M&A is affecting China's currency. To help stabilise exchange rates, Chinese regulators have put the approval process for M&A transactions back in place, which the government had previously abolished. Stricter capital controls will significantly reduce the number and transaction value of Chinese M&A in 2017. This will force Chinese investors to become more selective about where they invest their money overseas.
The problem is that whilst China's M&A rules are changing, the UK Prime Minister's hardline approach to Brexit is not. Theresa May's manifesto that 'no deal is better than a bad deal' promises to take Britain down the road to 'hard Brexit' – in short, exiting the EU without access to the Single Market in exchange for control over immigration. So far, the UK has been a favourite European destination among Chinese investors. Together with Germany, the UK makes up half of all Chinese investments in Europe by transaction value. Britain's longstanding economic ties with China and lower language barriers compared with other European markets have provided investors with an ideal gateway to the EU.
However, this status quo may change with a sweeping Tory victory on 8 June, as it would strengthen Theresa May's hardline approach in Brexit negotiations. Once the UK ceases to be an EU member in March 2019, the appeal for Chinese investors could shift towards competing EU member-states that enjoy unrestricted access to the Single Market. There will continue to be room for opportunistic deals with British businesses. However, competition is intensifying among European countries to attract investment from China. For the UK, a 'hard Brexit' may not mean 'falling off a cliff' with its European partners but it may well mean falling behind its pole position with Chinese investors.
Related
Popular in the Community