Most film festivals feature a selection of documentaries (some festivals are devoted entirely to documentary film). What I have always loved about San Francisco's Asian-American International Film Festival (CAAMFest 2014) is its inclusion of documentaries that focus on Hawaiian culture.
Not every PBS station on the mainland produces documentaries about local culture. But PBS Hawaii (in collaboration with Pacific Islanders in Communication) has become a steady source of films that explore the culture, history, and lifestyles of the Hawaiian Islands. Among PICs goals are to:
"Support, advance, and develop Pacific Island media content and talent that results in a deeper understanding of Pacific Island history, culture, and contemporary challenges. Pacific Heartbeat, now in its third season, is an anthology series that provides viewers a glimpse of the real Pacific. From revealing exposés to rousing musical performances, the series features a diverse array of programs that will draw viewers into the heart and soul of Pacific Island culture."
The following three videos give a sampling of the programs covered in the first three seasons of Pacific Heartbeat:
With major nonprofits like The New York City Opera shutting down operations and the fate of the San Diego Opera hanging by a thread, one might well ask where, in an era of diminished arts budgets, the money is coming from. With much of its funding coming from the Corporation for Public Broadcasting, the National Minority Consortia has become a valuable resource for filmmakers. As explained in its promotional materials:
"The NMC serves as an important component of American public television by nurturing the next generation of minority producers and program managers. Moreover, we create an awareness of the value of public media among communities which have historically been untapped by public television. From 1997 to 2002, the National Minority Consortia delivered over 88.5 hours of quality public television programming. Collectively, we have also funded 223 projects and 422 producers/directors. The past 25 years of work by the Minority Consortia has built a foundation for growth and contributed to the nation's appreciation of diverse cultures. Through innovative outreach campaigns, local screenings of works destined for public television, and promotion of web-based information and programming, communities of color are embraced rather than ignored. Our work in educational distribution further increases the value of public television programming by sharing our works with thousands of students.

We fund filmmakers, present works on public television and other venues, exhibit films and videos, and distribute works to schools and libraries. In addition, we facilitate production training, skills advancement, and career development through workshops, lectures, and counseling. Our collective growth is a testament to the creativity and commitment of our staff, board members, funders, and community partners across the country. As we collaborate, we provide a model for collegial support, mutual development, and growth. Together, we serve the needs of our communities by presenting thought-provoking programs that encourage dialogue, nurture respect, and promote understanding. Our high-quality programming builds new and diverse audiences, with an eye towards cultivating future stakeholders in public television."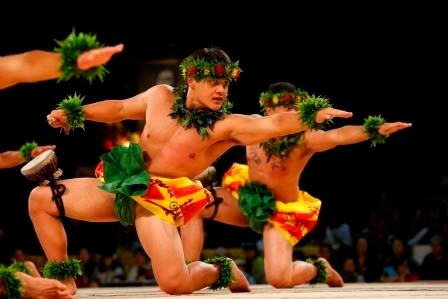 One of the documentaries shown at CAAMFest 2014 is devoted to the 50th anniversary of an event that is not widely known outside the Hawaiian Islands. Hula: Merrie Monarch's Golden Celebration looks at the founding, history, preparations for, and impact of Hilo's annual hula festival.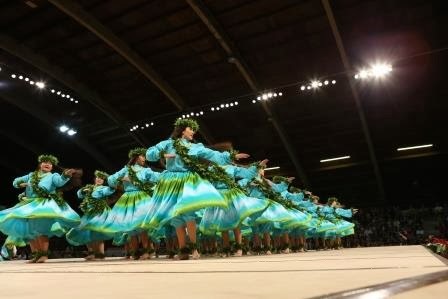 Not only does this documentary focus on the hard work, dedication and spirit of the dancers, kumu hulas, judges, musicians, and community organizers who bring each year's Merrie Monarch Festival to fruition, it helps mainlanders understand the cultural significance of hula as a part of Hawaiian culture as well as the integral role it plays in the arts education for young Hawaiians.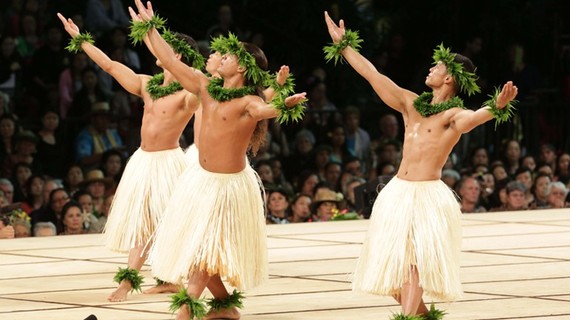 The study and training of hula includes learning the Hawaiian language, learning all about the flora and mythology of the Hawaiian islands, and how to make costumes using materials found in nature. For those who are unable to attend live hula performances, hula films are a guilty pleasure that never stops giving satisfaction. Here's the trailer:
Also screened at this year's festival was a segment from a new cooking show on PBS Hawaii. Family Ingredients takes an interesting look at some of the favorite dishes of some of the chefs working in Hawaii's restaurants. Because the Hawaiian Islands have become a melting pot of cultures from various immigrants, family traditions play a key role in giving a dish that "special taste" that makes it feel authentic.
As the show's host, Ed Kenney, explains:
"Whether we're in Hanalei, Wahiawa, Honolulu, Hilo or Kaunakakai, we'll find families who continue to keep the tradition alive -- recipes they continue to make that came from an ancestor. While in their kitchen or back yard, we learn about individual characters and family history. We meet the grandmother, the son, and the niece -- the person that has taken the lead of learning how to make the family recipe best -- and we delve into their family albums, listen to their stories, and learn more about who they are by following their recipe to its origin."
In the segment screened at CAAMFest 2014, chef Alan Wong traced a key ingredient used in one of his favorite family recipes from a small town in Wahiawa all the way back to his family's roots in Tokyo.
Not only does Family Ingredients stress family traditions, sustainable farming, and the use of locally sourced foods, its website has a kick-ass blog that is well worth your time. Here's a trailer for the show:
REAL LIFE. REAL NEWS. REAL VOICES.
Help us tell more of the stories that matter from voices that too often remain unheard.