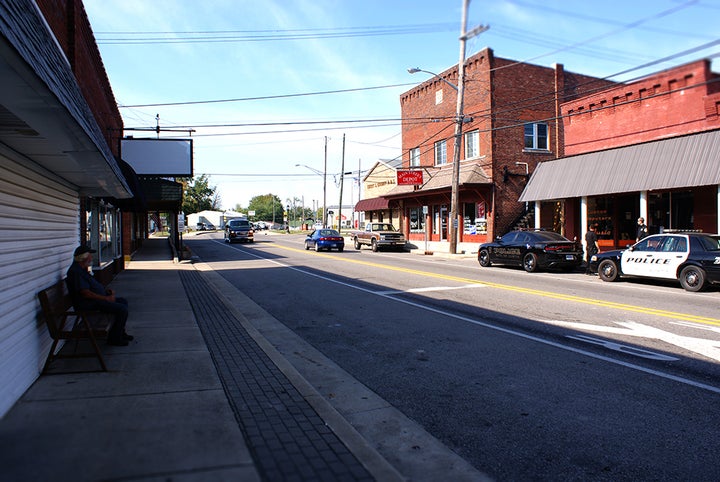 A small town in southern Indiana unites to fight against one of the biggest HIV outbreaks in national history.
At ten o'clock on a Wednesday morning, the streets of Austin are deserted.
While some neighborhood windows are upholstered with sheets, many others are boarded-up. Nearly every one of the town's single-story homes has a 'No Trespassing' sign out front. Rusted air conditioners and lawn mowers litter the yards, and tattered lounge chairs and children's bicycles lie overturned at the curb. Downtown, just past the railroad tracks, empty shops line the short four blocks of Main Street.
Up the road – a quick right turn off U.S. Highway 31 – the Austin Medical Center sits in an open parking lot. On the right side of the building is a covered walk-up window to the city's needle exchange program. Inside the lobby, a colorful bulletin board displays Austin's success stories: Chancela Key, guitar player, sober since 2013. Michelle and Arnold Angelea, husband and wife, sober since 2014. Dora Wilson, grandmother, sober since 2015.
In the heart of a town that has dealt with unthinkable tragedy, theirs are the faces of hope.
It's been over a year since Scott County was hit with one of the most devastating HIV epidemics in national history. In a town of barely 4,000 people, almost 200 cases were diagnosed in 2015, a rate more commonplace in sub-Saharan Africa. At its peak, officials diagnosed over 20 new cases a week, almost all of them stemming from intravenous drug use.
The small factory town didn't have the medical or social resources it needed to fight the massive epidemic. The local Planned Parenthood – the county's sole HIV test provider – was shut down by the state the year before after widespread protests and state budget cuts. The nearest HIV and STD clinic was 25 miles south in Clark County. No plan was in place on how to stop the spread of HIV in a community riddled with drug addiction and prostitution.
It was a battle no one was prepared to fight. But now, almost two years after the initial outbreak, local physicians and community leaders can pause ­– if only for a moment – to look back from higher ground.
Scott County Public Health Nurse Brittany Combs' office is a curious mix of storage closet and exam room. Boxes of EasyTouch insulin syringes and red biohazard containers are stacked high against the walls. Plastic tubs of prenatal vitamins, acetaminophen and body lotion fill a storage closet by the corner. Like a medical Vanna White, Brittany gestures toward the packages of alcohol prep pads and vials of sterilized water she hands her patients each week.
Browsing through rows of bins, Brittany pulls out various sizes of packaged needles. She explains how certain users prefer a higher gauge depending on their substance choice. Regular users who are injecting up to 20 times a day get 140 needles to get them through the week.
Out in the parking lot, she pops open the back of a white Dodge SUV. Bags of needles, wound care and Naloxone overdose kits are packed so tightly she has to try twice to shut it.
This Friday afternoon, as always, she'll drive the weekly mobile unit around the local neighborhoods, delivering clean needles and other medical supplies to Austin's drug-using "hubs." She's done it for so long, she says, that she knows the route in her sleep.
"They'll wave us down when they see us," she says. "Because they know who we are."
Her goal is simple: a clean needle for every injection.
The epidemic in Scott County has been decades in the making, blazing across entire generations as children grew up watching family members abuse drugs.
"You could ask anybody in this community – we've all been affected by someone with a drug problem," Brittany says. "It's cyclical, you know. Grandpa did it, Dad did it, kid did it."
Most children here are confronted head-on with the challenges of poverty. Fewer than 10 percent of the city's residents have a college degree, and one in four is living below the poverty line, according to 2014 Census estimates. Austin's unemployment rate hovers around 8 percent, compared to the national average of 5 percent.
During more prosperous times in Austin, most of the city's jobs came from one of the three manufacturing plants in town: Pepsi, Tri-Hawk Automotive or Morgan Foods. Morgan's, which manufactured condensed soup and other private-label foods, added the American Can Company next door in 1936, separated only by the railroad tracks running through town. For 50 years, these two plants provided hundreds of job opportunities to the citizens of Scott County and helped drive the local economy.
When word of the factories reached the foothills of Appalachia, so many people migrated from the town of Hazard, Kentucky, that Austin earned itself a new nickname: "Little Hazard." One of the Hazard hopefuls making the trek up to Austin was Brittany's grandfather. He followed the same route as others, searching for a better job and life for his family. His ticket: a gas card from his parents with just enough to get him to Austin.
"My momma always used to joke that everybody ended up here because that's how far a tank of gas got you," Brittany says. "I always thought it was a joke, but it really was just enough so they could get a job at Morgan's."
When the American Can Company folded in 1986, hundreds of people found themselves out of work. Unemployment rates spiked to nearly 17 percent. A sense of quiet desperation hung heavy on the people of Austin, and drugs and prostitution provided what felt like relief.
It's December of 2014. Most families are preparing for the holiday season, but public health officials in Austin are facing a crisis unlike anything they've ever seen: Positive HIV results are streaming in by the dozens, and nobody knows who to call.
As Scott County's single public health nurse at the time, Brittany had no experience dealing with STD's or addiction when patients started pouring in. "It almost feels like a dream now, or maybe more like a nightmare," she says. "We were working up to 20 hours a day. I don't really remember sleeping much. I just couldn't stop thinking about them."
Public health officials implored the state to send nurses, volunteers or anyone with experience dealing with HIV and addiction therapy to help.
Health educator Meredith Short was among the first responders dispatched to Austin. She set aside work at Positive Link – the HIV/AIDS branch of IU Health Hospital – to administer HIV tests and counsel patients. It was horrible, she says. Every day, she told dozens of people they were HIV positive.
"It was an intense four months," she says. "Watching people trying to deal with the fact that there's an 'epidemic' in the place they call home . . . that was tough."
When she gave her first positive result to a young woman, the crisis suddenly felt real. "She was already dealing with a lot of life challenges," she says. "Giving her that news seemed like I was adding a burden onto what was already unbearable."
Living conditions were just one of those challenges. Many of the city's residents were in transient housing. They grouped together in shacks and mobile homes, sharing floor space and Dyna-Glo heaters in the winter. Brittany recalls buying kerosene from her own pocket for fear some of her patients would freeze over the weekend.
In these homes, people shared the few needles they had. Heroin, methamphetamine and Opana – a narcotic with twice the horsepower of oxycodone – had a firm grasp on their users. Finding clean tools for cooking and injecting the drugs was difficult. At the time, even possessing a syringe without proper documentation was a criminal offense, and people couldn't seem to get the supplies they needed to match the pace of their habits. So they resorted to using the water out of their toilet bowls and re-using needles until they broke off in their arms.
"They will use a needle that has been used 200 times," Brittany says. "They'll keep filing it down. They will use no matter what."
By the end of the year, 191 people had been diagnosed with HIV in Scott County.
With the widespread media coverage of the epidemic, panic set in. Few in Austin knew how the disease spread. Rumors surfaced that you shouldn't sit at the same dinner table as someone who was HIV-positive. Infected family members were shunned by fearful relatives.
Short recalls one patient who needed a copy of her test results in order to see her niece and nephew. Her sister refused to let her see them if she tested positive.
Some suggested the meat at the local Walmart had been "injected with HIV."
"The stuff that was going around was totally crazy," Brittany says. "We had to educate ourselves and educate the community about what was happening."
In late March 2016, then-governor Mike Pence declared a public health emergency in Scott County, giving Austin the green light for a needle-exchange program. Users could now get clean syringes free of charge.
The next month, Scott County's Outreach Center offered free needles and a weekly "One Stop Shop." In a single visit, you could get a free HIV test, a hepatitis shot and fill out applications for health insurance and a birth certificate. Once authorized, patients could pick up supplies from Brittany's office Monday through Friday. They received clean needles, sterile water packets and alcohol prep pads and a plastic Sharps container to return the needles.
Jessica Adams, a former care coordinator at Positive Link in Bloomington, ran the exchange and saw benefits almost instantly. Needle exchanges don't just enable users, she says. They address public safety. "It was really exciting to see it work," she says. "This is what people need to see."
It became the first of several steps toward recovery.
Adams says the mobile unit helps build relationships between patients and physicians. While a clinic may seem intimidating, meeting health practitioners on a user's home turf can build rapport and, in some cases, lasting friendships.
A few months ago, Brittany was making a normal Friday delivery when a voice called her name from the house next door.
"Brittany! It's me! Do you remember?"
A young woman crossed the front yard to meet her. They smiled and embraced. Brittany remembered.
A year ago, when the outbreak started, the young woman came to Brittany's office at the One Stop Shop. Her children had just been taken into state custody, and she was at her breaking point. "I can't live like this anymore," she'd confided in Brittany.
"I busted my butt trying to get her into rehab," Brittany recalls. "We got her checked in, and I didn't see her again. That day she told me she and her husband had moved south and got their kids back." She looks down at her hands and smiles. Now they both have jobs and are doing well.
Adams says the program has humanized the crisis for her. "These are real people with real-life circumstances stacked up against them."
Both Brittany and the Centers for Disease Control assert the needle exchange is the main reason the HIV epidemic in Austin has slowed. "I know it works because I've seen it," Brittany says. "The people in our program are surrounded by HIV, and if it weren't for the clean needles, they definitely would've shared by now."
The National Institutes of Health back up her convictions. A study found that needle-exchange programs alone can reduce HIV transmission rates by about 40 percent. The other part of the equation is called PrEP, or pre-exposure prophylaxis, a daily medication that virally suppresses the infection in someone's body – meaning they aren't contagious and can live a relatively normal life.
Austin pharmacist Jeff Stewart says post-exposure treatment can be challenging for those affected with addiction. Daily planning is often a struggle for users, and the upkeep of doctor's appointments and prescriptions can be a hurdle for someone with HIV. "It's a lot of commitment to take this every day," he says about the medication. "When you don't, you build up immunity, and your HIV count isn't repressed anymore, which is a problem."
That's where the Outreach Center's care-coordination program comes in. When patients sign up, they're matched with a coordinator who works one-on-one with them on all aspects of their recovery. They help patients locate treatment options and drive them to the pharmacy to pick up medications. They also help with housing, food, clothing and other basic needs.
Today, almost 90 percent of Austin's known HIV+ individuals are enrolled in care coordination, Brittany says. Having a mentor and friend can make it easier to cope with what can otherwise be a scary, lonely journey.
A touch of human kindness is often more than patients expect.
So many users aren't used to compassion, Brittany says. "I can't tell you how many times people said, 'You're being nice to me. People aren't nice to me. Especially if people know we're drug users. They treat us like dirt.'"
Adams agrees that misinformation about HIV and addiction often leads to the criminalization of the people they affect. Once addiction is understood as a disease, it's easier to see people as more than just users. "You have to think about their mindset of addiction and desperation," she says.
Looking back on her time in Austin, health educator Short believes the town is beginning to rebound. She's amazed by the lengths the community has gone to to help their neighbors. Clothing giveaways and coat drives help people who have no heat in the winter. Churches provide hot meals to those who may not have eaten for days. Recovery groups offer support for those who have no one to turn to.
"There are some hugely compassionate individuals down there," she says. "Driving people to Indianapolis and trying to get them services? Incredible. I don't think that that would happen in every community, that people would care that much."
It's the mindset, Short believes, that holds the most power for change: These are my neighbors, and I'm going to help them, and it doesn't matter if I'm getting paid or not. It doesn't matter if I'm getting tired. I'm going to do it. "It's amazing," she says.
In the past 12 months, only five new cases of HIV have surfaced in Austin. More than half of the town's known IV-drug users are enrolled in the clinic's needle exchange. 90 and close to 50 percent of the positive cases in Austin are now virally suppressed.
For Brittany, those numbers add up to hope. "When we think of HIV, we think it's a death sentence, but it's not anymore," Brittany says.
Recently, Indiana reinstated the city's public health emergency status, meaning Scott County will keep its needle exchange running for another year. Brittany says additional resources, like a homeless shelter and a community kitchen, are the next steps.
"It seems like we're constantly trudging up that hill, but when you see one case where you really help someone..." she trails off.
"The ones we're helping, we don't get to see them very often, but I know they're out there."
Popular in the Community