One of the things about Boston is that there's a bit of it wherever you go. Sox caps crop up in Chicago. Harvard T-shirts glide past on the Grand Canal. And when dessert is served in Georgia or Alabama, a chocolate-topped cream pie is liable to appear.
Because of the Boston Marathon this week, I've been thinking of a time, a few years back, when I found out about villages in various states that had emulated Boston in name. Unfurling a wad of dog-eared road maps, I circled pinpricks named 'Boston' or 'New Boston' in Massachusetts, New Hampshire, New York, Ohio, Michigan, Indiana, even Missouri and Texas.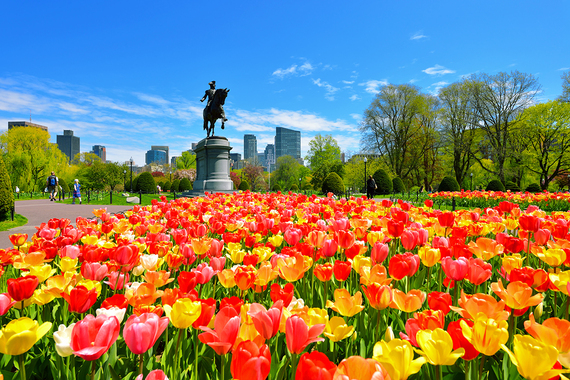 Wow, I thought. The Hub's geographical reach is way more widespread than I'd thought. Some states had two mini-Bostons, or more. And there were no doubt dozens of others that Rand McNally didn't show.
I began to wonder what life was like in these outposts. Did the towns have any links to New England--maybe a special sense of history, a general store or central green? Could I find New Bostonians with a soft spot for the Celtics, or a taste for scrod?
It would take a road trip to find out.
While loading up my Mazda, I checked in with a few history buffs and got a warning. Since mini-Hubs seemed as common as acorns, I'd have to focus my drive on either 'Bostons' or 'New Bostons' and narrow it to one likely settlement branch. North-by-northwest looked best so I traced a wobbly westward line between New Bostons in New Hampshire, the Berkshires, upstate New York, and Michigan's lower peninsula.
It was only one thread. But it was one I could conceivably reel in during a week of driving. With my erstwhile pal, Jim, along for the adventure, I was off.
Plunked down along Route 13, about 12 miles west of Manchester, our first New Boston (population 5,076) looks like a Currier & Ives print of a 19th century crossroads village. White church? Check. Town green with bandstand? Check. Anti-gravity monument? Check.
Wait a minute, says Jim, popping open the car door. What's that last one about? We read some text that's etched on a granite marker and find out that a man by the name of Roger W. Babson, the founder of Babson College, had set up the Gravity Research Foundation here in town in the late 1940s.
Debbie Smith, a New Boston resident who works at Dodge's Store here, stifles a yawn when I ask her about this. Apparently the Foundation is not a joke, but a deadly serious enterprise that is intended to encourage anti-gravity research. "I feel on the verge of floating right now," I say, thanks to the smell of coffee and fresh popcorn near the entrance of Dodge's.
Smith pours me a cup, and though the general store is busy, owner, Lisa Danzinger, comes over to show off her upright rotary phone, still in occasional use, and a collection of antique Dr. Pepper bottles. Though nowhere near as old as the town itself, which was granted to a handful of Massachusetts families in 1736, Dodge's dates to 1872 and, according to Danzinger, is the meeting point of choice for locals. Especially the porch.
"People from Boston--the big Boston--come through sometimes," says Danzinger. "They're out there on the porch with the old folks from town. It's a pretty good mix. They root for the Sox, we root for the Sox. And if anyone from the city is rude to us, you know what we do? We're extra nice back to them."
Massachusetts is chock full of New Bostons, including towns in Barnstable, Middlesex, and Worcester Counties. But since it's on our westward route, Jim and I have set our sights on a hamlet settled in the early 1700s--part of the township of Sandisfield in the Berkshires about 28 miles southeast of Pittsfield.
It's growing dark by the time we get near and all we can see are trees and more trees. "This is the polar opposite of Boston," decides Jim. Sandisfield as a whole counts a total of 769 residents and when we snake into New Boston, itself, there are lights glowing only at the 1737 New Boston Inn. Signs and flags tell us the inn's on the National Register of Historic Places, that we would be welcome even if we were riding motorcycles, and that we should "Please Come In."
In fact, we check in, despite being advised about a ghost that haunts and sings nightly in Room 4. According to owner, Barbara Colorio, the Sci-Fi Channel and Discovery Channel have done segments about this, and grinning happily, she hands me the #4 key.
No problem, I say. I'm more nervous about missing dinner--restaurants in town close early--and Jim and I are just in time to get a pizza at a rustic pub called Tucker's. Owners Scott and Deb Stone glance at each other when they hear about my New Boston quest.
"This town used to be a stop for the Boston to Albany stagecoach," says Scott. "So, in honor of that I am making us a bean hole for the restaurant. A real one. With an iron beanpot, hot coals, the works." Now it's our turn to exchange glances: Jim and I are impressed.
I hear no singing at all during the night. But I am listening, not sleeping. The New Boston ghost may be a peaceful phantom, but it is effective. I wake up grouchy and ready to move on.
Jim and I could have aimed for a northerly New Boston up near Watertown, N.Y. But a more minuscule dot south and east of Syracuse snags my attention. Some maps show the village, others do not. Jim's GPS makes an electronic argument that it does not exist.
"We'll see about that," I say. After spending the night in the nearby college town of Cazenovia, we rattle off on a maze of dirt roads, whizzing past turnoffs, reversing direction, and screeching to a stop in front of a maple that has collapsed into the road. Like Boston, itself, none of the villages we've visited are kind to drivers.
By a stroke of luck we find Dog Hollow Forest, pictured on the map, and get to a grassy hillside where Cuyler Hill Road runs into Randell Hill Road. "This is it!" I yell. "New Boston, N.Y. 13158."
Jim looks deeply skeptical. There's an old schoolhouse that someone is using as a home. A covered bridge has been abandoned and is without its stream. Two goats chew weeds next to a pond. And there's a sort of farm.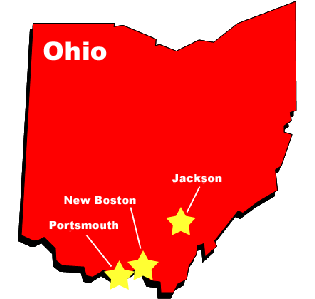 I get out in the rain to ring the bell. Dogs bark from inside and out, a chicken examines me from around the corner of a shed, and a man with a white beard appears, slamming a screen door. "Charles Gibbs," he growls. "Who're you?"
When I tell him about my project, Gibbs' eyes narrow. There is recognition. New Boston is real. "We was named for Boston, Massachusetts way, way back," says Gibbs. "This was a busy place once, full of activity." Gibbs is remembering. His eyes are shut now. I can see the first subtle curvature of a smile.

New Boston, Michigan
The drive along Lake Erie on Interstate 90 is bumpy and slow due to construction. I feel like I'm on a wagon train from New England, eager to pitch camp. Once we cross into Michigan, I stop for gas and for directions to New Boston. "You mean New Baltimore?" says the clerk. Not a good sign.

But after our New York outpost, and the hamlets of New Hampshire and Western Mass., Michigan's mini-Boston (population 9,056) comes across as a metropolis. Dating back to about 1820, it's got its very own post office and is smack in the flight path of the Detroit airport.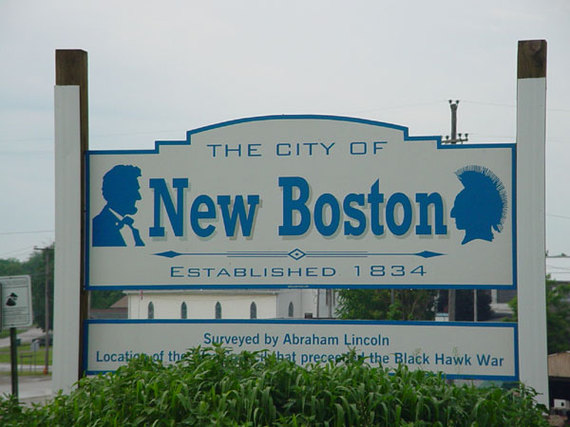 I don't find a Northeast-style village green, but there's a busy corner with Gibbs Sweet Station (ice cream), McNasty's Saloon (mostly beer), and Mary Ann's Drive-Inn which, according to waitress Dawn Meksula, is famous for its homefries and pies.
"Boston Cream Pie doesn't sell too well around here," she tells me. "This is apple-growing country. New Boston puts on an apple fest every October with a big parade."
At the New Boston Pharmacy, pharmacist Einar Tjolsen confirms this. "This is a town with traditions," he says. "Apples, of course, and some families that have lived here for a lot of years." I can't help noticing a photo of Fenway Park tacked up by the counter, near some baskets overflowing with gum.
"That's my wife and me, last year," says Tjolsen. "I do like Boston. I kind of feel at home there, and there's so much history."
As much as this town? I say.
Tjolsen laughs. "Don't tell anyone I said this," he adds. "But maybe slightly more."